Superyachts – desperately seeking the business case webinar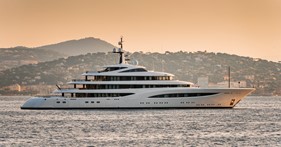 The world of Superyachts is often perceived to be all about the glitz and the glamour but the behind the scenes reality is that a Superyacht is a large multidisciplinary capital project with very exacting quality expectations. This webinar was held on 11 January 2022.
This presentation addressed some of the myths around Superyachts, revealed some fascinating connections to the North East region, and explored the connection to good project management practice.
Kevin T Laverty, Director of Projects, Hill Robinson International Limited
From a career with humble beginnings as an apprentice technician engineer with a pipe fabrication business on the banks of the River Tyne, to his current role of Director of Projects at Hill Robinson, a world leading yacht management company, project management and project related roles have been an ever present feature. His journey has taken him across the world managing projects in the UK, Europe, the Baltics, the Middle East, and the USA, in fields as diverse as offshore oil and gas construction installation and hook-up, ship and port equipment, and latterly superyachts.
Arriving in the superyacht industry in 2004, he has gone on to become a recognised leader with a reputation for undertaking difficult or challenging projects and has appeared as an expert witness in disputes relating to delay and dislocation, valuation, and more general superyacht construction issues in arbitration and high court proceedings in both Hong Kong and the UK. Laverty is a strong advocate of professional project management and has spoken on the topic at superyacht industry events and contributed articles in various superyacht publications and was recently recognised for his outstanding contribution to the superyacht sector at the inaugural Superyacht Technology Conference in Barcelona.
Kevin has very kindly allowed his presented material to be made available for viewing. The webinar recording on YouTube is now available in our APM resources area and also embedded below for reference.
This event is suitable for professionals with any level of experience.
Previous webinars can be viewed on the APM Slideshare and YouTube channels. 
Follow @APMEvents for upcoming event information.


APM Body of Knowledge 7th edition reference

Section
Description
3.3.6
Continuing professional development (CPD)