Supporting professional development: IQVIA internship programme
The importance of successful projects has never been greater, but enabling that success requires organisations to invest in the professional development of their teams. IQVIA, a leading global provider of advanced analytics, technology solutions, and clinical research services to the life sciences industry, recently launched an internship programme to provide hands-on experience and mentoring to early-stage professionals. The outcome has been very successful, with 11 interns enrolling and completing the 12-week programme, and more than 80 per cent earning the APM Project Fundamentals Qualification.
Two of the participants - Cardiovascular Renal and Metabolic project management analysts Megan Stewart, and Early Clinical Development project manager Alex McGlynn – share their stories here.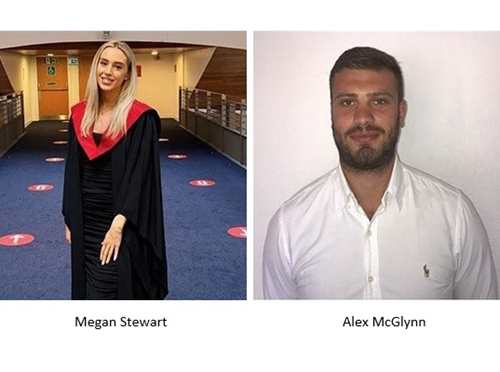 Starting our internships
"In June, we began our internship with the IQVIA project leadership group along with nine others. On the first day, we discussed how we all were not sure what was going to be involved in the internship — with some of us coming from a science background and being more familiar with clinical research and others, like the two of us (with business management and sports coaching degrees), less so. We all felt nervous, excited and a bit out of our depth.  
"The first two weeks of the internship were all about completing training videos about every aspect of what IQVIA does, from IQVIA's code of conduct to the different therapeutic areas within IQVIA, the governing bodies that set the rules and regulations for clinical trials, and IQVIA's own standard operating procedures and guidelines. 
"We also attended presentations from senior management staff from across all functions who spoke to us about their individual career paths and the roles they play within successful clinical trials.
"Throughout our internship, we were also put in contact with our 'buddies', whom we worked beside closely on billable project tasks. We were also put in contact with our mentors, Julie Faulkner and Inge Geerts, who were a back-up support system to us."
Getting hands-on experience
"Being able to listen in on a range of meetings, including meetings about finances, vendor management, sponsors, risks and issues, allowed us to begin to understand the amount of communication and teamwork necessary to have a smooth-running and successful project. In the final six to 12 weeks, we were given more responsibility and independence to work on our own tasks. This included taking and distributing meeting minutes, filing finalized documentation on both customer and IQVIA trial master file systems and tracking project metrics. This increased responsibility gave us a real taste of what working as a project management analyst within IQVIA would involve. 
"In the last weeks of our internships, IQVIA put us through the APM Project Management Fundamentals Qualification, which was amazing and allowed us to learn even more. This also provided us with a qualification to put on our resumes and an achievement to be proud of."
'An amazing opportunity'
"Because the two of us were finished with our university studies, we were offered the opportunity to stay on with IQVIA.
"Since the contract extension, we have been given increased responsibility on our projects, which has been great. The 12-week internship was a great taste of what being a project management analyst involves, but staying on with IQVIA has given us even more confidence within this role, which has allowed us to be forward-thinking and take the necessary next steps to benefit our studies. We have also been able to develop our understanding of different facets of clinical trials, such as project finance, vendor management, lab kit/sample shipments and tracking issues and risks in Resource and Project Management/Project and Portfolio Management. 
"Working within IQVIA over the past six months has given us an invaluable opportunity to learn how a successful project is conducted and how all functions work together to create a successful project team. It has also given us experience working for a global organisation and communicating with team members in different time zones and cultures, as well as virtually. 
"Because we were both looking to gain experience in a business setting, the internship was perfect and very informative. We were so lucky to have such great support from the steering committee, our buddies and mentors, and the structure of the programme gave us everything we needed to get the most out of the experience. The internship was an amazing opportunity, which we would both recommend to other students."