Sustainability high on agenda at APM Fellows' Forum
Some of the project profession's most experienced practitioners gathered at The Law Society in London as Fellow members of Association for Project Management (APM) attended the organisation's recent Fellows' Forum.
The Fellows' Forum is an opportunity for Fellow members of APM to discus topical issues affecting the profession. Held exclusively for APM Fellows – individuals who have made exceptional, demonstrable, and significant contributions to project management or to the project management profession – the event provides opportunities for delegates to network and share views with peers and senior APM representatives.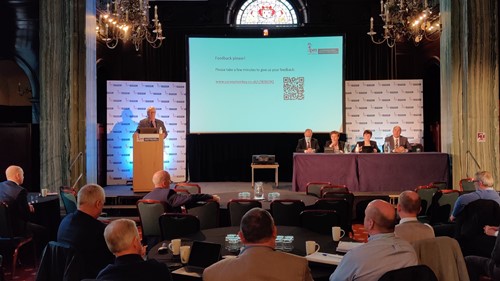 Highlights from this year's event, which was compered by former vice-president and chair of APM, Miles Shepherd, included apprenticeships, APM's upcoming mentoring scheme and the review of APM's five-year strategy. Fellows also had the opportunity to ask questions and network with peers and senior APM representatives.
Following on from APM's attendance at the recent COP26 climate change conference, sustainability was a key theme at this year's event. APM Board Chair Debbie Lewis opened the forum, highlighting the importance of sustainability in projects. She said: "APM provides leadership of the profession. It is a professional body for all project professionals. It identifies and enables the right skills for the project profession, and these are woven through with the thread of sustainability, diversity and inclusion."
Chief executive Professor Adam Boddison also acknowledged the importance of sustainability, commenting: "It's not just about green initiatives that we're doing at APM, but the role that the profession can play in influencing other organisations, through our memberships and partnerships. We, as project professionals, are in a very good position and are agents for change, being responsible for projects and for creating the business cases to help make change happen."
Fellowship is APM's highest grade of membership, recognising those who have made a significant contribution to the profession as a practitioner. Learn more and apply now.