The importance of recognising inspiration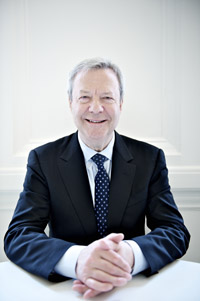 The APM Project Management Awards, sponsored by RPC UK Ltd, are now open for 2018 and the hunt is on for our profession's finest.
A prominent category in the awards line up is the Mike Nichols Award for Inspiration, sponsored by the Nichols Group, an award that has attracted nominations from industry giants. But why is it so important we celebrate and recognise inspiration in today's fast paced world?
We hear from daughters of Mike Nichols; Frances Nichols, chair and creative director of the Nichols Group and Kathryn Nichols chief executive of the Nichols Group to find out what it means to them:
"The Mike Nichols Award for Inspiration recognises inspirational projects, programmes and organisations, and their contribution to successful transformational change for the world and society.
The award celebrates the legacy of Mike Nichols, founder of the Nichols group and Chairman of APM from 2006-2013.  Mike was an entrepreneur, visionary and an inspiration to all he met, he inspired others to achieve their dreams and go above and beyond.  He passionately championed inspiration in project management, striving to inspire and deliver positive change in the world through successful projects.
Recognising inspiration is integral to stimulating positivity and love not just in the change management industry, but throughout the world too.  Our recognition of inspiration, innovation and vision, demonstrates to young professionals that with passion and drive anything is possible, and shows established professionals that thinking differently can lead to great outcomes.
Through the award, we bring people confidence and provide them with a platform with which they can better share their experiences and passion with the world, creating a ripple effect of positivity and bravery across a society that can sometimes be a negative place.
Our previous winners have included Cambridge Education, a member of the Mott MacDonald Group, who supported the Ugandan education ministry between 2011 and 2014 to reform the lower secondary school curriculum, Nottingham City Council's Good To Great Transformation Programme, which used innovative and transformative approaches to protect frontline services and enable Nottingham to grow and thrive as a city, the I Dare U Foundation, an organisation with a vision to empower women to achieve their dreams, and lastly, Khadijah Abdullah, on behalf of the Education Performance and Delivery Unit in Malaysia, which aims to develop world-class education for Malaysian children of all backgrounds.
To continue Mike's legacy of inspiration and positivity, we are thrilled to have the opportunity to celebrate and acknowledge what has inspired society in the last year.  Nominees will include projects, programmes or organisations anywhere in the world."
The Awards recognise the very best individuals, projects and programmes the profession has to offer, from aspiring young project managers to complex and transformational projects and programmes both in the UK and overseas. Judged by a carefully selected group of experienced, highly qualified and well-respected project professionals, entries are welcomed from all industries, and open to projects of all sizes.
With a total of 16 categories to choose from, and culminating in a high-profile awards ceremony in November, the APM Project Management Awards offers project professionals the chance to achieve the recognition they deserve. Enter now and help us celebrate your success.