The shuttle case - Leadership under stress by Stephen Carver
"We choose to go to the moon, in this decade…": those now immortal words of President Kennedy sparkled across my childhood. The Cranfield School of Management's speaker: Stephen Carver's talk on 'Leadership in NASA'; taking in both the Challenger (Jan 86) and Columbia (Feb 2003) disasters cast these words in a totally new light. We learned this commitment from the US President came as a 'complete surprise' to NASA, who were "furious". Not only was their stated mission for 'un-manned' exploration, now taken to a wholly new level of complexity, but it was to be completed against a seemingly unattainable timeline, in which NASA had no say, whatever.
For  all 106 attendees, having been welcomed and introduced by Sellafield's Projects Director: Ian Marr, and so arrestingly winning our attention, Stephen then took us all on a journey through NASA's intense organisational and project management challenges up to and beyond those pivotal "Go/No Go" decisions, the night before launch. NASA's conscious committal of those ill-fated Challenger astronauts was vividly shown to be based on utterly ill-founded optimism; made more shocking since NASA's 'Go' decision was based on an assessment it would "probably be alright".
Following an explosion, just 72 seconds after take-off, at 48,000 feet (15km), the separated Challenger crew module tumbled downwards. Five of the 7 crew members, still conscious, tried in vain to operate the power dependent safety mechanism before they all died when the capsule eventually impacted with the sea after 4 minutes in free-fall.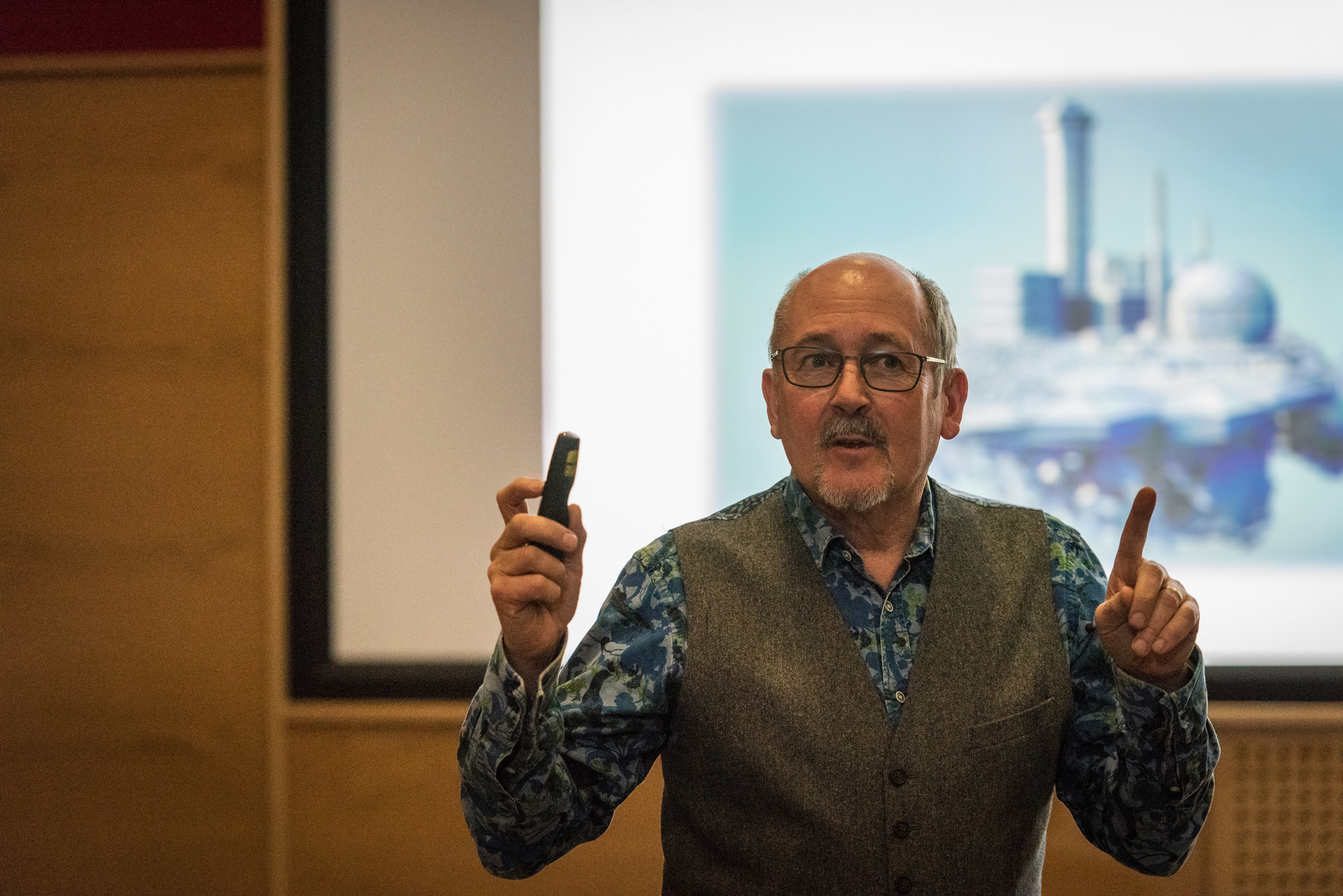 Stephen then revealed the questionable origins of the NASA team itself; under former SS major, V2 rocket scientist: Werner Von Braun, based in Huntsville, Alabama.  Stephen presented, with startling immediacy, the sheer impudence by which von Braun 'negotiated' 'Operation Paperclip': legal immunity from War Crimes accountability, and impunity to US immigration law, for relocation to the USA of his Peenemünde V2 scientists; responsible for so many deaths in Europe.
Graphic video footage was provided exemplifying the toxic relations that ensued between Washington, Mission Control in Houston, Launch Control at Cape Canaveral, and especially with the Mormon Company: 'Morton Thiokol'; Designers and builders of the Solid Rocket Boosters (SRBs), containing fundamentally flawed 'O-Rings', that sealed the fate of Challenger.
 In graphic detail Stephen described how, 23 years later, the impact of a laptop sized piece of 'foam broke off Space Shuttle Columbia's main booster; smashing into the left wing, creating a hole leading to 'burn-up' on atmospheric re-entry. We learned the crew were not told of the damage, nor given clearance for an Extra Vehicular Activity (E.V.A.) to inspect the wing. They never knew.
 The subsequent exposure of NASA's shortcomings leading to both failures, by independent enquiry, highlighted;
'Too much management and not enough leadership'
Low empowerment
Fear of escalation
A silo mentality
Complacency,
No 'One-Vision'In a poignant moment towards the end of the talk Stephen described a recent visit to NASA who had invited him to give his talk, where he was introduced to 'Jonathan', who pressed him to promise he would continue to share these stories and lessons to be learned around the World. Only later did he learn this was the husband of Laurel Clark, Captain. USN, who flew on Columbia…  
For all attending, there were resonant lessons on project management: responsibility for those under a duty of care: to practice empathy, and compassion; never losing sight of the fact that each member of the team, 'behind the uniform', is a human being with family. We were reminded too, that a culture supporting 'organised fun', will realise greater creativity – a fact recognised by no less an explorer of previously uncharted realms than Albert Einstein!
Recommendations sought to address all these, and increasing 'listening skills', exemplified by a quote from Colin Powell highlighting that if staff are not bringing problems to the attention of management, then this reflects a failure in leadership.