Chartered Project Professional (ChPP) support services
Are you considering applying to become a Chartered Project Professional (ChPP)? If so, APM has created a range of support services to assist individuals in preparing their applications for submission.
These services are the first of their kind and the initial introductory sessions will be exclusively available to members of APM free of charge (limited spaces available).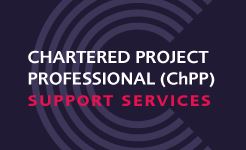 Further sessions will then be open to everyone, with be a discounted rate available to APM members.
There are three types of support service:
Online clinics
Face-to-face workshops
Onsite face-to-face workshops for corporate partners and affiliates
Support services:
Online clinic #1: "Understanding the chartered application process"
This online clinic provides delegates with the information needed to fully understand the impact of ChPP on their career. It will provide information on the routes to chartered and the requirements needed when applying.
This informative session will also help you:
understand which is the right route for you;
understand the evidence requirements and assessment process.
Online clinic #2: "Your application: the written submission and interview"
This is an in-depth session for those considering applying for the standard through routes one and three. The clinic will help delegates gain clarity of the overall process, learn how to select the most appropriate projects for submission, and how to make a positive impression at the interview.
This online clinic will also help you:
Understand what is required to create a 'good' project overview
Be confident in your ability to evidence the required level of competence and understand what an acceptable written competence statement is likely to involve.
Chartered workshop
The day will be split into three key sessions covering the application process, drafting your application and an overview of what to expect from the interview.
In addition to providing an in-depth understanding of the requirements and assessment process for ChPP, there will be a practical session designed to help you come away with first drafts for inclusion in your application.
Who should attend?
The workshops are designed for anyone looking to looking to kick-start their application in a facilitated session. We expect this workshop to be most useful to those applying through routes one (for those who have a recognised assessment for technical knowledge) and three (an experiential route for those who do not have a recognised assessment but do meet the eligibility criteria).
Session one: An interactive session on the application process
Session two: A practical session on drafting your application
Session three: Clarity on the aims of the interview stage and the purpose of the questions
What is the process to qualify for ChPP?
In order to qualify for ChPP, you will need to show you have advanced technical knowledge, successful application of this knowledge, and you will need to commit to professional ethics and show continuing professional development.
The ChPP assessment process comprises of two stages, depending on the route you have chosen:
Stage one: Written submission providing evidence of professional practice, a record of 35 hours CPD over the previous 12 months, and details of two proposers.
Stage two: An interview lasting up to two hours exploring the evidence submitted in the written submission and ethical behaviour.
For the full details of competences that will be assessed, download the ChPP application guidance.
For all support services queries email supportservices@apm.org.uk
---