Wessex - PM Challenge Finals Night
Drawn first to present were Team JJPINK, from Southampton University, who delivered a TEDx evening at the University in February. They managed to get a TEDx licence, not at all easy to do, and the evening was a huge success with 100 tickets sold. They could have sold a lot more but under the terms of the licence they were not allowed to make a profit from the event and with the price of tickets having been fixed were unable to vary them. Tickets sold out in less than 1 week.
4 speakers and 2 videos made up the night. 2 of the speakers re-scheduled their diaries and flew in from overseas to support the event. The event was broadcast live over the internet and has now been viewed in 42 countries.
Second to present were Team COATHE, from Bournemouth University, who developed a prototype game based upon the APM Fundamentals course. They had liaised with APM for the right to use their shared practice questions. Feedback on the game was both positive and constructive at the demo day at the University in January.
The main issue encountered was the dis-engagement of certain team members throughout the lifecycle though there were issues as well in determining an appropriate printer for the game. Even though they chose an online printer the information provided to the team proved to be false and other 'issues' were encountered by them resulting in very last-minute delivery of the product.
Third to present were Team SYNERGY, from Bournemouth University, who developed a card game to create awareness of risk management for students and apprentices. As a team they liaised with Nationwide to develop some of the scenarios, showing good initiative. The game was developed to link in with APM's Inspiring Positive Change initiative, aimed at 18-25 year olds.
Communications within the team moved from weekly face2face to social media as time progressed and this became a real issue for the team as not everyone was viewing on a regular basis.
The game was prototyped at an internal University event in December and then again to a wider audience in January when feedback was received from industry professionals on how it could be improved, notably that it focused more on issues rather than risks.
A well earnt food and networking break followed as the judges broke away to reflect on the first 3 presentations.
Nice food and drink but it was back to business with Team MY-MIX, from Southampton Solent University, who designed an online tool for training bartenders for a specific client using the PRINCE2 methodology.
Some delays were encountered during filming and recording as well as a change to the editor to create a more professional product. A website was set-up, which demonstrates the product of the project as well as an interactive quiz section. The company (client) has been so impressed that they are seeking to role out to other areas of their business and they are adopting the website. One of the teams learning points was that using Agile might have been a better approach.
Penultimate to present were Team PHOENIX, apprentices from BAE Systems, with a revision guide for 1st Year 1st Semester apprentices within BAE Systems. This would act as a revision guide to the various exams that they undertake throughout their apprenticeship. Eight modules were included, and they were chosen based upon feedback from a questionnaire.
Lack of buy in from early careers and apprentices on the scheme was the key risk which was mitigated and removed as a threat to delivery. The biggest stakeholder management issue identified was availability and contact with the project sponsor (don't we all empathise with that!) though there were problems with the training provider as well which were eventually overcome.
Each of the 4 success criteria identified at the beginning of the project have been achieved and signed-off as such.
Last up, but by no means least, were Team SEEKERS, from Southampton University, with their project 'You do not know who I am'. The team of 6 were made up of students from China and Morocco.
An event was held at the University on 13 February including a game/quiz on architecture, table football, a food game, a literature game and Connect Four! Twelve issues were specifically identified as well as four specific problems that had to be overcome. To save costs, they re-made Edinburgh Castle out of cardboard boxes, so it was free.
The judges broke away to continue their deliberations and the branch welcomed good friend Nick Fewings of Ngagement Works who spoke of 'Please upgrade to Teamwork V4.1'.
This was Nick's 499th presentation, his 500th being next week in Singapore! He opened with a picture of a pencil and shared that this was his project management toolkit when he first began. The writing end being his printer and the rubber his delete button.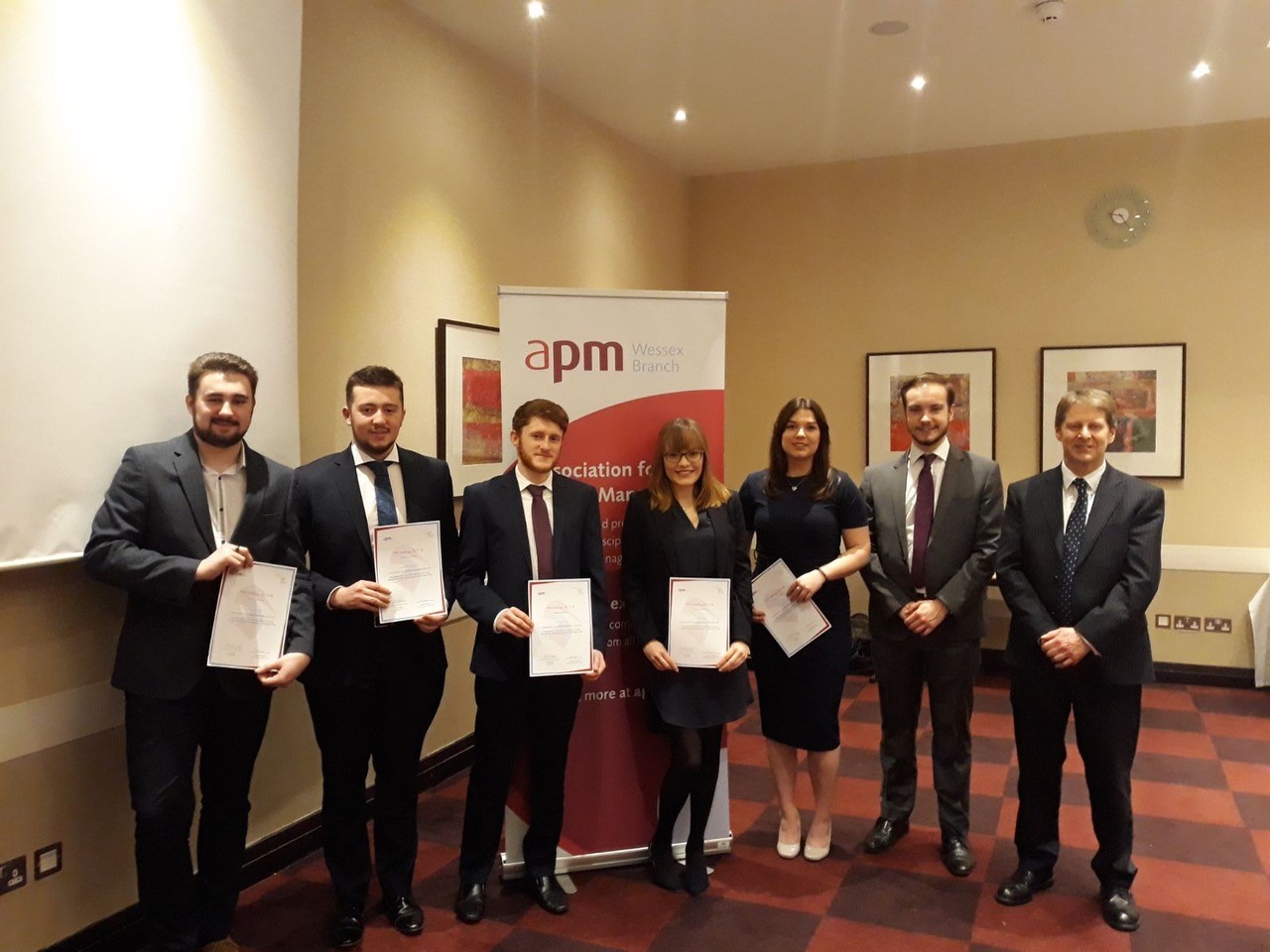 Nick reminded us that we need to include People on each of our team meeting agendas and that we should attribute good time to developing stakeholder engagement. We need to understand:
Who is in our team?

Technical skills
Behavioural skills

What the team exists to do?
How effectively we work together?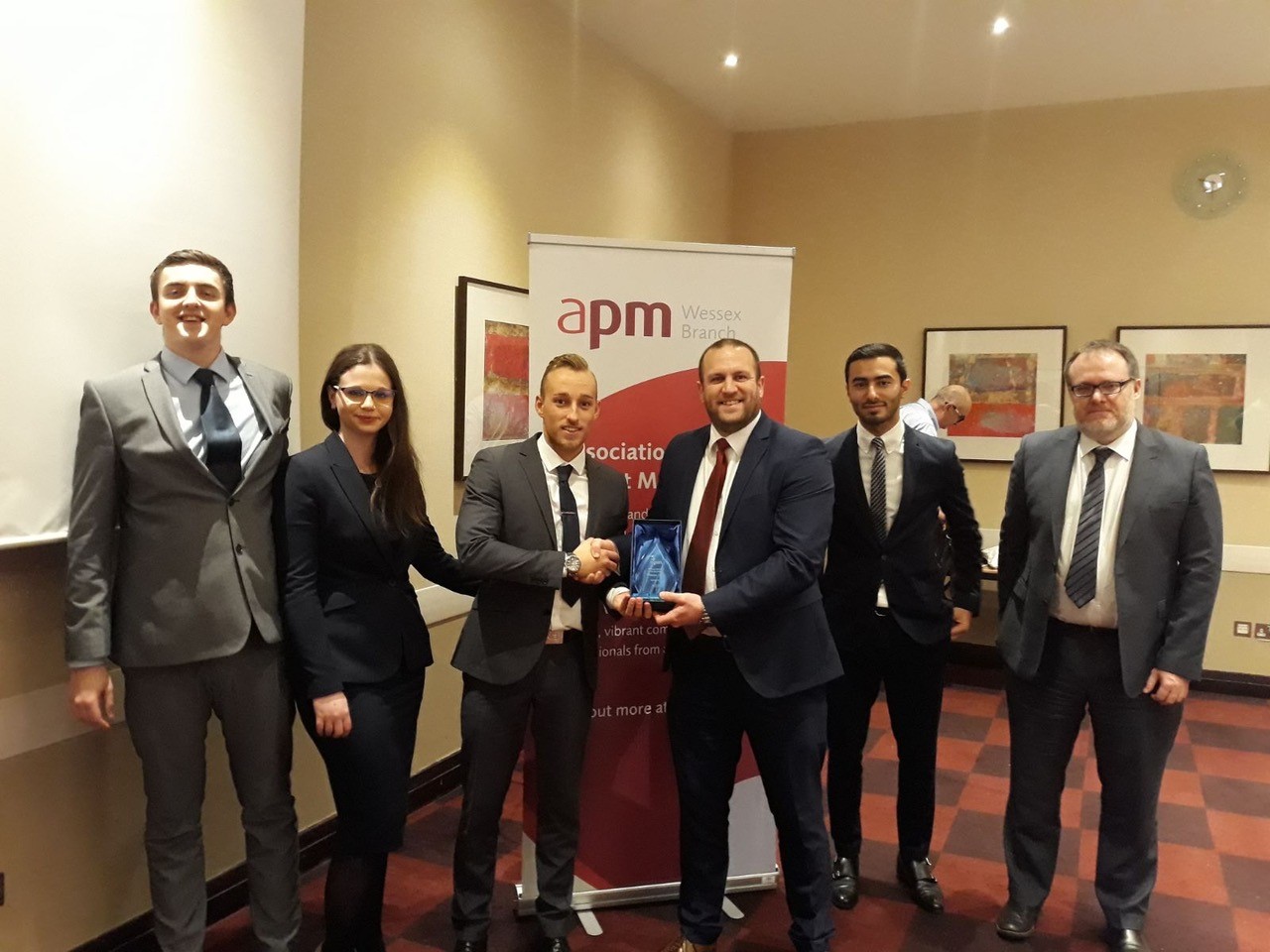 If you measure you can understand which allows you to improve and monitor how well they are being achieved.
Throughout this light-hearted but effective, informative and challenging presentation Nick retained the attention of all in the room.
His website offering support and information is:
With the judges returning, their verdict was delivered by head judge Richard Scott, with Southampton Solent University Team MY-MIX being declared overall winners in a very tightly fought contest. They were presented with their individual trophies and awards by Elizabeth Russell, APM Wessex chair, and Phil Jeffries from the PM Challenge sponsors, 20|20 Business Insight. Hearty congratulations to Team MY-MIX.
Thank you to committee member Joe McNeil for his overall organisation this year, and to our sponsors, judges, mentors, tutors, leaders etc. but mostly to everyone who entered the Wessex Branch PM Challenge as you are the future of project management #FoPM.
Russel Jamieson