5 steps to successfully managing a project remotely
I've been working as a remote project manager and consultant for the past 12 years. I've done some onsite work along the way, but basically I've been remote about 95% of the time. I don't think it's for everyone, but I'm not saying you have to be the most organised project manager or person in the world to pull it off either. I certainly am not. What you do need, however, is a plan or some steps to get you to the point of being successful on a regular basis.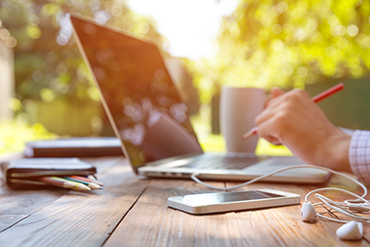 I jumped into it basically on the fly. I started working for an organisation where client projects were managed remotely and teams were usually geographically dispersed virtual teams so even though the company's headquarters were here in Las Vegas, I still worked remotely from home because my project teams were never co-located here in Las Vegas and my customers certainly were never here in Las Vegas. I had desk space at the headquarters, but almost never used it. What I've learned from that position and along the way since then is that it really takes 5 key steps or concepts to be successful as a remote project manager or consultant.
Let's consider these five...
1. Practice communication excellence
Remote project management isn't for everyone and if you aren't a master communicator project management in general may not be for you. Communication is Job One for the project manager for emails, to weekly and adhoc customer and team meetings to conference meetings and Skype calls - it's all part of the project manager's communication responsibilities and this is especially true for the remote project manager who must use these tools and opportunities often, successfully and efficiently to manage the project engagement to a successful end solution. More frequent communication as well as creative ways to stay in touch with the project team and customer will be required of the remote project manager. Regular meetings and emails are always a must, but the remote project manager's situation is well-served by conducting additional communication like daily emails to the project team and customer that provide quick status updates. These types of efforts to keep everyone on the same page in spite of the lack of co-location capabilities serve to keep the team and customer confidence and cohesiveness high.
2. Be flexible in your working time
As a remote project manager, besides experience one of the best things you may be bringing to the table is an ability to work at different times of the day. Being able to work successfully from Las Vegas with a project customers in California, Illinois, and London all the same time but 9 hours apart in time zones makes is what makes the remote project manager successful. It's not for everyone and if you require extreme amounts of sleep it won't be for you. But if you can move your work time around and be available when your project customers need you, then you bring a lot to the table in the remote project management role.
3. Have more meetings
Since you won't be working with a project team and the customer face to face much and possibly never, conduct more meetings, not less meetings. Hold weekly status meetings and weekly internal team meetings as usual, but it may be good idea to add monthly or quarterly project review meetings on longer engagements to increase the "virtual" touch points on the project. Since the project customer can't reach out and "touch" you and see you, the more status updates, discussions and project health updates you can provide and discuss with them the better. It will only serve to increase their confidence in your ability to deliver. The same is true with your project team who is not working physically close to you. More frequent team meetings will strengthen team cohesion and collaboration and help eliminate any frustrations that could otherwise come with team members not having close access to the project leader.
4. Have multiple designated work areas
Because you're working remotely from a home office that may be invaded at any moment if you have a family, it's always best to have multiple areas in the house or nearby offsite that you can go to for a conference call or product work needs. I have two areas in the house and one outside on the back deck as well as two nearby Starbucks location where I can work very productively if the need arise. Make sure you have the mobile equipment ready and available to take that conference call somewhere other than your primary desk location if the need arises.
5. Conduct an awesome project kickoff
Getting the project or whatever work you're doing with a project customer or client off the ground productively, efficiently and successfully from day one is critical to the rest of the project. The goal will to make sure that everyone is on the same page from the outset. That may just be you and the CEO or project sponsor of the other organisation or it may be two full teams and everyone in between. But kickoff the project or engagement and make sure everyone understands the goals, the key dates, their roles, any risks and assumptions, and how communication will be handled and have a draft schedule to review that will change as the project moves along. Getting the project off on the right foot is important - you never get a second chance to make a good first impression.
Learn more about succeeding with dispersed teams in APM Learning.