Barriers to project data analytics and how to overcome them

It is no longer a surprise for any project practitioner that historically many projects have failed to adhere to their time and cost estimates or failed to deliver the expected benefits. And at the root of this poor delivery lies poor decision-making. Often, decision makers or project professionals aren't able to react in a timely fashion to an event that may disrupt the original plans of a project, or don't possess the sufficient insights to predict a deviation from the same. But the truth is that we've had and used data around projects from a long time, hence project controls departments. There's also a growing awareness between project professionals about digitalisation and how the use of better data analytics could improve project performance. Nevertheless, it's ironic that in the era of smartphones, sensors and cloud computing, we have more project data available than ever before as well as the tools to process this data, but little evidence that suggests application or improvement to projects.


So, what is project data analytics?
The project delivery profession is in the midst of a project data revolution with unprecedented technological innovation. Project data analytics (PDA) has the potential to change project delivery. Feasibility studies indicate that using PDA better could produce savings of over £23bn per annum in the UK's infrastructure sector; yet it's still not understood or widely adopted.
PDA, at its simplest, is the use of past and current project data to enable effective decisions on project delivery. This includes descriptive analytics, which presents data in the most effective format, such as in a dashboard, and predictive analytics, which applies machine learning to a multitude of data sources to predict future performance.


The PDA failure so far
Studies demonstrate that whilst descriptive PDA in terms of dashboards are widely used, these aren't improving decision making. On the other hand, predictive PDA is only being pursued by an exceedingly small number of infrastructure providers.
Given the huge potential for PDA to improve infrastructure project delivery and its failure so far to live up to its promise, there is a pressing need to understand the barriers and enablers to the adoption of PDA.


Understanding the barriers and enablers to PDA
Giving this pressing need, and an existing hype for technologies such as artificial intelligence in project delivery, we conducted a Delphi study to understand the barriers and enablers for adopting PDA in complex infrastructure projects. This study was conducted as part of the research activities of the Project Praxis Group at the University of Warwick, led by Prof. Naomi Brookes, and was sponsored by the Oakland Group.
A Delphi study is a systematic and interactive research methodology for obtaining expert judgment on a specific topic. We consulted an extended panel of senior project practitioner experts from across stakeholder groups and role types in the infrastructure sector. Between our participants we had over 400 years of collective experience in different parts of project delivery, and they represented the views of some of the most important project delivery and consultant organisations within the UK. This provided a unique insight into the minds of key decision‑makers and the opportunity to understand which direction we need to move in to harness the decision‑making power that comes from analysing project data in a most effective way.


The key findings of the report
We identified six major thematic issues that act as barriers and enablers to PDA adoption. We also asked our participants to rank the barriers and enablers, and though the rankings were different, we were able to identify core issues which are unanimously considered important in adopting PDA. You can read more in-depth details and interviews in our report.
The key six thematic areas that impact PDA are:
PDA systems and standards,
universal data literacy,
unprecedented change management,
PDA friendly culture,
motivations to adopt PDA unknown and
benign data environments.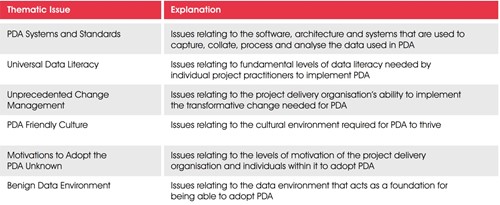 We divided these six areas into 22 sub-themes which clearly inhibited the adoption of PDA ('barriers'), whilst others facilitated PDA ('enablers'). Some sub-themes could act as both a barrier and enabler depending on the context in which they were operating.
The most impactful sub-themes ranked by our participants are shown in the diagram below: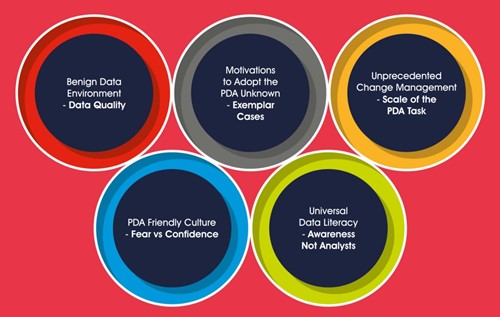 Implications and actions
It's noteworthy that participants didn't rank issues surrounding the standards and systems of PDA adoption as of the highest importance. Instead, they prioritised aspects of the fundamental environment for PDA. Their responses exemplified that adopting PDA successfully goes way
beyond the simple acquisition of a new piece of analytics software or a new dashboard.
The Delphi participants response has shown a number of implications for adopting PDA. Firstly, the thematic issues are linked together in a network of complex relationships. These need to be managed carefully and there is no 'silver bullet': all aspects of implementing PDA need to be considered holistically and simultaneously. Secondly, organisations need to recognise that their journey to adopting PDA needs to reflect how mature they are across the thematic areas. Only by addressing all aspects of organisational implementation and by tailoring their journey will organisations be able to benefit from the huge potential that project data analytics offers.
Read the complete report '(R)evolution: Barriers and Enablers of Project Data Analytics in Infrastructure Projects' with the complete findings and implications here.
You may also be interested in:
*Diagrams courtesy of Luis Lattuf