Chihuahua or Great Dane, what breed is your programme?
There is a growing recognition at senior management levels of the value that the application of programme management can generate and its impact on the achievement of an organisation's strategy and the associated delivery of benefits. Most definitions of programme management reflect that the core purpose of programme management is to coordinate the delivery of a collection of projects to deliver benefits.
The APM defines a programme as:
"Programme management is the coordinated management of projects and change management activities to achieve beneficial change."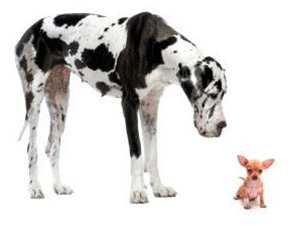 However, the characteristics of programmes across organisations are as diverse as the benefits they seek to deliver.  For example, the programme management approach for the implementation of a central government public-facing IT platform and the associated operational changes will be profoundly different to the approach needed to successfully deliver asset renewal projects across a utility network. 
All shapes and sizes
Like dogs, programmes come in many shapes and sizes.  Some are lean, agile and fast paced, like a Greyhound, some are strong and resilient, like a St Bernard and some are a mix of breeds remaining versatile by combining the best of more purist elements, like a Labradoodle.
But whilst they are very different they all have the same core attributes. For dogs it could be described in terms of having four legs, canine teeth, claws, a tail or a strong sense of smell. For programme management it would include governance, planning, controls, assurance and management of change, however, each programme needs to adapt to the organisational context in terms of these core attributes. In my experience, applying a one size fits all programme management model is rarely successful. But that said, there is value in ensuring the universal principles of good programme management as articulated in the APM Introduction to Programme Management or Managing Successful Programmes are applied to all programmes.  
Where this is particularly relevant is the different approaches necessary to be successful in two very different types of programme. Firstly, multi-project programmes, those programmes where the projects are highly interdependent and where the outcome or benefits will only be achieved when all projects successfully deliver their outputs. And secondly, repeat project programmes, those programmes that incorporate a high number of projects of a similar nature but where the direct interfaces are limited. Both types need some form of governance, planning, controls, assurance and management of change but the approaches applied will need to be quite different to fit the circumstances.
Multi-project programmes
Leaders of multi-project programmes will need to develop approaches that keep the focus on the benefits and outcomes and embed this at the heart of all programme management activities. This will compel those involved in the programme to undertake the projects that will have the greatest likelihood of delivering the organisation's strategy and to then closely manage the interdependencies between projects to generate high levels of confidence in delivery of the intended capabilities, outcomes and benefits.
Repeat project programmes
Those charged with the delivery of repeat project programmes should develop approaches that focus on maximising the synergies between similar projects through optimised commercial arrangements across the programme, the minimisation of impacts to existing operational activities and through the optimisation of project timings to smooth resource peaks and provide a smooth profile of work to maintain optimal production. Generally, this type of programme will be based around the renewal of existing assets or the deployment of new assets in multiple locations.
 A key challenge for the programme management team will be how it can add value beyond that created by the individual projects in the programme. This can be more problematic in repeat project programmes as each project will generally proceed on its own merit and therefore at the early project stages the programme may experience a higher rate of projects not proceeding past initial scoping. Our programme Management teams need to establish an environment where the approach to the management of projects in the programme is industrialised to create efficiencies and economies of scale that cannot be achieved by projects on their own.
As programme managers we should reflect on the nature and characteristics of our programmes and use skill and judgement to develop approaches that are suited to the context.  What breed is your programme?