Over more years than I care to remember, I have seen many projects and programmes across a range of diverse business environments set themselves up for failure from day one - nothing to do with me of course!
The apparent need to mobilise at pace, 'we need this project delivered tomorrow' syndrome, the inevitable politics and the general lack of sufficient planning and risk foresight are all critical factors of failure. We need to stop making it up as we go along.
Another critical factor of failure is a proper understanding and a keen focus on why the investment is being considered in the first place.
In other words, if an organisation spends large (sometimes colossal) sums of money on an initiative, what should it focus on? Time, cost, quality and customer satisfaction metrics alone are not enough to demonstrate that spending the cash has been worthwhile. Instead, I would argue that by focusing on the business benefits the rest will fall into place! Does anyone recognise the board-room decision-making scenario below?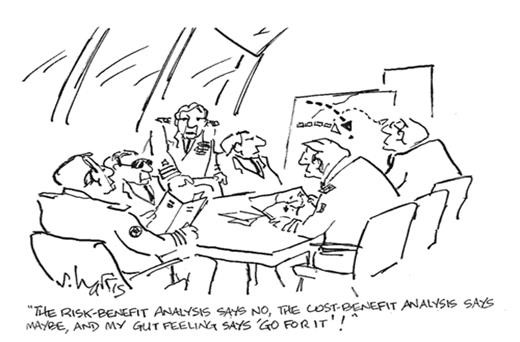 In my experience, and not just in benefits management scenarios, there are three wise men that we should learn from; people, process and technology. They teach us how to optimise our investment in change initiatives and achieve business benefits - particularly when applied as a complete package.   
It's all about people
The first wise man. People. The most important. Almost without exception, true motivation comes from within an individual, and individuals are motivated when they feel they are valued and contributing something worthwhile in each project scenario. A positive and supportive organisational culture (attitude and behaviours) also motivates people to behave and collaborate in the right ways.
People - including both the worker-bees and those who 'lead' or 'decide'- are by far the most valuable commodity that organisations invest in and my advice is to recruit wisely. Without the right people, projects and business investments will attract shades of failure and some may wither on the vine.
I'm being deliberately provocative here of course but, in my experience, it is people that fundamentally make the difference. Professional skills, enabled with the right levels of knowledge and experience of benefits management, and how to apply this to business change scenarios, are key to success. If these are in place, then the odds of delivering your project or programme benefits realisation targets are significantly improved.    
Continuous process improvement
Wise man number two. Process. In the context of benefits management, it is vital that strategy is underpinned by a plan, which in turn is underpinned by a schedule. The schedule needs to have sufficient detail to manage and resource the delivery of outputs which must then be transitioned into business as usual.
Through the benefits lens, there should be sufficient robustness, tempered with enough flexibility to veer and haul where necessary to optimise transformational flow and the benefits realisation process.
Ensuring that benefits are identified, planned, delivered and reviewed is the cornerstone of all, and any, change initiative and should therefore be subject to continuous scrutiny and improvement. In practice, this is easier said than done, and can be complex, but I would argue, that we need to shift our outlook towards a benefits management culture.     
Embrace technology and innovation
The third wise man. Technology. Transforming working practices enables organisations to improve business results, and to thrive and prosper in an ever competitive and global world. Information and data are extremely important assets, and organisations need to be alive to this fact.
There are many benefits-focused tools and technologies on the market, and I recommend that you give them a go to assess whether they add value to your own change initiatives. Beware that many of these technologies focus exclusively on financial benefits, but non-financial benefits should also be investigated and analysed for their contributions to organisational performance such as; efficiency, effectiveness, risk or compliance.
In my experience, tools and technologies (even Excel!) can support a benefits-led approach, so embrace them, but always ensure that they are a good fit to your organisation and business processes. Organisations must know what they require of a tool before they commit to one and they should be able to implement the processes ahead of embedding the tool ensuring improved efficiency.
Finally, it's also all about integration
As ever, nothing across the enterprise operates in complete isolation.
The three wise men of themselves are not enough. People, process and technology business factors need to be integrated into a well-oiled highly-effective and efficient machine; capable of adapting to a new or unexpected change initiative.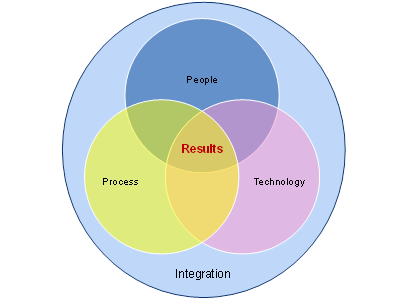 Integrating the three areas can be tough, and when you have done it once how do you make it stick? I suggest you go back and read my first section 'It's all about people'!   
I've intentionally been a bit provocative in my ramblings because I believe there is a need to stimulate thinking, and promote debate, amongst benefits management stakeholders across our society.
We need to 'raise the bar' of the benefits management profession, to ensure that organisations appreciate the fundamental importance of robust benefits management in delivering successful change initiatives. Organisational change initiatives, should be planned and executed in a benefits culture, leading in turn to improved business results and better societal outcomes.
Lastly, in the context of managing benefits, whether you are interested in portfolio driven strategy, collaboration, investment analysis or achieving transformational change in your own organisations, I recommend that you come along to Realising benefits in a changing world, our Benefits Summit on 22 June. It's shaping up to be a fantastic event. Lots of inspirational speakers, learning and networking opportunities and fundamentally great value!