How agile is agile? Insights for a post-pandemic profession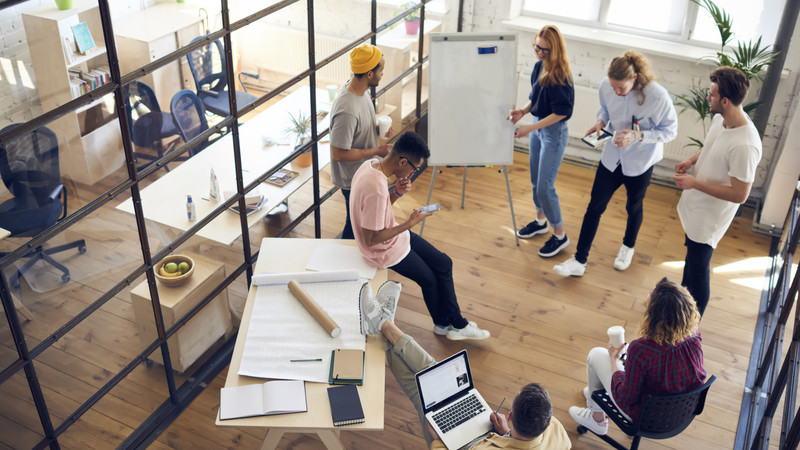 In this age of pandemic, how agile is agile project management? With the key agile principle of informal collaboration and communication seemingly hindered by remote working, is agile up to the challenges? Six months into APM's major study of agile with the University of Southampton, themes are starting to emerge.
An overarching one is that the pandemic has sharpened interest in agile. Nicholas Dacre, associate professor of project management at Southampton, says: "Many organisations and professionals have had to adapt with agility to changing environments."
Yet the rapid shift to remote working, transforming the way project managers work, is not agile as such. Dr David Baxter, associate professor of innovation at Southampton, warns against conflating 'agile' with 'flexible'. "Agile makes you better with flexibility, but they are different things." After all, remote working is perfectly possible with a traditional waterfall approach.
Instead, says Professor Dacre, the research is revealing agile's qualities of resilience ­– with respondents acknowledging its usefulness in reducing risk in a changing environment with unprecedented challenges. Agile's quality of driving quick adaptation to rapid change has proved vital.
Moving forward – and the barriers
Conversely, where organisations have not taken an agile approach, projects have been postponed, with a waterfall approach proving not effective enough for a dispersed workforce. Professor Dacre predicts a bottleneck of projects ahead. "What will they do? This is a big question. Will they go back to business as usual, or will they look to increase agility?"
The question is how to create the means for adoption of agile. "With the pandemic, most respondents say they are looking to get agile. It would be good to have some kind of open framework to enable agile organisations to share."
Dr Baxter points to the gaps that are emerging: "Agile is working well at team and sometimes project level. But there is frustration at translating it to the rest of the organisation."
Yet there are positive signs. Dr Baxter cites one respondent who, in an organisation of more than 100 people, had appointed two staff members as "process guardians" to examine how the organisation was working across multiple teams. "This made a big difference." Such an approach opens up questions about the role of the traditional PMO in implementing an agile approach in an organisation.
Yet barriers remain. Hao Dong, research fellow at Southampton, points out that some interviewees spoke positively of agile's scope to allow "controlled failure" – the ability to experiment and find out what wasn't working at an early stage, rather than at the end of a project. However, Dr Baxter suggests a culture of "failure avoidance", with early troubles tainting even projects that are ultimately successful, works against implementation of agile.
A particular issue, says Dr Baxter, concerns writing agile into contracts. "How do you contract for someone to do agile for you? It is a big point that everyone is grappling with."
Where next?
The pandemic may have sharpened enthusiasm for agile, but the research has also revealed that, despite the Agile Manifesto being two decades old, agile is still not very embedded in the profession. Professor Dacre says: "Most interviewees have said they have less than five years of agile experience."
There are three major reasons for the lag: a simple lack of understanding of what agile is; inconsistent processes in implementing agile; and agile not being in line with compliance procedures – a point with particular impact on governmental organisations and the financial sector. Add to that a perception that the waterfall approach is better for the "command and control" approach that so many executives and managers still favour.
Yet signs of change are also emerging. Professor Dacre is seeing "less of an argument about waterfall vs agile".
Instead, organisations are adopting a "hybrid approach" – one "less about method and more about the goal of a project. This is a transition from process-oriented to goal-oriented project management. What is the end point we are trying to reach, and what are the best tools for this?"
Project managers, it seems, are searching for the middle ground between agile and waterfall. How successful this will be remains to be seen. But adopting such an approach could be defined as agile – if not pure agile project management. As APM and Southampton's research continues, the evolving face of agile and the profession in the post-pandemic world is set to become ever more apparent.
TO GET INVOLVED OR TO FIND OUT MORE, PLEASE VISIT APM'S RESEARCH OPPORTUNITIES PAGE.
You may also be interested in: