How leadership style affects team ownership
"I don't feel my team is taking adequate responsibility. I try to be clear when I delegate, but when they don't take ownership, I have to step in and take back control. Do you have any tips?"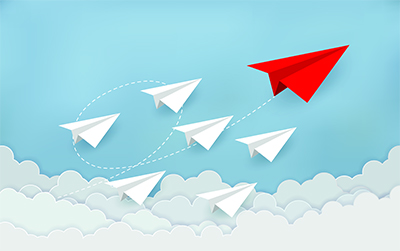 To increase your team's level of ownership and engagement, it might be useful to have a look at the leadership style you typically use. Many of us tend to rely on one major style, which may not always serve us.
Based on your description, you may be what we call a pacesetting leader. Pacesetters are typically strong role models who set the bar high and who show people how something is done. We often see this style with technical experts who know how to complete detailed tasks. Pacesetting can be very effective when needing to raise the standard of the team, but, if overused, it can cause people to pull back. The reason is that, with a pacesetter, the emphasis is on how they want things to be done, as opposed to empowering the team to find their own solutions.
If you recognise yourself in this description, try to step back and give your team more space. Lead from the front when the project kicks off by ensuring that outcomes and objectives are clear, and then lead from behind when the team is established. In other words, let the team figure out how to reach the objectives you have set. As a leader, you don't have to know all the answers. It is OK to show doubt and vulnerability, and to leave problem-solving to the team. You can do that by mixing your pacesetting style with the visionary, coaching, affiliative and democratic leadership styles.
The visionary style
This style can help you set the direction and clearly identify the goals that will lead the project to success. Think of someone like Sir Richard Branson. He creates the overall vision and inspires his teams to contribute to it. But instead of telling them how to accomplish the goals, he gives them the freedom to find the best way. You may not feel you're quite at Branson's level, but that shouldn't hold you back from inspiring the team and giving them a purpose to contribute to.
The coaching style
This style can help you unlock your team's potential by asking probing questions and encouraging people to find the answers and solutions for themselves. As the coaching leader, you will guide and challenge the team from the sidelines, but you won't take over and do the work for them. It can work wonders in terms of getting your team to show initiative and take responsibility – especially if you work with a team of highly skilled people.
The affiliative style
This is a nurturing and non-confrontational style that is effective for building trust across the team. When you use this style well, you will be able to get people to open up about their doubts and fears, so that they can concentrate on the actual objectives instead of being distracted by emotional issues. To make people feel safe, you will need to develop and draw on your listening, mediating and conflict-resolution skills.
The democratic style
With this style, you can gain buy-in for ideas by sharing the problem with the team and reaching consensus on the way forward. Together, you will generate and evaluate alternatives until you reach an agreement. It is a great style to use when the need to be inclusive is more important than the outcome itself – for instance, when agreeing the team's rules of engagement during kick-off.
Whereas the pacesetting style has many advantages, mixing it up with other leadership styles will increase your team's engagement and commitment levels. Be inspiring, ask questions, let others take centre stage and accept that they may make a few mistakes. And remember to ask for feedback along the way. Ask your team what they appreciate about the way you lead and what they would like to see more of. The best conversations are always those that are open and honest.
---
This blog first appeared in the autumn edition 2018 of Project Journal and is a regular career clinic feature.