Hybrid project management – the key to a successful future?


With the world in chaos and unlikely to return to the old 'normal', increased levels of uncertainty, organisations' strategies in turmoil, changes in working patterns and behaviours, different communications and employment practices – the only constant we can plan for is – change.

Without doubt that change will be transformative. Whether we look at it from an organisational, professional or personal perspective it will impact our lives and the way we live and work.

And given the nature of change, even in the past three months, the very nature of the projects and programmes we manage will also be very different. Our only certainty – they will not be simple. 

They are overwhelmingly likely to involve multiple products, processes and significant behavioural change. And, without any shadow of doubt – need to be fast paced.

Therefore our organisations, our profession and all of us as individuals need to understand what that means and be read. I believe this should involve effective hybrid project management.

But why hybrid? I believe the dictionary definition says it all. Hybrid is '… the offspring of two animals or plants of different races, breeds, varieties, species, or genera…' but importantly with the intention '… to get better characteristics….' and of course results.
Surely this is what we need in such uncertain times – using the best delivery techniques available to achieve success?
If we don't and we depend solely on past experience or a single standard methodology, I believe success may rely on good luck and without that the project could be difficult to manage, or at worst fail. This may manifest itself in a variety of ways; late deliveries, operational changes and/or outcomes that cannot achieve the desired benefits, dissatisfied stakeholders, teams and individuals in conflict, managers feeling out of their depth. And that could be just the tip of the iceberg!

Considering the potential of hybrid project management I find this rather disheartening.

Why doesn't hybrid project management receive the recognition it deserves?

If you agree hybrid project management has potential what's preventing it achieving it?

It is possible that its relevance and value is underestimated, in part due to a simple lack of awareness of the techniques and the capability required in a hybrid environment. And in part due to the unfortunate potential for 'power plays' and unwillingness to learn from others between differing management groups.

For example:-
project managers insisting on, or being required to, use overly bureaucratic/heavyweight project governance and processes than necessary;


organisations using agile (or waterfall) as their primary (and sometimes only) development approach regardless of the type of product;


high levels of conflict existing between the project managers, product owners and scrum masters concerning who/what is being managed.
Harsh? Perhaps. But these scenarios are happening and, critically, have the potential to lead to poor project performance.

Rather frustrating as hybrid project management is an effective approach when used at the right time, for the right initiative, using the right combination of techniques.

Ensuring success through hybrid project management
To achieve hybrid success several fundamentals need review:
selection of the most appropriate delivery approach;
the best type and level of governance, and
the current level of capability/experience, versus any new or enhanced capabilities required.
But it's not just the initiative that warrants attention. Is the…
management team willing to make best use of the appropriate techniques, collaborate with, and learn from, those involved and experienced in those differing approaches?
political layer flexible and open-minded with informed leadership who are collaborative and are willing to keep the appropriate management focus?
It is invariably true that the second group is the most difficult to influence, not least because those within that layer tend to be the decision makers or are at least highly influential in the process. They are also usually accountable for the benefit/outcomes realisation, and, for some, their job may even be 'on the line' if the initiative fails.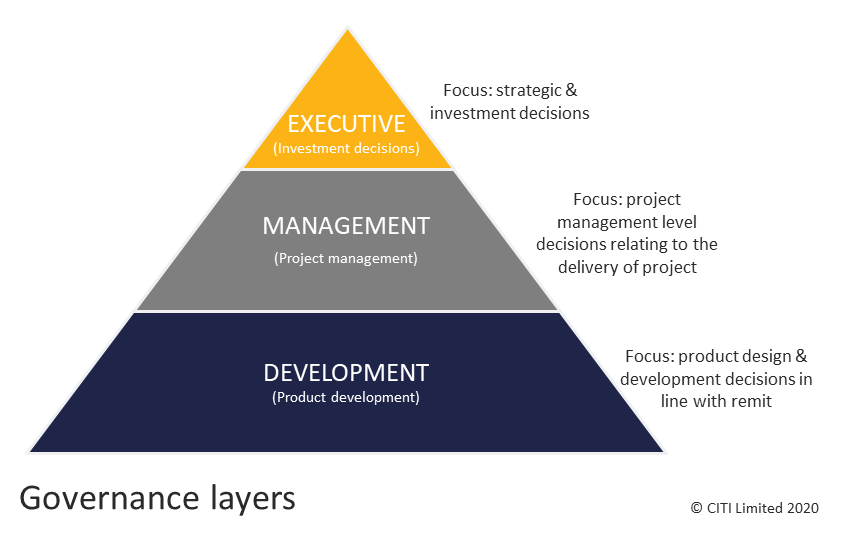 Given this environment, it is unsurprising that there may be initial 'push back' to keep to the organisation's standard method.

To enable hybrid to display its true colours and our organisations to be more successful in these uncertain times, in my view we should:
understand the differing management techniques and approaches and governance required, and importantly the value each bring to our projects and organisations;
understand when the use of each approach, and/or combination will be most effective;
appreciate and be able to discuss clarify the criteria for delivery approach selection;
consider, and develop, the capabilities demanded in a hybrid environment
and,
support and influence our leaders through excellent stakeholder management, if we believe hybrid is the right delivery approach for our projects.
This last point is crucial, because, unless our leadership is on board with the concept of hybrid, when appropriate, we will fail.

So what can we do to support and guide our leadership?

Undoubtedly high levels of networking and stakeholder engagement will be necessary. However before you start to engage consider:
Reviewing your networks, identifying influencers, those impacted by the initiative and the recognised and respected technical experts.
Ascertaining the pros and cons of using hybrid for your initiative.
Understanding the differences in managing in a hybrid environment.
Basically – do your 'homework'.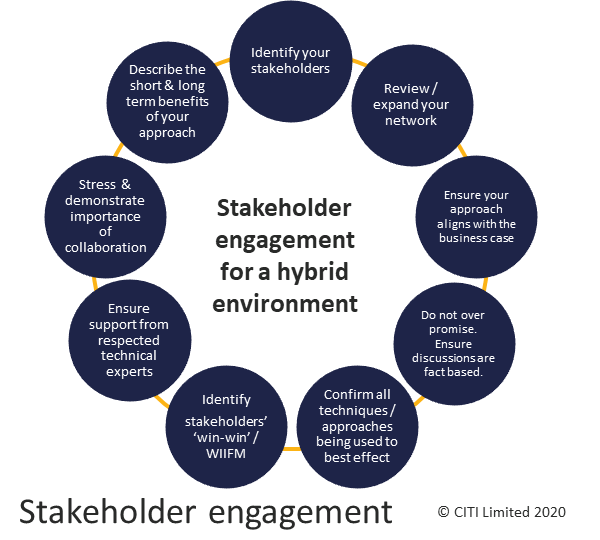 But why now?

Although our current environment has brought this into sharp focus – the use of advanced /new technology and digital based approaches will become an even greater part of our day-to-day lives. This in turn will require mixed product development approaches and consequently hybrid project management will be of increasing relevance and importance.

But transformative change, regardless of the driver, is certain to involve behavioural change, new processes, multi-layered communications and stakeholder engagement, and of course the physical devices. It is unlikely that they will all be developed using iterative approaches – hence the increasing need for effective hybrid project management.



If you would like to find out a little more about hybrid project management, the selection criteria, techniques and capabilities needed for success, please read my follow-on piece for more detail.
Image: William Potter/Shutterstock