What is conflict management in project management?

It's often difficult. What we do about disagreements or clashes can make or break our mood, wherever the conflict might be taking place. Resolving conflict in projects is an essential part of our roles as project professionals, and conflict in projects, is inevitable. It's best to have some idea of what conflicts are, how to spot them and what you can do to better your conflict management and conflict resolution skills.
Conflict in project teams usually happens when:
there are disagreements over tasks
team members and stakeholders have different values or opinions
miscommunication and misunderstandings arise
there's uncertainty or different priorities in actions
and so many more.
Why is conflict management important in project management?
Sometimes it becomes tiresome working with lots of different people; it feels like we're dealing with them, rather than being able to manage or engage them. So when we think about conflict as an opportunity, it becomes a more positive experience for all involved. We need to explore conflicts to enable creativity and innovation. But, different people approach, and are affected by, conflict in different ways. We need to remember and understand that some of us like to tackle the problem head on, and go into fight mode, whereas others become passive and prefer to avoid confrontation by going into flight mode.
If conflict isn't hostile or negative, it can drive discussion, but when conflict isn't handled properly, or there's too much, it becomes harmful. Notice conflict before it becomes an issue, here are some common things to look out for:
defensiveness instead of listening to others
not wanting to collaborate
direct challenges to decisions
unexpected changes in the style of communication
So how do you handle conflict in project management?
Let's take a look at conflict management approaches in project management using the diagram below, adapted from the Thomas Kilmann Conflict Mode Instrument: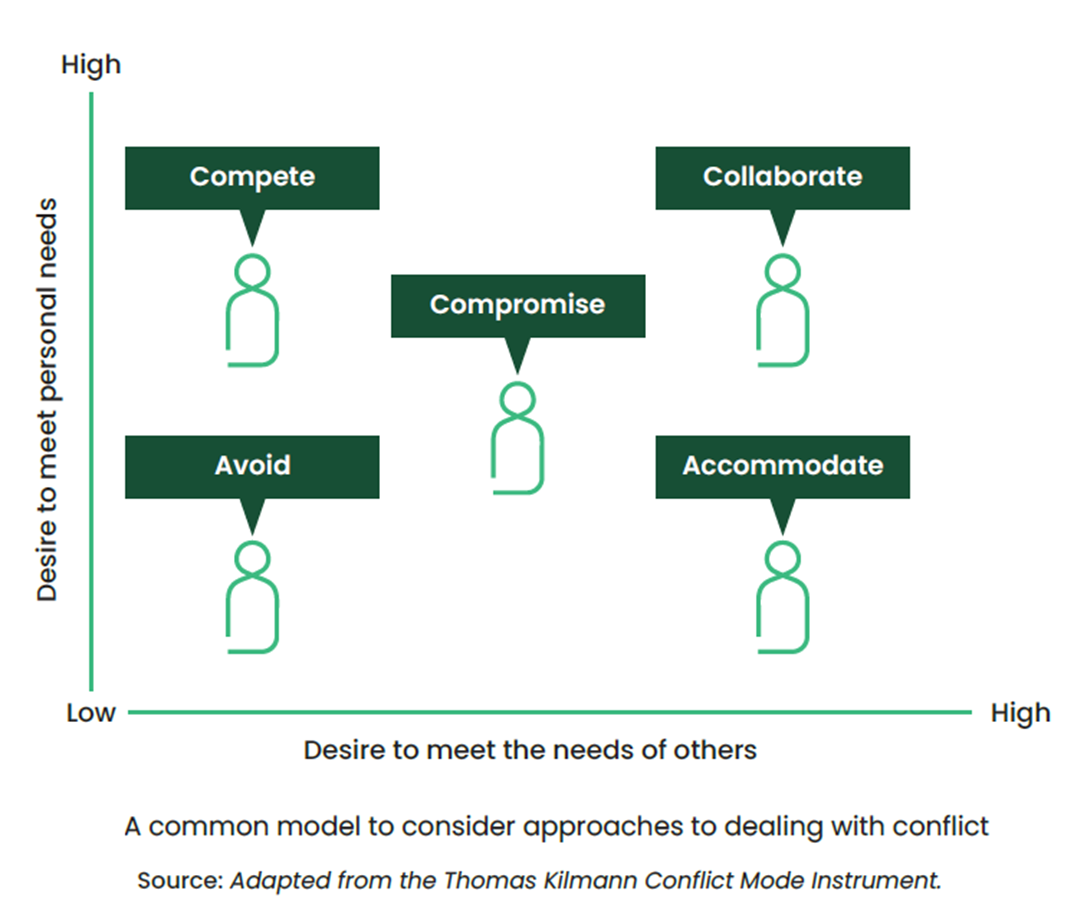 There are various conflict resolution techniques that help us deal with disputes and they depend on our desire to meet our own needs vs the needs of others.
Compete: This tends to be uncooperative with one person showing more assertiveness; where 'I win' and 'you lose'.
Collaborate: This is ideal; a win-win outcome. It's when all groups and individuals are cooperating for a solution.
Compromise: This is a 'give and take' scenario where everyone feels they've achieved some of their wants, but it might not result in the best outcome.
Avoid: This is when no one is cooperating or being assertive about making a decision; no one wins because nothing is being solved.
Accommodate: This is where we focus on others needs, which is great for the others, but may make the individual feel unheard.
Conflict management techniques in project management: 
Keep in mind that conflict happens. Almost all projects will involve conflict of some kind, so be mindful and plan for it. Give yourself, and your team members, time to manage disagreements.
Don't avoid or ignore conflicts. Unaddressed conflict can become a bigger problem and divert the team's attention. This can impact project delivery, so be proactive in noticing and sorting out issues.
Actively listen to different views. Coming to a resolution, whatever that may be, is impossible unless you're practising active listening and understand the different perspectives of the people involved.
Facilitate and encourage discussion. Emotional intelligence is a key part of conflict resolution. Everyone needs a chance to share their views and as leaders, we need to enable those discussion with empathy.
Keep conversations neutral. Managing conflicts isn't about picking sides or seeing who's right and who's wrong, so avoid any judgments. Keep all discussions neutral and inspire the team to do so as well.
Think about the resolution. Having a clear goal in mind before entering a discussion with conflicting parties is a good way to keep your focus. Problem solving is an essential skill you need as a project manager, and this extends to stakeholder engagement. It can be easy to get stuck in the details so think about the resolution that will bring success to the project.
Managing conflict as a project manager requires key skills. And conflict isn't always negative, but if it's not handled appropriately, it can cause serious issues on a project and lower morale. Positive conflicts lead to new ideas and thinking which can benefit the team as well as the project, so it's vital we hone our conflict management skills, and keep projects on track!