The demand for project professionals continues to rise and millions of new project-management jobs are set to be created globally between now and 2020.
This has led to a war for talent, so organisations need to prepare to do a lot of recruiting, training and engagement work if they are to win and retain the best project managers.
Unfortunately, however, many organisations are failing to make the most of the project managers they already have.
Home grown talent
There is a widespread lack of recognition of home-grown project management talent – people who are not only good at their jobs but understand the organisation's business environment and contribute effectively to strategic plans.
Great project managers are hard to find, yet there is a risk that organisations are letting their star project managers slip through their fingers as a result of a failure to recognise and reward exceptional performance.
A decline in support from management and sponsoring groups who are initially motivated by a new project but become distracted by other important issues often results in project managers feeling isolated and can even lead to project failure with the loss of a clear steer from the top. Project managers who are sidelined will soon look for a more supportive environment.
A failure to recognise there is a new generation in the workforce also leads to retention issues in the project management world. A multigenerational approach to recruitment and engagement should recognise the very different motivations of the generations. At a more senior level, 'baby boomers' (born before 1964) and 'generation X' (born between 1964 and 1980) might respond to more traditional inducements of salary, benefits and bonuses.
The younger 'generation Y' (1980-1995) and the soon-to be- qualified 'millennials' (born since 1995) respond much more to peer and management recognition in the form of public praise. They also like to be involved with senior level decision making rather than being constrained by traditional hierarchies. If organisations can create a culture that engages the younger generations, that can go a long way to retaining the emerging stars of project management.
It is vital to strike the right balance when coaching fledgling project managers. Expect new and inexperienced project managers to manage any project regardless of size or strategic importance and they may run scared.
Conversely, not providing challenging projects to more experienced project managers will create difficulty in retaining home-grown project manager talent, as these people will seek more demanding and rewarding positions elsewhere.
Best practice
Project managers will welcome the opportunity to keep their skills up to date and keep ahead with best practice.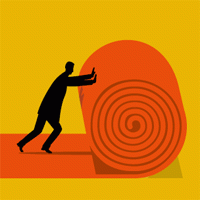 Organisations face a challenge in identifying which bestpractice skills and methodologies their project managers need to develop to achieve the desired outcome. Many organisations are building on basic capabilities by providing further training and development in agile project management and managing Successful Programmes methodologies.
Senior management teams and key decision makers also need to familiarise themselves with the range of methods, tools and techniques available, and agree with their project managers those that fit best within the context of the organisation's business environment. Selecting the correct approach in this way will also help to ensure that project managers address the principles of project governance in the most appropriate way in all projects assigned to them.
Organisations should also appreciate not only the method that it would be appropriate to use in each situation but also that there is a degree of synergy between the methods. They are not – and never were – mutually exclusive. Unfortunately, most organisations, and even some project management professionals, fail to recognise and take advantage of this.
There are simply not enough project managers out there to meet the rising demand for talent, so organisations that want to attract and retain project managers must take an intelligent approach. In this market, simply advertising and recruiting for bog-standard project management roles is not enough. Organisations need to recognise that, if they want to buy in core project management skills, they must understand candidates' motivation for changing jobs.
Global organisations should not expect to attract the best talent by asking people to move sideways, either in terms of role or salary. Yet so many companies' hiring policies are still designed for a candidate-surplus model that might have been relevant for 2009 but will certainly not work in today's market. The recession is over and your competitors are growing. Candidates need not worry about what they can offer you, and are in a strong position to ask what you can offer them.
---
This blog first appeared as an article in the Autumn edition of Project Journal.