the British standard on benefits management at a gallop

This article is about the new British standard on benefits management: BS202002 applying benefits management on portfolios, programmes and projects — A guide. There's also a launch video recording.  
This blog is the second of three, the other two are: the story behind the standard, and the seven deadly sins of benefits management. 
Benefits management is not new although if you consider the state of success of British projects, you would be forgiven for thinking that nobody does it. Of those that do, many have invented their own processes, some of which work, and some don't.  
This blog introduces the new British standard which includes the processes that work. 
The benefits of benefits management
Good benefits management creates more benefits than the investment to bring it about — the amount you spend and resources you invest in each aspect of benefits management should not exceed the added value that benefits management brings to the project.

 

Benefits management techniques, tools and processes overlap with other specialisms.  Don't duplicate work. Decide which is the most effective technique to reach a particular result and use that.  

 

Engaging with stakeholders is expensive and challenging unless you can show the stakeholders something of interest to them — benefits. Therefore, benefits management is also a communications tool and can improve success and reduce costs overall.

 
The structure of the standard
British standards have standard sections, and specific sections. This blog is about the benefits management (specific) sections.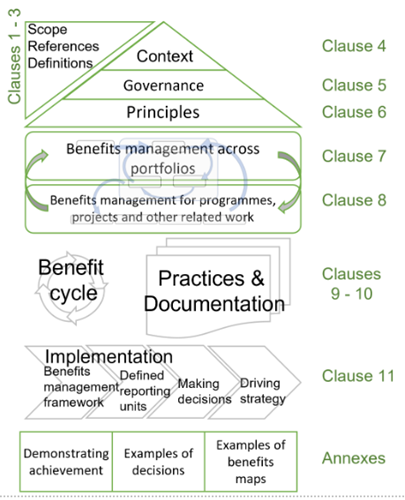 Benefits management for programmes, projects and other related work
Projects should emerge from the gaps identified, where the portfolio is forecast to miss planned or expected benefits. 
Define the problem: how much is it worth (how many people affected, by how much, with what level of uncertainty, and what is a realistic amount of time to attribute benefits)? 
Plan benefits: often a business case that shows the different options or solutions and how they stack up to inform the choice. This is where benefits management since 1970s has concentrated. 
Use of benefits management during project delivery: lead measures provide an estimate of the likelihood of benefits realisation, which informs decisions: 
Focus is on realising benefits, not on staying within tolerance;

 

The steering board are less concerned with fine tuning the specification, and more focused on benefits realization;

 

There's still time (during delivery) to make a change that impacts benefits realization

 
A good handover for benefits realisation: 'what gets measured gets done'; if you measure how much you have improved employee retention then the small bedding-in changes which are always so necessary after handover will be focused on employee retention. If you measure how many people are leaving, then those changes might be focused on getting people to leave. Choose your measures wisely! 
Measure until you're confident that you know how much benefits are going to be realised. There's no need to measure until full realisation, redeploy benefits management resources to the next changes. 
By reporting into the portfolio all the way through, the portfolio can stop/ start/ speed/ slow other projects accordingly to optimise success for the portfolio and the organisation. 
Benefits mapping
For many organisations, a benefits map is the pinnacle of benefits management. A benefits map helps with clarity and could highlight wrong-thinking and wrong-planning. But it doesn't bring the real benefits of benefits management. 
The British standard describes three types of benefits maps that are compliant. These are not the only benefits maps, but they are the ones that have been proven to work: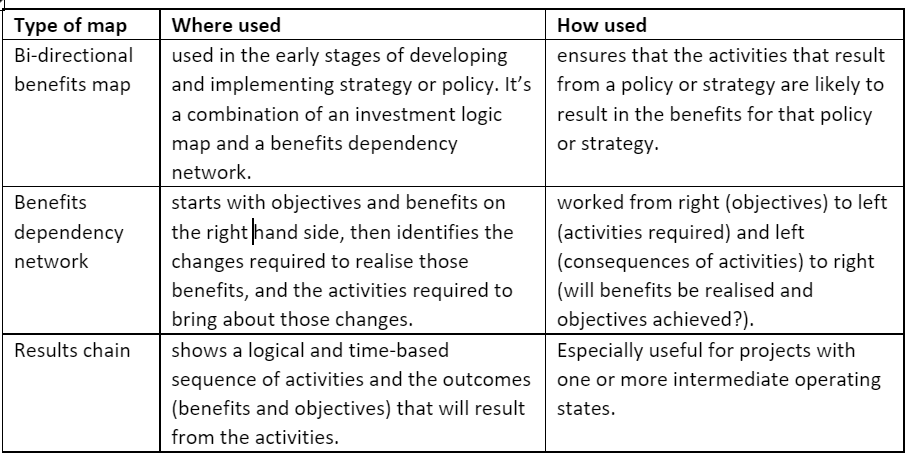 The naming conventions for columns and map items are not important, as long as certain elements are present in each. They can be modified to the preferences of each organisation and still be compliant. 
Benefit Profiles
Benefit Profiles should be prepared for the most important benefits, not all. A number of similar benefits can be combined into a single summary benefit for clarity on a benefits map, and for preparing a benefit profile. 
The profile should include a description of the benefit, what activities bring about the changes that will realise the benefit and where the benefit is coming from. This includes how it will be measured and reported (and who will do this), for how long, the identified lead and lag measures and the expected amounts at each time period. 
You may also be interested in: