The cultural divide: why some projects fail and others succeed
When it comes to managing change programmes, we all know that people need to be 100% bought in and convinced of what we're asking them to do before they will take action. But in our intention to do exactly that, we can risk failing at the very first hurdle: by telling people what, not telling them why.

What vs why
It's not surprising that the 'what' often gets the focus of communication and investment when it comes to introducing change. To a certain point, the 'what' is easy to explain. It lets everyone know what is happening, at what point, what the anticipated outcome will be, what will happen next. This is important, of course, but when it comes to digging deeper inside people and helping them see something more meaningful than a project finish date, it's not enough. It's certainly not enough to create 'investors'.

'Savers' v 'investors'
I spoke about savers and investors at the AGM. Briefly, savers do a good enough job to keep the wheels turning in exchange for their pay-packet and rewards. But investors stand apart from savers in that they do all of the above – and more. For investors, the project or role holds something bigger and more meaningful for them than just great rewards; it gives them a bigger sense of purpose and can, crucially, light the engagement spark that drives them to greater performance.

There are many companies out there dedicated to creating Investors because they know this is where the real performance gains are made. More importantly, when change throws these organisations a curved ball, the company is better equipped to respond thanks to an agile workforce characterised by investors.

Creating investors: more belief, less process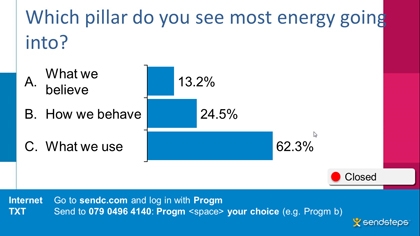 At the AGM, I outlined my 'three pillars' of culture: what we believe, how we behave, and what we use (the tools, systems, processes and environment). When all three pillars are aligned, performance can be outstanding. In reality, cultural investment and change programmes often focus too much in one or two of these areas and by far the most under-represented area is the belief. In fact, less than 14% of those polled at the AGM admitted this is where they saw most energy being directed. Instead, the majority bias (63%) was on the tools and processes. It's understandable that organisations are drawn towards these areas because, let's face it, systems are usually easier to manage than people! But it's not new systems and processes that define successful change: it's whether people are prepared to get behind them and willingly take action.

Investors are only created when there is an enduring belief that resonates with them and ultimately shapes their behaviour as a result. The belief can make or break a change programme but it's tricky to persevere with because it doesn't fit neatly into distinct project boxes. Often, it simply isn't impactful or meaningful enough for people to take hold of and be driven by.

Creating investors: 5 roles managers need to embrace
When I first researched the most influential actions managers take in order to ignite performance in others, five roles emerged: prophet, storyteller, coach, strategist and pilot. Leaders and managers stand a much greater chance of creating investors (and keeping them there) if they embrace all five roles. So whilst it's natural to have a strength in a particular role, the real performance benefits come when managers intentionally focus across all of them.

The poll showed a clear preference for project managers to focus on the role of strategist.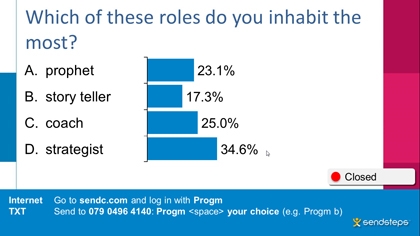 This is a people-driven role and that's great news for projects: a strategist will ensure people are aligned to the right tasks and duties and make sure people are actively engaged on the project by drawing their individual strengths and interests. I know exceptional strategists who have gone to incredible lengths, for example, not just to know people's names on their teams but exactly what their history, skills and interests are and to use this insight to quickly build a relationship with them.

A need for stronger coaches
Another key area where project managers can have a real impact on their teams is the role of coach. The coach is all about unlocking what makes' someone's heart beat a little faster. A coach will typically invest the time and effort to support and mentor others, often informally, to help drive performance and to create opportunities to develop someone's learning. It's a role that has a lasting impact on the team member. Simon Ashby led one of Sony Europe's biggest transformation projects in 2011 and his commitment to being a coach is one of the reasons he was so successful. Throughout the project he focused on recruiting and developing every drop of talent in his team and, once the project had ended, helping people successfully make the transition back into the wider company. For example, he made sure their aspirations and achievements were visibly noted, sending out the message to the business that there was a chance for anyone with the right skills and attitude to flourish.

The missing link: the storyteller
Of all the roles, the storyteller emerged strongly as least preferred role for project managers. (17%) I'm not surprised by this, given the huge bias organisations place on the 'what' and the chronological detail of change projects. What is often apparent is that whilst project managers are more confident about articulating the vision and aim through the role of the prophet, the details of the journey are missing. In other words, there is no compelling narrative that helps people connect with the vision by understanding what the journey is going to look like and feel like. This is the very important role of the storyteller and one that is absolutely critical for helping to define the belief.

Making a lasting difference
What's clear is that every project manager has the potential to build an even stronger performing team but it requires a genuine commitment to embracing the five roles. Perhaps most telling is that of the four areas of trust that I talked about, people felt that honesty, humility and investing in relationships was low. Worrying if we are to build an engaged project team that successfully delivers. But that's a whole other topic for another time...