Why 2021 will be the International Year of Responsible Project Management

Dr Karen Thompson and Dr Nigel Williams reflect on the 18 months since the launch of the RPM Manifesto and look ahead to next year
As 2020 draws to a close, the time is right to look back at the progress of Responsible Project Management (RPM) and look forward with anticipation to 2021 as the International Year of Responsible Project Management: the year when the project profession will 'come of age'.
Barely 18 months have elapsed since the launch of the Manifesto for Responsible Project Management in July 2018. The RPM movement began in a similar way to the development of agile project management, with signatories to a manifesto expressed as a statement of purpose and a set of principles. The wording of the RPM Manifesto was developed in real time during a two-day workshop that brought together educators, practitioners and researchers. By the end of the workshop, a consensus had emerged, and 20 professionals signed the Manifesto.
APM was among the first signatories, represented by Daniel Nicholls, research manager, whose support since the beginning has been crucial. The Association of Sustainability Practitioners, particularly founding director Gwyn Jones, helped to shape the development of ideas.
Eighteen months on, the signatories now include a global construction company, two professional bodies and 144 individuals from 29 universities and 28 companies around the world – including the UK, Europe, Kazakhstan, India, China and the US.
Balancing the needs of people, planet and prosperity
This summer, APM submitted evidence to the House of Commons Public Administration and Constitutional Affairs Committee suggesting that the UK government should "focus on Responsible Project Management". The select committee's July report Delivering the Government's infrastructure commitments through major projects gave the definition of RPM presented in the Guide to Responsible Project Management (2019):
"Responsible Project Management … is the concept of managing projects with specific attention to the intended and unintended impacts of the project and its outcomes, in both the short and long term, thereby delivering economic, social and environmental impact."
The notion of balancing the needs of people, planet and prosperity is central to RPM. There have been many successful initiatives on sustainability and ethics by the professional bodies. RPM builds on these initiatives and is distinctive in focusing on the individual project professional.
Behaving professionally means accepting responsibility for the impact of your actions, being aware and raising awareness of potentially unpleasant side-effects and long-term consequences for stakeholders and wider society. If there is any doubt that greater awareness is needed, then the Grenfell Tower disaster provides evidence that project professionals may be called to account for their decisions long after the end of a project.
Meeting humanity's challenges
Looking forward, 2021 has been chosen as the International Year of Responsible Project Management because, historically, 21 was the age when a young person took on adult responsibilities in society. Today, many undergraduates complete their first degree at 21 and take on professional roles. Projects drive change around the globe. With increasing, grand challenges facing humanity, the time for projects to be managed more responsibly is now.
RPM is underpinned by the UN's 17 Sustainable Development Goals (SDGs), which all member countries signed up to in 2015. Projects can either accelerate achievement of the SDGs or inhibit progress through reckless use of natural resources or exacerbating divisions in society.
An extended project life cycle is useful to raise awareness of project decisions. Figure 1 shows a traditional project life cycle, with a focus on the end of the project.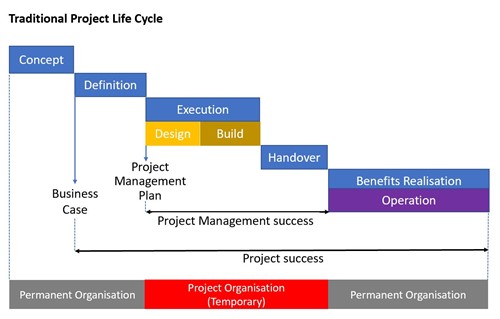 In contrast, Figure 2 illustrates how project decisions impact society and the environment long after project closure.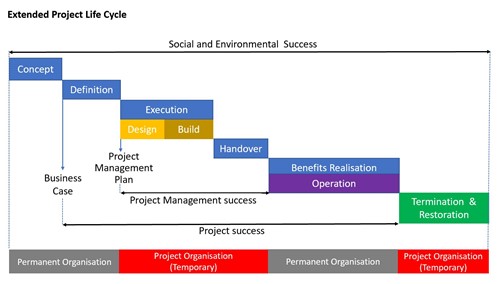 However, the ultimate goal is for all projects to be executed sustainably and to deliver future-proof solutions that restore and enhance both natural and social resources, as indicated in Figure 3.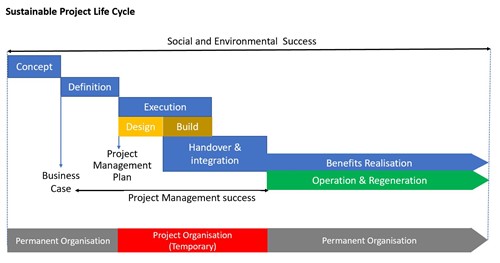 During 2021, the RPM team will work with professional bodies in supporting project professionals and aspiring project professionals to develop the competencies required to advocate for beneficial change. A series of themed virtual events will engage educators, practitioners and researchers in developing the beliefs, competencies and knowledge required to manage projects responsibly.
We would also like to request a small favour. To ensure that our activities are relevant, we have created a survey to support project sustainability and circular economy benchmarking efforts in organisations and will share the findings in future APM blogs. Please answer the survey here.
During the COVID-19 pandemic, the RPM team has been running a series of regular, virtual conversational events to support the project profession. Sign up to 2021 events here, and read more about RPM at www.responsiblepm.com
You may also be interested in
---
This blog was co-written by Dr Karen Thompson and Dr Nigel Williams

Dr Nigel Williams is a reader in project management at the University of Portsmouth, where he is also research lead in the Organisations and Systems Management Subject Group. He currently co-leads the Responsible Project Management initiative. His research has examined project capability development, project stakeholder interactions using social network analysis and event project management. His publications are available here.
Images: Dr Karen Thompson and Sorn340 Studio Images/Shutterstock.com