Why traditional modes of heroic leadership are redundant and even counter-productive in project management

Assertiveness is for many project managers the defining characteristic of leadership; to be non-assertive can come off as weakness and indecisiveness. Ask anyone for a universally known example of leadership, and historic and contemporary stories, myths and legends abound, reflecting a global heritage.
Stories of heroic leadership surround us all, consistently, from childhood. Even if not inspired to lead, then songs and stories promote respect and admiration for those who do.
Given this common heritage, any reference to project 'leadership' comes with evolutionary baggage inevitably conjuring up behaviours long associated with quite different roles and environments. For the uninformed project manager aspiring to lead, it is not at all surprising if, charged with 'leading a team', they emulate, consciously or not, the 'heroic' leadership postures and behaviours common to our medieval ancestors who commanded armies.
Assertive body language, tone and decisiveness discourage conversation, questioning, or challenge. The traditional leader exhibits decisiveness and self-confidence with every move and utterance. They are concerned to be seen to be 'in charge'.
But there is another model of leadership. One far more compelling because congruent, and aligned for delivery in environments where linear command and control behaviours actively impede, inhibit, and subvert the very synergy igniting the emergence of resilient collaborative agility.
Cast your mind back to that person who really knew you, saw more in you than you could see for yourself. They inspired you to step into the unknown - push the envelope of what you thought you could ever do or be. They inspired your loyalty, respect, and self-respect.
Then, remember the one who asserted themselves, self-confidently imposing their will, and demanding unquestioning obedience. Remember how that felt. Ask yourself, how would they react to being spoken to or treated in the way they treated you? Finally, ask yourself which of these approaches' benefits project leadership? Complex delivery environments demand collaborative teamwork. So which approach nurtures the realisation of individual potential and release of synergy true collaboration empowers? 
Recognising the incompatibility of linear command and control behaviours with the increasing necessity to empower agility through distributed decision making in project delivery, is the first step in shrugging off the straitjacket that assertive behaviours impose on the development, agility and project team delivery.
Sustaining directive behaviours leaves everyone mired in just the initial 'directing' stage of the Hersey Blanchard development curve. It is the equivalent of a parent or teacher wilfully stunting the growth of the child in their care. Pushy and forceful behaviour has the potential to inhibit both individual development and the expression of team potential, whilst disregarding the negative impacts such behaviours cause constitutes an indictment and liability for any organisational function and none more so than project delivery.
It's clear there are contrasting behaviours and functions of traditional heroic leaders and those required of the effective project leader today. While we think of project leader behaviours primarily within their team, delivery also requires due consideration of behaviours necessary to nurture collaboration among a much wider constituency: stakeholders.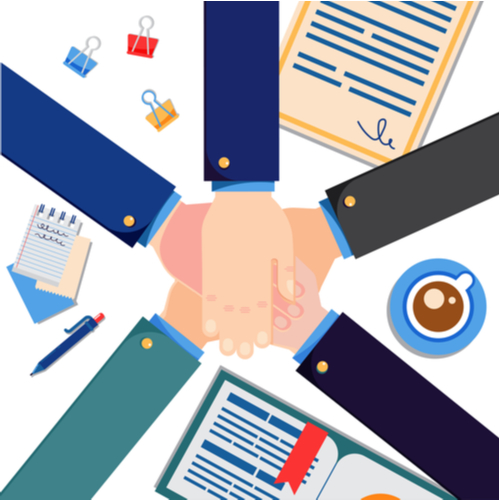 Stakeholders do not engage in willing collaboration because they are told to but because the project leader has established rapport as well as a level of mutual respect and understanding that flows from it.
By now it is clear the case has altered immensely in terms of what effective leadership behaviours are needed today in project delivery, especially when compared to traditional command and control behaviours more suited to a medieval battlefield or building a pyramid. Engaging with stakeholders while exhibiting assertive behaviours is almost certain to alienate, disenfranchise and actively antagonise. They are almost invariably counter-productive, and those persisting in their adoption will not get the best out of their teams. They are therefore a liability.
Any organisation fostering this more enlightened awareness of 'what good project leadership does and does not look like' creates an environment where teams want and are empowered to give of their best.
For the project leader, moving from directing to coaching; leading as followers would be led; implies understanding of diverse needs and styles of learning. It requires a capacity to be open; ensuring both team and stakeholder engagements are moderated and influenced by others needs.
This, in turn, requires the skills of a coach; the ability to listen to the other – seeking not difference, but 'common ground'. It is the bedrock supporting rapport on which collaboration is founded. This path to rapport, and the collaboration it enables, replaces the worn-out rut-to-nowhere of 'telling'. It is the royal road from 'me' to 'we' in developing effective project leadership skills
'Why' project leadership skills today must relinquish command and control in favour of true collaboration is now apparent. But, with what both Sir John Whitmore and Stephen Covey called the necessary shift from 'Independence' to 'Inter-dependence'*, the disposition and orientation of the project leader comes under scrutiny.
You can read more about evolving your leadership skills in Gordon's new book, Evolving project leadership.
You may also be interested in
* Covey, S R (2015) The 7 Habits of Highly Effective People. 
   Whitmore, Sir John (2017) Coaching for Performance The principles of coaching and leadership. 5th edition
Images: Iconic Bestiary/Shutterstock.com