Women in project management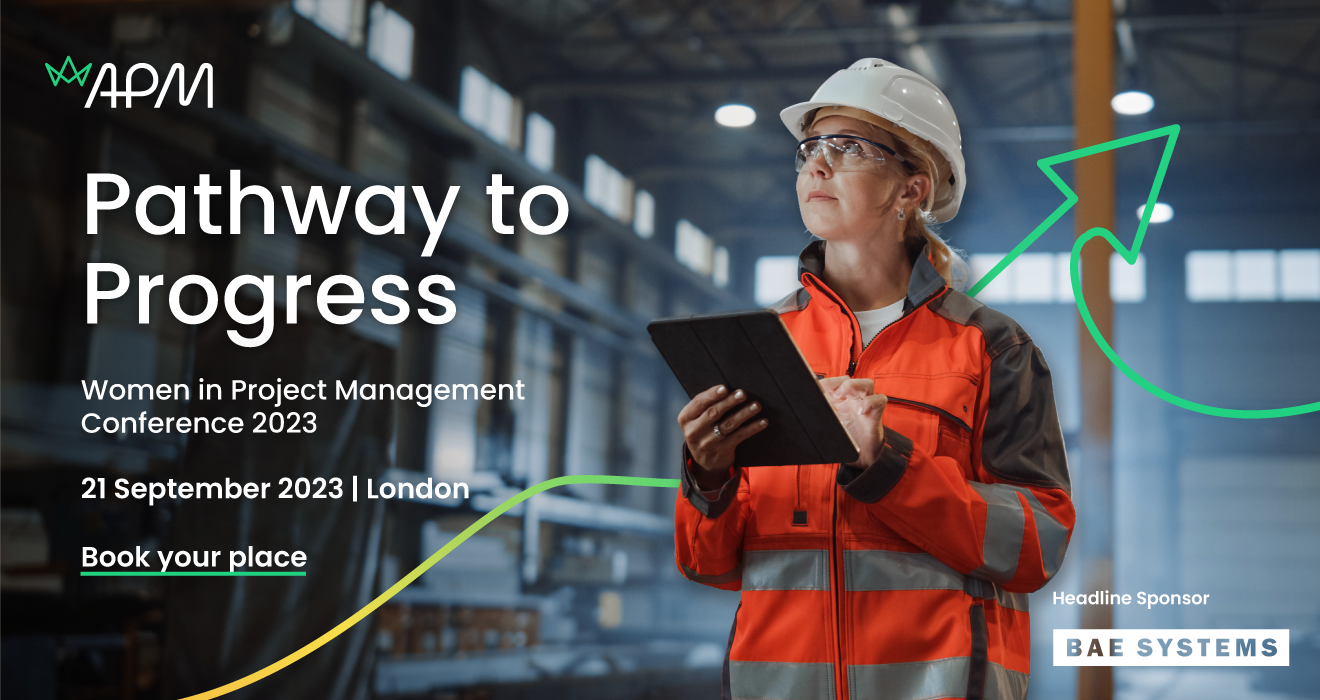 The annual APM Women in Project Management Conference takes place in just over a month. I've cast my eye over the programme and sessions, and I confess to being conflicted as to which sessions to join because of the wealth of opportunities that will help to expand my knowledge, while I'll be hearing about new techniques that will address project challenges as well as learning from thought leaders who I have not previously heard from. For example, Dame Inga Beale will be kicking the day off presenting the opening keynote. I've never heard Dame Inga speak, but I have gained some new knowledge already by looking at her impressive CV: she did not complete her university studies, she worked in a male dominated environment and managed against all odds to become the first female CEO of Lloyds. As a result, I have every confidence that there will be several takeaways from her keynote which I can apply within my project environment. 
As a woman working in an industry with a worldwide average of 14% female workforce, I am rarely afforded the opportunity to speak with female colleagues united by the topic of project management. Whilst I'm an introvert, I fully intend to make use of the occasion to network with likeminded people and industry peers who hail from a wide range of backgrounds, institutions and sectors whom I'm unlikely to encounter within my workplace. Sometimes, stepping out of the office and engaging with a diverse range of people can reap more new ideas than countless workshops and team builds held in the quotidian. 
In 2022, the APM Women in Project Management Conference had breakout sessions and exhibitors with a focus on professional development. 2023 is coming back stronger and better; stream 1 has two sessions with a spotlight on career advice with panellists / contributors outside of my field within the project management profession. I am eager to reap the benefits of learning beyond my field with regards to career development especially in an age when more and more people are having second and third careers.  
This year's conference not only provides me with the opportunity to ask presenters from different backgrounds questions, but also to share my own experience and insights. I will be partaking in the How to Manage Stress in a Project Management Environment session as part of the Think Differently stream. 
For many of us work is the greatest source of stress, and countless people are now experiencing burnout. In May 2019 the World Health Organization included Burn-out in the 11th Revision of the International Classification of Diseases (ICD-11) as an occupational phenomenon, not as a medical condition. The annual Women in the Workplace report from McKinsey & Co. and LeanIn.Org found that the gap between women and men who say they are burned out has nearly doubled in the last year. In the survey, which polled more than 65,000 North American employees, 42% of women and 35% of men reported feeling burned out often.  
Growing up in a Soldier On culture, I never envisaged that I'd use my voice to raise the importance of stress management, never mind sharing my personal experiences at a well-attended conference. I hope that by contributing to this panel, what I have to say connects with people and they can utilise my experience / knowledge in a way which results in a positive impact on their professional career and personal well-being. Additionally, I welcome the opportunity to meet collaborators on this important topic, working collectively we have a stronger chance of narrowing the Burnout gap, and most importantly reducing burnout for all because what is good for women is good for everyone. 
You may also be interested in: