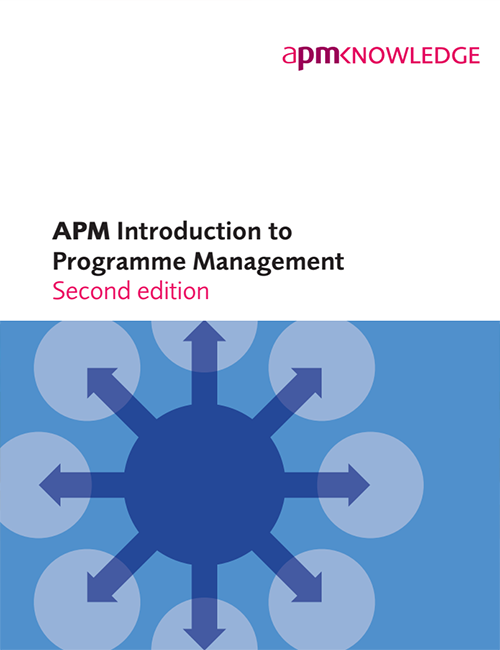 Free PDF download for members
APM Introduction to Programme Management 2nd edition
Digital copy

£22.50
Description

More than a decade after its release, this substantial refresh of APM Introduction to Programme Management brings practitioners up-to-date with the latest developments in the discipline.

As well as the fundamental principles – what a programme is, how it works and how to review progress - the guide also explores the changing environment in which programmes exist, their relationship to the strategic context of organisations as well as 'new' frameworks and ways of working.

APM Introduction to Programme Management 2nd edition is one of APM's core introductory texts. Written by experienced practitioners from APM's Programme Management Specific Interest Group (SIG), it is recommended reading for anyone joining a programme team – or those who want to know how to interact with the programme.
Details

Paperback: 246x189mm, 2016   
Author: APM Programme Management Specific Interest Group
Publisher: APM
ISBN:  978-1-903494-58-5
Price: £10.00 
Reviews

"This update to APM Introduction to Programme Management brings new insights as to what programme management is all about. It is an 'easy read' for the top executives, for those relatively new to programme management who have a thirst for knowledge and for the project management community who should, and need to, understand how their project management skills play into the 'bigger picture'."

Sir John Armitt

 

"A COMPREHENSIVE INTRODUCTION"

This is the second edition of APM Introduction to Programme Management, first published nearly a decade ago. It is an easy read for executives, those relatively new to programme management, and those in the community who should and need to know how project management skills are one aspect of the bigger picture.

The book is concise, arranged over three sections and totalling 55 pages. 

It demonstrates links to other APM Book of Knowledge chapters, and there is a full glossary of terms. The book does not focus on the 'technical' aspects of programmes, nor is it aimed at one specific industry. Rather, it iterates that programme management is not simply another level of project management, and explores the organisational and strategic contexts in which programmes exist. Complex discussions are supported by clear and easy-to-understand illustrations.

Although the book is based on the before, during and after stages of a programme life cycle, the topics discussed in the three sections are not easily linked to the life cycle. For example, information and benefits management is not discussed until the final pages of the book, whereas, in reality, these are key considerations in the formation of a programme.

This is a comprehensive introduction and offers helpful references for those keen to explore particular subject areas. APM Introduction to Programme Management does exactly what the title suggests.

Tom Worsnop