APM Corporate Partners discuss the future of project data analytics
New technology is transforming projects, but companies must approach it in the right way to ensure their project teams can understand and use it, delegates at an Association for Project Management (APM) event heard.
APM's Corporate Partner Seminar on the future of project data analytics looked at how the project profession must build skills and capability to unlock the potential of data and digitisation.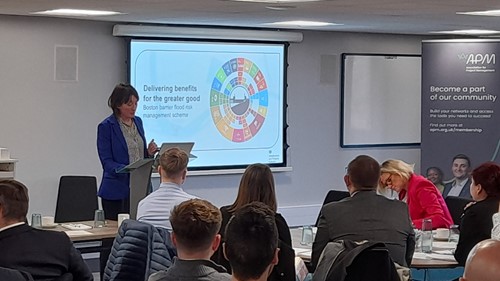 The event, held at Aston University, Birmingham, featured presentations from project leaders and digital experts on a broad range of data-related topics, along with case studies, group discussions, and Q&A sessions.
Speakers included:
Dr Jo Jolly, Deputy Director and Head of Project Futures, Infrastructure and Projects Authority
Matthew Mann, Performance Management Director, HS2
John McGlynn, former APM Chair and Project Delivery Director, Atkins
James Montrose, Associate Director, KPMG
Andy Murray, Executive Director, Major Projects Association
Martin Paver, Chief Executive and Founder, Projecting Success
Mark Thurston, Chief Executive, HS2
The seminar explored the current picture around the use of project data analytics within the profession, changes required to mindset organisational culture to realise opportunities, the perspective from within government, and how APM is supporting its corporate partners when it comes to building skills and capability.
One of the main topics of discussion was project data analytics and the rise of AI tools, such as ChatGPT. During his presentation, Martin Paver said: "We're driving our projects at the moment by looking in the rear-view mirror.
"New technology is transforming the role of planners and project reporting. The potential problem with all this is 'do you understand it and can you use it?' A lot of organisations now are going out and buying expensive tools, but that alone won't work. What about factors like data integration and data access?
"You have to think about what your level of ambition is. Is it just to be able to see a little bit better through your rear-view mirror, or do you really want to transform the way you do things?"
James Montrose shared his insights on creating a digital mindset. He acknowledged that the rapid pace of change around project data may feel overwhelming for some people, but advocated for a digital mindset that would enable project and programme professionals to see these changes as opportunities.
"There's always resistance to change," he said. "A lot of people feel change is being done to them, so we have to be able to overcome that.
"When it comes to deploying a digital mindset, focus on 'why'. Speak the language of benefits. Increase speed of collaboration and communication."
APM's project data analytics resource hub has more information and further reading on this topic, including APM research and reports.
APM's Corporate Partnership Programme is aimed at organisations who wish to develop their project management capability and community. Visit our Corporate Partnership page to find out more.