APM Midlands branch Corporate Advisory Group working lunch event
John Williams (APM Midlands branch corporate sub-committee chair) welcomed the attendees and contributors, and introduced the purpose of the Corporate Advisory Group, as well as the theme and goals for the session on 20 July 2017.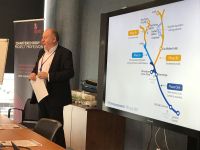 The working lunch was opened by Colin Jackson from HS2 gave an overview of the HS2 programme which was followed by Ian Cribbes (Director at IMC&T, member of APM Stakeholder Engagement Focus Group) who provided an insightful and engaging presentation on his experiences and stakeholder management tools & techniques. Ian's session included an overview of the People SIG SEFG, the role of the Sponsor, differences between engagement and management, classification and mapping, and the importance of cultural awareness and emotional intelligence. A copy of Ian's presentation can be seen below and on the APM SlideShare page.
Laura Doughty of HS2 gave an insight as to how HS2 are managing the engagement with their numerous stakeholders. Laura's session sparked some interesting group discussions and experience sharing, facilitated by Sarah Booth (APM Midlands branch corporate sub-committee).
Nick Jones (APM Senior Partnership Development Manager) introduced the latest APM news which included APM's Royal Charter, the new Corporate Partner/Affiliate Programme and additional digital resources.
Russell Muir shared the exciting news that nominations are now open for the Midlands Young PM of the Year Awards 2017. Further details can be obtained by emailing: YPM@APM-midlands.org.uk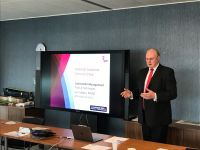 Throughout the session there were opportunities for peer-to-peer networking between representatives of Midlands corporate partners. Attendees shared their satisfaction with the event and the Branch Corporate sub-committee intend to build on the momentum of the event moving forward.
Attendees will be provided with access to the presentations made.
We are now preparing the next event in October for which further details will be sent out in due course.
John Williams, Sarah Booth, Russell Muir, David Munslow
Midlands Branch, Corporates sub-committee