Baking in inclusive project leadership to create cultures of belonging webinar
This International Women's Day the theme is to #breakthebias so that we may live and work in a more gender equal society. We need to stop feeding the narrative that gender equality will only happen when women do things differently - we don't need to fix women - we need to change the cultures and environments we're all part of and it needs to work for all women and underrepresented identities. Project leadership is key to this, although we all do have a role to play no matter our seniority. 
Topics covered included:
What is Inclusive Project Leadership & why does it matter;
Why its increasingly important to implement amidst the VUCA (Volatile, Uncertain, Complex & Ambiguous) environment our projects are taking place in;
The challenges of Inclusive Project Leadership and how we overcome them;
The need to take an intersectional approach in tackling gender and other inequalities.
In this webinar, we explored how we can #breakthebias through baking in inclusive project leadership rather than treating ' diversity & inclusion' as an optional add-on, and why this can no longer wait in the 2020s.
Webinar resources
Anita has very kindly allowed her presented material to be made available for viewing. The slides on Slideshare and the webinar recording on YouTube are available in our APM resources area and also embedded below for reference.
Presenter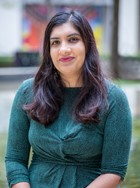 Anita Phagura is a Misfit Inclusion Specialist, ICF Accredited Leadership Coach and Masters Qualified Project Manager with over a decade of experience in the male-dominated industry of railway construction.

As an Asian woman leading railway projects, she was used to being the only one in the room like her…and that wasn't a problem necessarily until she realised, as she became a manager, that she was being treated differently BECAUSE of her identity - she 'miss-fit'. Eventually these experiences knocked her ambitions, until after becoming a mum in the workplace and another series of knocks - she chose to reclaim her ambition and her career.

Anita has worked with many ambitious leaders and aspiring leaders within projects and small business who felt like they didn't belong or fit in. She has has supported them to embrace their Misfit to achieve career success on their terms. Anita works with project teams and corporate leaders to create cultures of belonging in the workplace, not (just) because it's a nice thing to do but because businesses and projects are losing out on such amazing talent by minimising the contributions from 'misfit' groups. She works to disrupt the status quo to create greater equity, to improve the wellbeing of people from marginalised groups and so that projects are ultimately delivered better.

Anita is a skilled and engaging facilitator, panel participant, podcast guest, workshop host and keynote speaker speaking on the topics of gender and race inclusion, and project management.

Previous webinars can be viewed on the APM Slideshare and YouTube channels. 
Follow @APMEvents for upcoming event information.

This event is suitable for professionals with any level of experience.



International Women's Day 2022 - APM SIG activities
APM Body of Knowledge 7th edition reference

Section

Description

3.2.7
3.3.6
Workplace stress
Continuing professional development (CPD)