Benefits Summit 2015 - Improving Benefits Management at Sellafield
Mike Ward - Head of Capability for programme and portfolio management
Richard Peel - Outperform Senior Consultant helping to deliver change
Mike Ward has nearly 30 years experience at Sellafield and is currently the organisation's Portfolio and Programme capability improvement lead.
Mike reminded me (and I am sure others) that the Sellafield site used to be known as Windscale. Many in the audience, through their history books and subsequent documentaries, will recall the events of the late 1950's and thereby gain an insight into the importance and complexity of the work undertaken today. Mike informed us of the legacy ponds and silos from the early days at Windscale which remain a hazard today.  It was compelling to hear how the reduction of toxic hazards is seen as 'prime' benefits to be realised.
Mike told us that, in keeping with all progressive organisations, Sellafield's strong Project Management capability needed to be updated and expanded upon to incorporate Portfolio and Programme Management.
Richard Peel, from Outperform, is their capability improvement lead and uses the Axelos P3M3 maturity model to assess, baseline and manage the organisational capability maturity journey.
They recognise the value of discussing their journey with other organisations. The underlying approach taken is to recognise good practice as it emerges and use it across the organisation.
Mike and Richard described how they capitalised on the work done by APM to frame its Five Dimensions of Professionalism and how their Benefits Management Framework ensured that changes were aligned with the organisation's goals and strategy.
The importance of the role that stakeholder management plays in achieving successful change outcomes was emphasised. The Benefits Management framework is enabling a closer working relationship between Sellafield business operations and the project and programme teams.
The role that advocates play in change was cited. Recognising the need to move from a 'hero' to an organisational capability culture is a significant transformation in its own right. Many in the audience would have recognised that the need for executive buy-in, to which Mike referred, is a critical success driver.
As with all capability maturity journeys we heard how important measurement is to understanding the work that had been done and the work that follows.  
Content from improving benefits management at Sellafield presentation was captured in a Mindmap.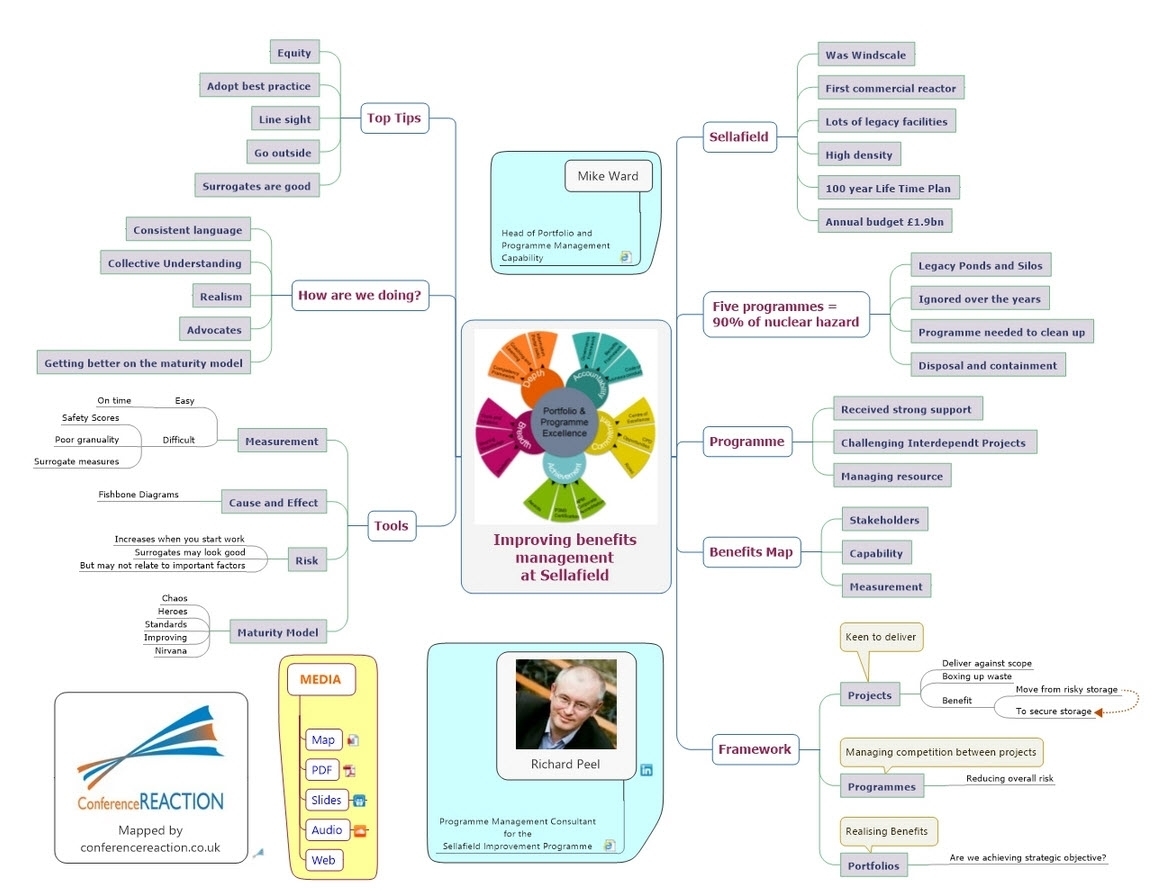 The maps has been linked to the associated PowerPoint presentation held on APM Slideshare Channel and an audio file [MP3 Podcast] on APM SoundCloud Channel.
The map has been indexed to be viewed with other material from #apmbmsummit. Individual maps can be downloaded in PDF and native Mindmap formats [Mindjet] for further learning, reflection and sharing.
All materials have been created by Andrew Wilcox of Conference Reaction and are available for re-use. Content is available to be used. We would be grateful to receive your attribution and feedback.
Prepared by Neil White, Chairman of Benefits Management SIG.