Black History Month: Accelerating Black Inclusion
To mark Black History Month in the UK, APM is holding events and publishing articles to celebrate the contribution of ethnic-minority project managers to our profession, and to lend our support to tackle ongoing issues relevant to the black community. Here, we look ahead to our next event – and how you can be a part of it.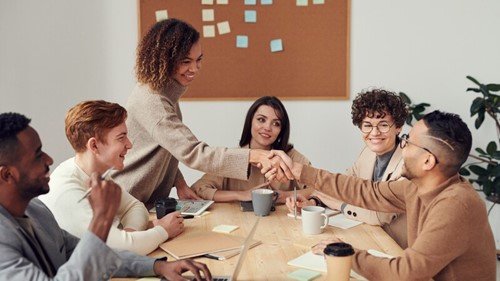 In October 2022, Association for Project Management (APM) held an event titled 'Accelerating Black Inclusion', which explored themes around diversity and inclusivity within the project profession, and the tangible benefits this can have. The success of that event has prompted APM to hold a follow-up, again timed to coincide with Black History Month. Accelerating Black Inclusion II will examine the strides made in the past 12 months. Members of the project profession are invited to attend and join the conversation.
This face-to-face gathering will give attendees the opportunity to hear from and speak with industry experts, thought-leaders and influencers with a broad range of professional experience and personal backgrounds.
Together, these speakers will bring a dynamic perspective to this vital topic. They include:
Yetunde Adeshile, APM Board Member and Deputy Mayor of Basildon
Mac Alonge, Chief Executive at The Equal Group
Professor Adam Boddison OBE, Chief Executive Officer at APM
Professor Chris Jackson, Director of Sustainable Geoscience at Jacobs
Kate Kenny, Senior Vice President and General Manager, P&PS B&I Europe
Denise Myers, Founder of Black Talent Awards
Chijindu Nwachukwu, Senior Project Manager at Mott Macdonald
Duro Oye, Chief Executive and Founder 2020 Levels
Accelerating Black Inclusion II will explore how inequalities in the project profession can be tackled, acknowledging challenges around diversity that remain unresolved. Panel members will explore ways to improve recruitment, retention and progression in the workforce. They discussion will also cover the Inclusive Employers Toolkit's (IET) recommendations around commitment, engagement, recruitment, retention and progression.
The event is free for APM members, but all are welcome to attend.
Ellie Breakwell, APM Branch Coordinator, said: "APM is passionate about diversity, equality, inclusion and belonging, which is why we're proud to be hosting this event, in partnership with our London Branch.
"I hope people will enjoy hearing from our panel of thought leaders, industry experts and influencers as they share their insights on how the project community can transform its professional environments into spaces where everyone is valued, respected, and included."
Event details
Date: Thursday, 12 October 2023
Time: 17:00 - 20:00 BST
Venue:  Jacobs Cottons Centre, Cottons Lane, London, SE1 2QG
Organiser:  APM London Branch
Ticket prices:
APM Member: Free
Non member: £10