COP26 is Coming! How Project Managers Influence Sustainable Development? webinar
With COP26 looming ever closer, the project management profession needs to accelerate developing our knowledge and skills to align our operations with our ambitions. This webinar was held on 4 May 2021.
Arup Director Rob Leslie-Carter joined us to discuss the route to achieving net zero through programmes and projects, and how every project manager can influence sustainable development.
Rob has very kindly allowed his presented material to be made available for viewing.
The slides on Slideshare and the webinar recording on YouTube is now available in our APM resources area and also embedded below for reference.
The Poll results can be found here.
Questions raised during the recording will be reviewed and published with the speaker responses in the near future.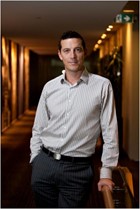 Rob Leslie-Carter, Director, Arup
Rob Leslie-Carter is a Director with Arup based in London. He has worked around the world with Arup for 28 years, and specialises in the planning, set-up, leadership and delivery of complex infrastructure and property projects both on client side and as leader of multidisciplinary teams.
His project track record includes the Beijing Olympics Water Cube, New Acton Nishi in Canberra, and currently Europe's biggest project High Speed 2.
Rob is a regular public speaker on leadership, project management, organisational culture, the future of work, and the road to Net Zero, and is a guest lecturer at the Bartlett at UCL and previously at University of New South Wales.
In 2018 Rob was lead author for 'Future of Project Management' - a collaboration between the Association for Project Management, Arup, and the Bartlett School of Construction and Project Management.  The future trends explored in FoPM continue to inspire significant research activities – including how the project management profession can respond to and influence achieving the UN Sustainable Development Goals and the UK's Net Zero emissions targets.
Previous webinars can be viewed on the APM Slideshare and YouTube channels. 
Follow @APMEvents for upcoming event information.

This event is suitable for professionals with any level of experience. But most especially those in an influential role as project manager or project director.
APM Body of Knowledge 7th edition reference

Section
Description
3.1
Engaging stakeholders