Download your free gamification guide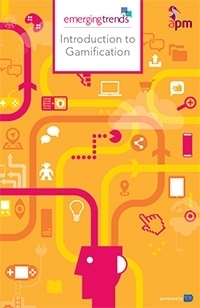 APM is proud to announce the release of its first Emerging Trends guide – available to download free for members and non members.
Introduction to Gamification, written by the APM Thames Valley branch study tour team and sponsored by training provider ILX Group, is the first in a series of guides aimed at exploring new trends in project management.
The 42-page guide explores the origins of gamification – from its beginnings in the computer games industry – to its more widespread use in non-gaming environments.
Based on the idea of rewarding or incentivising team players, Introduction to Gamification gives practical tips on applying game thinking and techniques in the workplace as well as the potential pitfalls.
It also features case studies with organisations and government bodies – including the Department for Work and Pensions (DWP), which invested £100,000 to set up its own gamification scheme.
Speaking about its relevance to the project community, the guide's authors say: "Gamification encompasses many elements that could be utilised successfully within a project management environment to create fun, motivate staff and increase productivity within project teams."

Introduction to Gamification is available to download free as an EPDF, which includes live links to website- and video-related content. See References and Further Reading sections for more details.