If there is a moment you are needed… it is now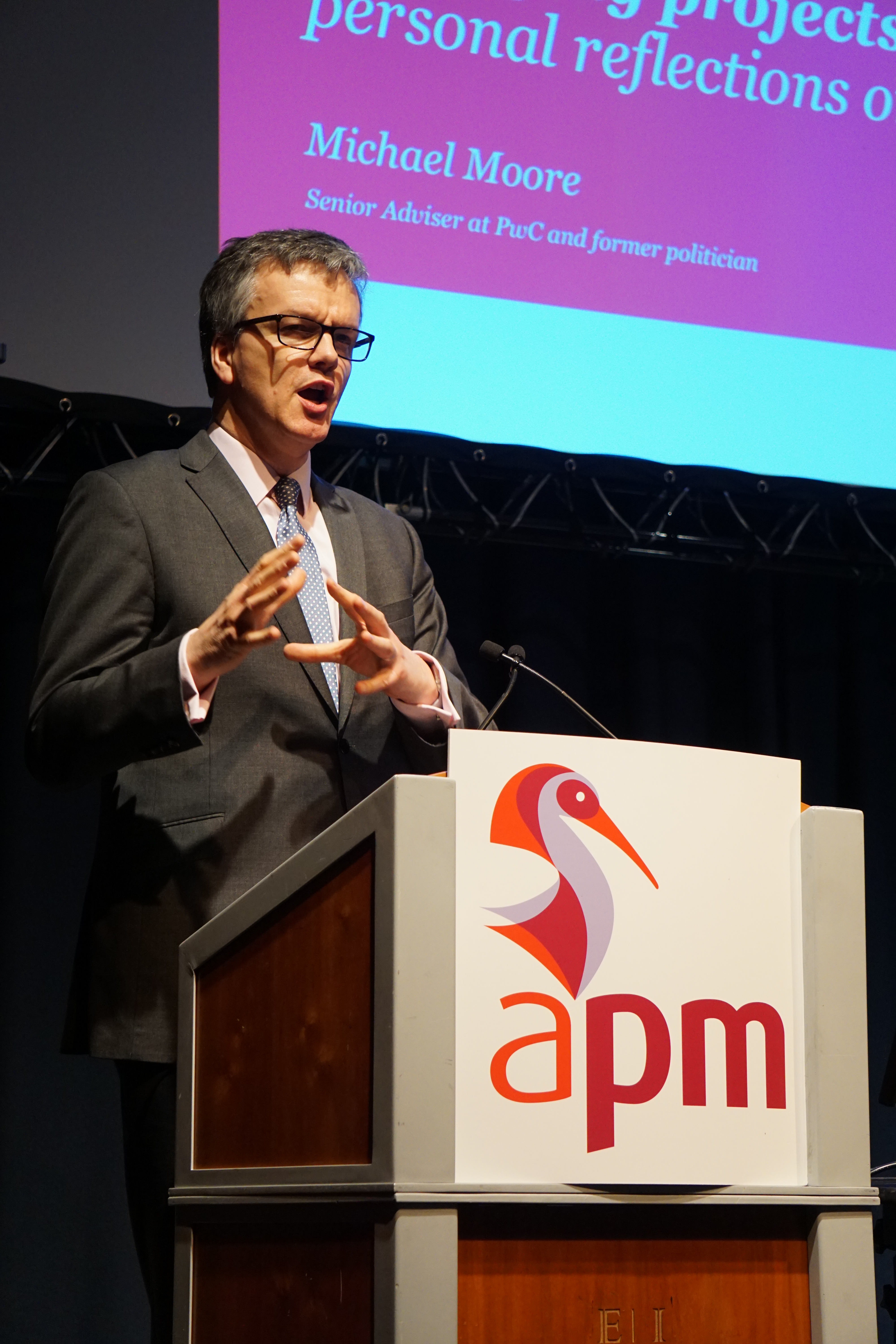 If there is a moment you are needed… it is now.
That was the lasting message from PWC's Michael Moore whose keynote speech at the APM Scottish Conference 2018 highlighted the vast complexity of today's challenges.
The conference, which took place on Thursday 22 March in the EICC in Edinburgh, was supported by 20|20 Business Insight and welcomed delegates at all stages of their project, programme and portfolio management careers.
"Just looking at Facebook and Carillion today shows the complexity of what we are grappling with is huge… but so too is scrutiny. What happens in project management is absolutely critical to our lives. However, resources are constrained and people are in short supply." Said Michael.
Powering the pipeline
In an environment where businesses will need far reaching change to survive, how do we power the pipeline with the right people with the right skills to handle such complex projects?
For many, it was about perception; raising the awareness of project management and demonstrating the diverse opportunities of offer across every sector of industry.
In his bustling breakfast meeting, Caspar Bartington, APM's education manager spoke about the work underway by APM with organisations including Lloyds Bank and BAE Systems to paint a picture of what it's like to work in leading projects as a young apprentice or graduate.
Caspar also explored the new 'opportunities on offer' and new routes into the profession including the Level 6 Degree Apprenticeship that sits on the horizon.
However, creating 'access points' isn't enough. As a profession we need to inspire the next generation and give them the confidence to take the next step towards a career in project management.
"How do you build the pipeline? You have to delve right down to help people find ways of understanding and how they access the profession" said Dr Helen Wright
And we need to ensure the conditions are right. According to Sara Drake, APM's chief executive, Millennials represent 35% of the UK workforce. By 2020 it will be 50% of the UK workforce.
So how do we raise the visibility of our profession?
"There is clear evidence from other professions that chartered status can act as a beacon to attract new talent into our profession – both younger entrants and those from other sectors or returners to work." Continued Sara.
While it is clear the visibility of the profession is increasing and the demand will grow, the day highlighted that simply attracting new project professionals to the pipeline wasn't enough. As the status of the profession grows, we need to give them the confidence and resilience to perform at a world class level in projects that are the most complex ever seen.
What's more, we need to ensure they have the skills needed to flourish in the future; a point explained by Simon Coles, head of programme Management at Dounreay Site Restoration Ltd.
"[When] decommissioning a nuclear site... there are challenges for all, but you need the right people with the right skills for the project, however we are also equipping staff with the skills they need after the site is declared decommissioned".
Project Complexity
Speakers from across the conference represented the UK's most complex and high profile projects.
Andy Macintosh, Project Management & Business Improvement Director for BAE Systems Naval Ships showed just a few examples of how complex projects can be, and echoing Michael Moore, pointed to the new HMS Queen Elizabeth aircraft carrier as a prime example of the skills and resilience needed to deliver a £3bn project.
So how do we give those starting out in project management the confidence and resilience to tackle some of the most complex projects of today? After all, according to Andy Macintosh the average age of a NASA team is just 26.
"Young PMs can do great things through process, guidance and mentoring to grow their energy, drive and confidence" said Neil Fraser, Engineering Development Manager at Diageo International Supply Centre about the challenges of project managing and developing new teams in challenging environments as he switched from developing whisky to tequila.
It was the theme of confidence that carried the day.
"It is easy to get lost in … complex projects if you don't have very good management information in place and professional skills for interpreting that information." One slide quoted from Sir Amyas Morse, National Audit Office by Michael Moore.
"Much like chartered accountants, we need the conviction to take control, say 'no' sometimes" said Andy Macintosh.
If we are to succeed in the projects of tomorrow, we need to give ourF pipeline the confidence it needs to take control and work with a diverse range of teams today.
The conference made one thing very clear; the demand for project professionals is growing and if we are to meet that demand we will need to build and grow our pipeline now.
They will need the right skills. They will need the right training and they will be tested against some of the most complex projects ever seen. However if all that is in place – our projects will succeed.
And as Olympic champion and closing keynote Amy Williams reminded us "you will only ever be successful if you work as part of a team".
Come to the next APM Conference – the APM Project Management Conference on Wednesday 25 April at Central Hall Westminster. Book now