Interview with IPMA Young Project Manager Award winner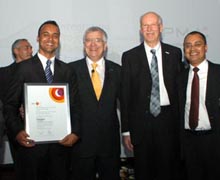 Subas Subedi (pictured left) is a young Nepalese Entrepreneur with a masters degree in rural development and is leading an underprivileged childrens program in Nepal. This scheme supports more than 1,000 disadvantaged youngsters every year with education, technical skills training and job placement support. In 2012 he was awarded with both IPMA's Young Project Manager Award 2012 and Project Prize for Project Excellence Award.
Interviewed by Alexandra Seplveda.
How did you first become acquainted with project management and IPMA Young Crew?
I took a Master in Rural Development (2007), and in June 2008 I joined Underprivileged Children's Educational Programs (UCEP) Nepal where I met Mr Suraj Dahal, - the founder of Project Management Association of Nepal. Hes been encouraging me in this direction since then. In addition, I met many project management professionals of Nepal, who Ive found very interesting and meaningful to learn from.
The 23rd IPMA World Congress and Global Young Crew Workshop in Helsinki, Finland was my first PM international event. Through it, I had the opportunity of acknowledging PM as a powerful tool, which led me to be active in Young Crew Nepal. Now, it has become part of my career.
Having participated in the 1st edition of Coaching for Development, in Nepal 2010, how do you see the actual impact of this particular event?
In Nepal, people take project management in a very traditional way, thus finding training opportunities can be really tricky. C4D in Nepal 2010 was actually my first training. It comprised PM fundamentals and among both trainers and participants one could find a lot of diversity, so it established a solid starting point. I immediately started applying some of the main concepts I had become acquainted with; it had a significant impact on my project and efficiency in my work.
You have recently been awarded twice in the IPMA world. How has your life been since then?
Those honours are very important for me personally and professionally as well as to the branding of my organization, to which I feel in debt. Also, myself coming from a country like Nepal, I hope this will motivate other young professionals to compete and win at an international level.
In these days, many organizations in Nepal are requesting me to share my experiences, motivate young people and support for their effective project management. Now, I am giving free workshops and training to young people on project management to motivate them into moving on as I did in the past.
Which goal are you aiming for now? Whats the next challenge?
My effort would be to reduce shortcomings in my current projects and do even better in the future because I cannot rely only on my past glories.
Furthermore, I will be more active in Young Crew Nepal to share my experience hoping well create a cluster in Project Management, which would make a great impact in Nepal.
Were looking forward to organizing a 2nd C4D in Nepal, since I believe it will produce other young project managers like me in future.
Moreover, I am looking forward to achieving further professional goals in future projects and of course to retain in this level of excellence in my current ones.
Personally, I have to learn more and more to make me competent and effective. So, I am planning to be active in international forums and events where we can co-create new opportunities and skills both for present and future.
If you would like to hear more about IPMA Young Crew, then sign up for their newsletter.