PMO wisdom interview with Hussain Bandukwala, Spring 2018
Our latest #PMOWisdom interview focuses on PMO and unearthing it's value with Hussain Bandukwala, the Founder and Chief PMO Coach Parwaaz Consulting in Toronto, Canada.
The full recording of this conversation has now been published.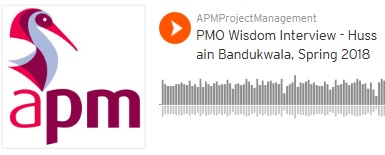 ---

The archive of PMO wisdom interviews can be heard on the APM PMO SIG microsite page.