Project manager to leader seminar: The what, why and how
Effective project leadership is recognised as an essential contributor to ensure the successful delivery of projects and programmes. This One-day seminar, held on 27 November 2019, organised with the People SIG, looked at the what, why and how to develop your project leadership skills.
This was a great day, attended by 111 delegates at BAWA, Bristol.
We started the day with a lively interactive session from former People SIG chair Donnie MacNicol, titled 'what is this leadership thing – a personal take'. Donnie shared what he has learned about leadership over the last 35 years from working with, and developing the capabilities of, project managers on their first solo outing through to programme directors and sponsors on some of the most complex transformations in the world. There was excellent interaction with attendees and Donnie fielded many questions throughout.
Donnie highlighted Relationships and 3 factors to be considered. 1. Individual Style, (including sponsor and stakeholders; 2. Teams Style Profile, (including dynamics and diversity) and; 3. Individual and Team needs, (for direction and support). He also looked at 'colour' profiles for better understanding of self, relationships, teams and groupings (functions & organisations) as well as sharing 3 examples of good leaders that he personally knows well.
Next, we had 2 episodes of experiential learning from the excellent actors of People Deliver Projects, facilitated by Andy Taylor and with behind the scenes direction from Jess Taylor.
The actors took us on the journey of Alec, an aspiring project manager and his encounters with a dysfunctional sponsor, and other reluctant stakeholders as he tried to plan and deliver a major change project in an organisation. The action was stopped at key points to discuss learning points with the audience and to get their input. The journey continued after lunch with a third episode in which the audience shouted 'stop' and directed the conversation that Alec was having with the sponsor and other stakeholders. Over the day, Alec, developed his project management skills to become a project leader, to deliver the project with the full buy in of the initially reluctant stakeholders. It was great fun with a lot of laughter and enjoyment with the learning.
People SIG member, Ian Cribbes, presented on 'The sponsor as a leader' in another interactive, thought provoking and very well received session, which picked up learning points from the People Deliver Projects actors.
Leadership is all about people; it's not about organisations; it's not about plans; it's not about strategies but it is very much about people motivating people to get the job done. In order to achieve this a leader needs to be people centred. Four of the most powerful words than can be used by a sponsor/leader are "What do you think". The project sponsor is typically responsible for initiating, ensuring, approving, and establishing a series of key aspects in relation to the project, which can be summed up under categories of vision, governance, and value/benefits realisation.
Key sponsor characteristics include four primary elements; authority, credibility, ability to delegate and availability. Barriers to good leadership/sponsorship, include bring reluctant, incompetent, absent, hot & cold and a butterfly, many of which receiving 'knowing' nods from the audience having seen the People Deliver Projects actors.
The importance of accurate communication was highlighted by a light-hearted animated cartoon. A clear example was where 3 chaps were walking along the beach together. The first chap says, "It's windy today". The second replies with "No, it's Thursday", followed by the final chap with "So am I. Let's have a beer". It is essential to ensure that communication is not open to various interpretations!
Ian then discussed conscious bias, (to be aware, intentional and responsive), versus unconscious bias (being unaware or performing something without realising, this makes it much more difficult to identify). He then discussed the need for cultural awareness and the intricacies of different countries or even regions within a country.
Next on Ian's agenda was how emotional intelligence (emotional dexterity, communication and collaboration), intellectual intelligence (cognitive dexterity, focus and strategic thought) and spiritual intelligence (spiritual and ethical capacity and intrinsic motivation) complement each other to make 'The whole person'. In summary Ian shared how sponsorship/leadership sits at the top of the pyramid of a myriad of other essential supporting activities.
The last of our speakers, Sarah Coleman, shared with us the 2018 APM funded research that she, and Professor Mike Bourne of Cranfield University, had carried out under the title 'Project leadership: skills, behaviours, knowledge and values'. They had collaborated with BAE: defence, aerospace and security; IQVIA: advanced analytics, technology solutions and contract research services to the life sciences industry; Jacobs: technical, professional and construction services; Shell: energy and petrochemical and Siemens: electrification and automation technology.
Sarah discussed their findings about Leadership: what it is, what have been the themes of leadership historically and more recently, how this impacts projects and is project leadership different to generic functional or organisational leadership and, if so, why?
She discussed why the findings are important to competence and behavioural development and shared a summary of the various competency frameworks used by the project community across multi-national and industry sectors. She then discussed the implications for the individual, (career development), organisation, (capability building, supply chain and client, etc.) and professional bodies, (national capability building).
Part of the research reviewed the literature about generic organisation leadership, (of which there is much) and literature about project leadership, (about which there is comparatively little). Evolution of ideas from the more traditional industrial revolution era of command and control, to more emphasis on social and ethical behaviour. One of the key findings from the literature review highlighted that organisational success relies heavily on effective leadership setting the right environment, behaviours and cultural patterns. This view was reinforced by the comments of many of the research interviewees.
Delegates left the day with a much better understanding of leadership, challenges to be overcome, some useful tools and some excellent examples of good practice, hints and tips to try back at work.
A photograph of the speakers is shown below, Left to Right: Ian Cribbes, Donnie MacNicol, Sarah Coleman and Andy Taylor.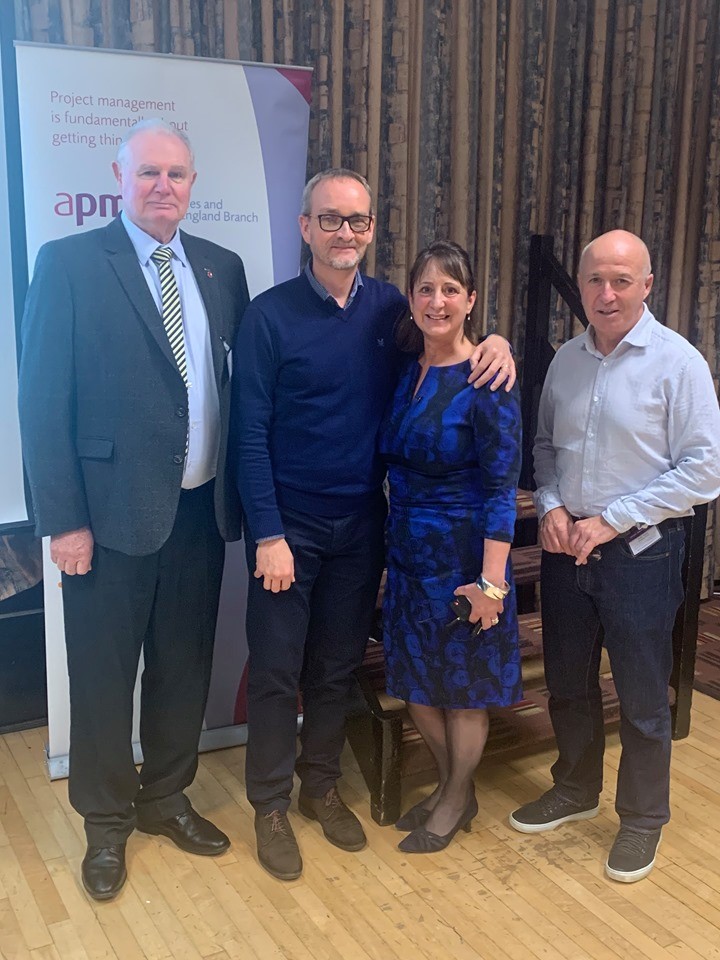 A copy of the slides is also on the APMSlideshare page. 
Martin Gosden
SWWE branch Chair