Q & A with Elizabeth Harrin, Director, Otobos Consultants Ltd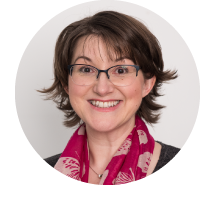 Engaging Stakeholders on Projects – How to Harness People Power.
Elizabeth was a speaker at our recent Think Differently event, where she shared her insight on stakeholder engagement. Members can listen to her session and others from Think Differently on-demand content. We caught up with her after the event to learn more about improving relationships and engagement with project stakeholders.
In your Think Differently session you explain the skills that project professionals need to get the best out of their team and stakeholders. What barriers might project professionals face when it comes to using these skills?
The biggest thing that stops people from using their skills to the best of their ability is fear. Maybe that's caused by a lack of self confidence or a feeling that they're not empowered. A lot of the project managers I talk to need a bit of support to do the things and say the things that they know they need to do, but because of the contextual situation they're in, or because of the way they're managed, they feel they can't quite say the things they need to say.
How can project professionals increase their own confidence?
Confidence requires a mindset change. It's easy to wake up and say 'today, I'm going to be really confident'. Then you go into work and you're actually not. But it's about looking at the things that make you feel more confident. These will support you in actually being more confident. It might be something small like dressing professionally, or doing vocal exercises before work. Of course, confidence develops with time and experience, but it's also a product of lots of small things
We hear a lot about the importance of good stakeholder engagement, but what are the real benefits?
Projects are done through people. You need people to support you on your projects. If you've got good stakeholder engagement and positive relationships at work, you end up with more input to projects and, ultimately, better quality. You get more commitment to the deliverables. You get people paying more attention to your project. You get people doing what they need to do. More engagement means more people follow through on their tasks and they also commit to the process. It's one thing to say 'we really want this project'. It's another thing to say 'we really want this project and we'll support in delivering it through project management best practice processes.
What signs would indicate that stakeholder engagement or workplace relationships need to be strengthened?
It's the flipside to the expected benefits. You'll notice lack of commitment; for example, people saying they'll come to a meeting and then they don't come, or they'll say they're going to complete their actions and then they don't. There may be a lack of awareness about why a project is important. There can be a lack of understanding about process. Another symptom is people having low morale or seeming frustrated. These things could happen for many different reasons but often the way we work with people is the root cause.
How has engagement been affected by coronavirus and the subsequent changes in how people work?
People are connecting differently, but I think some of these changes are things we should have been doing already. Changes such as remote working highlight teams that haven't used modern leadership practices, for example. Project leaders need to be conscious of creating empowered teams that can operate without a lot of direction and without micromanagement – but we should have been doing that already.
Project leaders should consider spending more time getting to know their team as people, understanding their work preferences, tailoring communications to people's individual preferences and understanding how best to work together as a team.
APM's new book, Engaging Stakeholders on Projects, authored by Elizabeth Harrin, is available to buy now in paperback or digital formats.