Ready, Steady, Cook! – APM's leadership team prepare food for local women's refuge.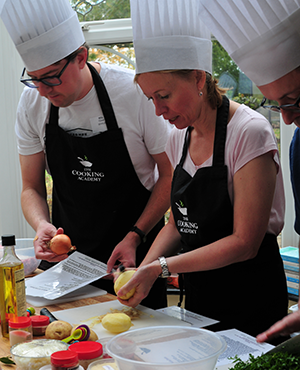 APM's leadership team visited The Cooking Academy in Rickmansworth and put their cookery skills to the test. The group took part in a team building cookery class in November, which saw them preparing delicious fresh recipes that were donated to a local women's refuge.
APM's chief executive Debbie Dore was joined by members of the leadership team including Will Webster (head of technology), Mark Hepworth (chief financial officer), Jackie Martin (head of education and lifelong learning), Faye Thomassen (head of marketing), Rosemary Mathews (head of HR), Jo Connolly (head of service innovation) and Rebecca Fox (head of membership). Under the supervision of an expert chef, they produced dishes including a chicken, date and almond tagine, vegetable pilaf with apricots, Lebanese kibbeh, tuna and egg empanadas.
As part of The Cooking Academy's corporate social responsibility (CSR) philosophy, and to contribute to the local community, the company supports numerous charities including the Catholic Workers Farm (www.thecatholicworkerfarm.org/), a local women's refuge which provides free accommodation, food, English lessons, counselling and other services for female asylum seekers and their children.    
APM donated all the food they had prepared during the day for the women and children at the refuge to enjoy as an evening meal.   
Debbie Dore said, "We have a fairly new leadership team and so it was fantastic to spend some time outside of the office in a relaxed group activity. The class at The Cooking Academy was an excellent choice, giving us the opportunity to make delicious food for such a worthy cause.  
Here at APM we encourage our employees to support the local community by offering everyone an additional day's leave each year to volunteer at a charity, either individually or with their team. It is so important to give back wherever you can".
To find out more about The Cooking Academy visit www.www.thecookingacademy.co.uk.