Positive results for female project professionals
APM's recent Salary and Market Trends Survey, supported by Wellingtone Project Management, paints a positive picture with a growing number of females entering the profession, but there is still more work to do when it comes to salaries.
Since it began in 2015, the percentage of females participating in the survey compared to men has grown by eight per cent, up from 23 per cent in 2015 to 31 per cent this year.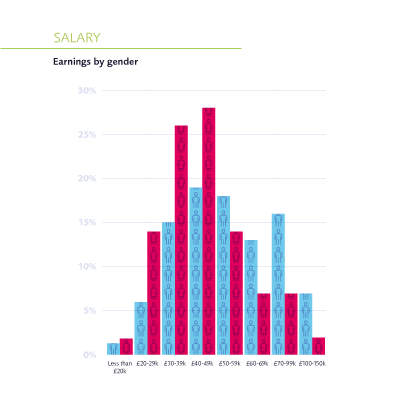 What's more, since 2016, the results show females earning salaries from £40,000 to £59,999 are on a gradual rise. Seven per cent more females are earning £40,000-£49,999, a one per cent rise on 2016. There has also been a one per cent rise in those earning £50,000 to £59,000 pa.
But while a growing representation of females in the profession with gradually increasing wages is a positive sign, the data reveals more progress is needed in more senior project management roles where the gap starts to widen as you move up the pay ladder.
The survey reveals that in the £50,000-£59,999 salary bracket there are four per cent less females than males, and in the £70,000- £99,999 bracket this divide grows to nine per cent.
To address the disparity in wages at a more senior level APM currently has a number of initiatives underway.
Research, supported by APM's Research Fund, aims to address the representation of women in the leadership of major projects, especially in the more senior roles.
This year's APM National Conference for Women in Project Management 2017, sponsored by BAE Systems, recognises the demand for a large and diverse pool of talented professionals.
Titled the 'Progressive project professional' the conference will encourage development through new insights and inspiration and demonstrate how collectively the profession itself will benefit.
"Hopefully, through these insights and inspiration, coupled with research and a changing mindset, the next Salary and Market Trends Survey will be even more positive," said James Driver, APM communications manager, who analysed this year's survey results.