Its new campus headquarters in Denmark is capitalising on LEGO's culture of collaboration, innovation and play, both in its design and how the project is run.
LEGO was born in 1932 in Billund, a small windswept town in Jutland, Denmark, where its head office remains, and where around 2,000 employees from around the world get to live their dream of playing with small, brightly coloured plastic bricks. It's an exciting time for the family-owned Danish icon as work on its ambitious new campus continues safely while the coronavirus pandemic endures.
The entire project is on course to complete in October 2021 and is an ambitious symbol of the LEGO Group's values of creativity, fun and play – the LEGO name derives from the Danish leg godt:'play well'.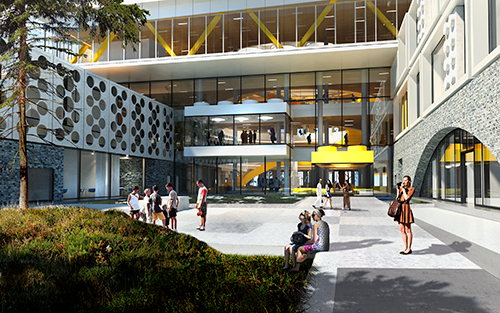 A true partnership
The Billund campus project is a partnership between holding and investment company Kirkbi, CF Møller Architects, engineer Niras and contractor KG Hansen. Morten Pedersen, Kirkbi's project director, created the original brief in 2015 and set the tone for a collaborative, open and trusting approach to the project. Pedersen says Kirkbi wanted to promote an equal partnership between the engineer and architect, so unusually the client had split contracts – one with each. "Partnership is a key value at LEGO," he says. "The most important thing is to have trust from everyone on the team and expect the best from them. Everyone wants to be pushed to be the best."  
Trust means project efficiency
Klaus Toustrup is a partner and project lead at CF Møller Architects, whose submission won the campus design competition in 2015. He says that LEGO was looking for a highly flexible building that could keep pace with a dynamic organisation that is continually changing and innovating. Unsurprisingly, LEGO bricks served as an inspiration for the design, from interior details to the conceptual view of seeing the LEGO office as a little city of elements put together. Toustrup found it was LEGO's strong values that were inspiring, commenting: "LEGO thinks with its values, and as architects it's quite nice to have this as a framework. For me, it was very inspiring to see the LEGO culture not just in the design, but in the way we collaborate. In many ways this was about the sense of trust and developing the project as an open process."  
The building blocks of trust
Another unusual approach was to bring the contractor KG Hansen in from the start as part of the design discussions. "It worked very well," says Toustrup. "Often with these processes there can be a lot of struggle, and none of that has happened because of the way the project has been set up." It's something he is now trying to replicate on other projects. Toustrup continues, "The challenge is that you need a trust element. When you have trust, people don't hide problems and we solve them together."
A shared 3D model
The project team used an Autodesk Revit 3D model that they shared and updated live, where contractor, engineer, architect, client and subcontractors could see what was going on at any time. "Sitting in the same room and co-creating it was a great way to avoid mistakes," says Toustrup.
Nikolaj Holst-Hvitved, project director at engineer Niras, said that being able to work on the 3D model together and in real-time was a first.
This article is based on a feature in the Summer 2020 issue of Project, APM's official journal. APM members can access Project for free, here