Welcome to the Summer Women in Project Management SIG Newsletter 2018
APM Women in Project Management SIG – Summer Newsletter 2018
N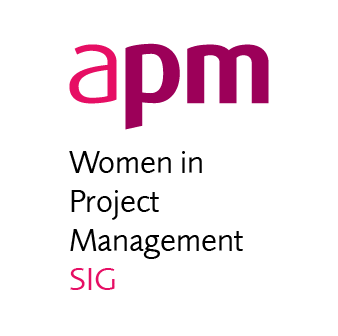 ewsletter contents
1. Welcome message
2. Events update
3. Upcoming events
4. Committee nomination and roles
5. Links we like and book reviews
6. Celebrating success
7. Follow us
8. And finally...
---
1. Welcome message

Welcome to the Summer edition of our quarterly newsletter.
On Thursday 25 April, the WiPM SIG was well represented at the APM National Conference. The SIG was represented by four committee members. Volunteers at the corporate networking breakfast engaged with delegates and promoted our 25th anniversary conference coming up in September. Members of the committee also participated in video coverage to promote the chartered status of APM, and responded to questions from delegates.
Preparation is in top gear for this year's edition of our own annual conference in September, more about it in section three. The event is a great opportunity to commemorate the WiPM SIG's 25th anniversary, as we have been marking the successes of our committee members and we look forward to more success celebrations within the SIG.
Finally, if you would like to volunteer your time to support our activities and work with a group of like-minded professionals to shape the future of our profession get in touch.
---
2. Events update
The APM WiPM SIG was represented at the 2018 APM national conference by Adetoun Abiola and Bukola Feyisetan, and they took the opportunity to promote our upcoming 25th anniversary conference in September. The corporate networking breakfast was a great networking opportunity for WiPM, and we had an amazing morning talking with other delegates and exploring the possibilities of partnering and working together to promote APM objectives.

The annual conference was held in the historic setting of Central Hall in Westminster and focused on the theme of 'future proofing'. Chaired by Tim Banfield, there was a range of high quality speakers and sessions, capturing the enthusiasm of our profession at the heart of change and transformation.  This comes at a time when the visibility and importance of project professionals is becoming increasingly apparent to those outside the profession. APM's newly acquired chartered status provides a real impetus to this – as the enthusiasm and expectation of members and other attendees at the conference visibly showed. The conference sought to bring future themes together to help give the profession a starting point for a cross-professional conversation, about what the future holds and how we can shape it and, in turn, understand how it will shape the programmes and projects landscape.

APM president David Waboso signalled the intent saying, "I believe our emergent chartered profession is well placed to face the challenge of embracing and managing change and evolving to meet the new demands of tomorrow's economy and society".

Keynote speaker Rohit Talwar, a futurologist, set out a fascinating insight into short and longer-term mega-trends.  Setting out some ideas of how any organisation whatever the size, can try to make sense of what is coming and get themselves in good shape to meet these challenges. The chief executive of the Royal Society of Arts, Matthew Taylor followed this with an analysis of change particularly in the field of work. He explained how we all needed to "think like a system but act like an entrepreneur", and offered some challenging insights and examples. His 'creative communities with a cause', maps well across to a profession with a Royal charter! Streamed sessions went into the detail of futureproof – inspiring today's profession for tomorrow's challenges, with the three themes; mega-trends, projects and people. It was concluded with Hannah Fry's fascinating insights on how to apply the growing amounts of data to explain behaviours, and predict patterns to use data smartly.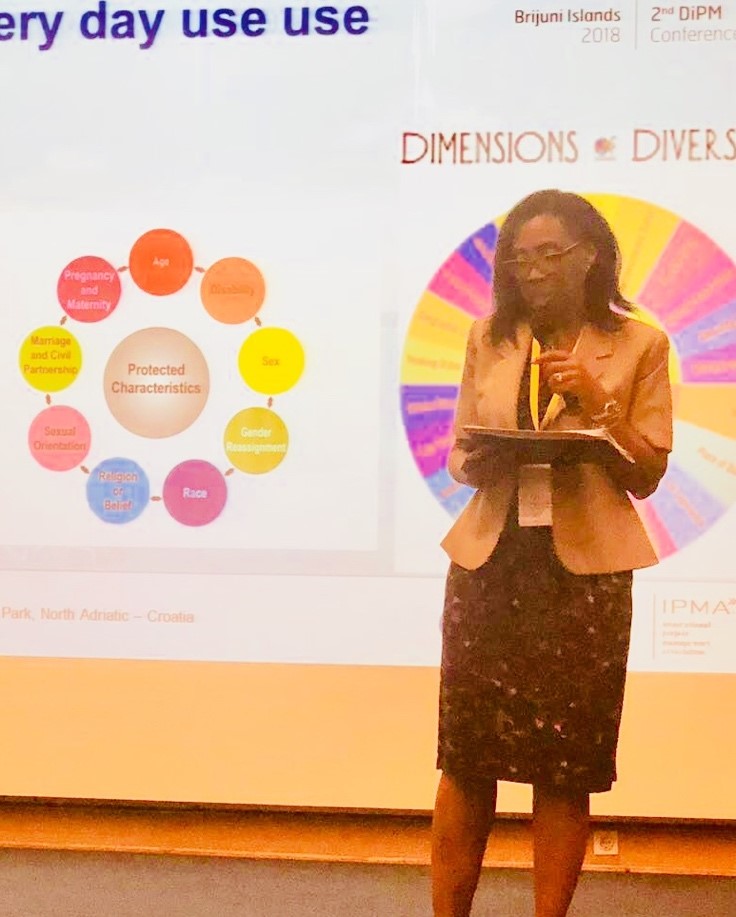 If the above has inspired you, you can catch up on what happened on APM's YouTube channel and also see some amazing photo's from the day by visiting the photo library. 

Diversity in Project Management conference 2018
Croatia's Brijuni Islands, a protected natural park was the location of the 2nd Diversity in Project Management conference organised by IPMA. Its theme was 'Celebrating Difference makes the difference'. WiPM committee member Teri Okoro RPP FAPM presented a paper titled 'Diversity in project management: Reassessing value and the public good', on behalf of the Association for Project Management, to be published in the journal of the conference proceedings.
 
Wide ranging topics such as leading culturally diverse teams, managing virtual teams, perspectives of younger or millennial team members, and maximising the benefits of diverse team were covered by speakers from several countries.  It was assuring to know that the PM profession internationally is engaging and sharing good practice in diversity and inclusion.

Takeaways on success in altering the status quo and harnessing the full benefits of diversity in project teams and organisation, included focussing on all elements of D&I in the value creation process. Having clarity on altering processes, behaviour, and culture, to enable D&I to be operationalised in them, and also incorporating a mix of disruption and new routines. The next IPMA DIPM conference is scheduled for October 2019 and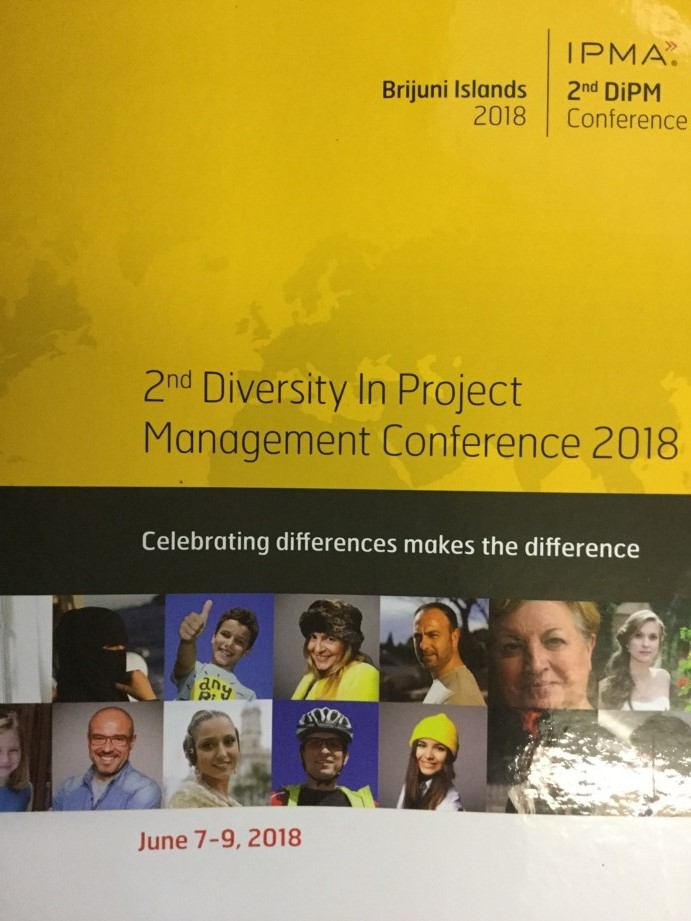 will be held in Finland.
 
Pan-African Project Management conference 2018
The conference 2nd edition was held in Yaoundé Cameroon in May, and focussed on bankability - preparing projects to receive funding. Environment and social impact assessments were the topic of the presentation by Teri Okoro RPP FAPM. Increasingly funders are seeking demonstrable evidence of the positive impact of projects on communities in Africa, and more particularly outcomes that benefit women. Topics such as project governance, stakeholder engagement, and PPP, were covered by other international speakers over the three days to four hundred delegates.
---
3. Upcoming events

APM National Conference for Women in Project Management 2018
In this, its 25th year the WiPM SIG is proud to present the 2018 APM National Conference for Women in Project Management, sponsored by BAE Systems, which will be held on Tuesday 25 September at the Grand Connaught Rooms, London.

The conference, which this year explores the theme 'Empowerment' aims to give women who work in all areas of project management the tools to develop a highly rewarding career, create a powerful profile, and empower their teams as respected leaders.
It will highlight how far WiPM has come in the last 25 years, and help us to prepare ourselves for the ever changing trends of the industry. There is a fantastic line up of high quality and inspirational speakers from leading organisations, who will be examining what empowerment can do for you, your profession, and your projects.  Judging from the excellent feedback from previous conferences, this year's 25th anniversary conference promises to be too good to miss, so do your best to attend and you can help promote the conference amongst your colleagues and organisation. Tickets are still available on the conference page and it is open not just to project managers, but to anyone that works in project management, male and female. 

Opportunity to showcase your project
Planning to attend on 2018 National Women in Management Conference on 25 September 2018? Why not take the opportunity to share with other delegates the success of one of your projects or academic research by submitting a poster?  More information and submission can be found on the conference page, please be aware that the closing date is 27 August.
What about you? Get in touch to tell us what you pledged to do and how you are getting on with it. 
Let us know via twitter: PM@apmwipmsig #apmwipm #WiPM
---
4. Committee nominations and roles
It is that time of year where we renew the committee, and nominations are now open for individual members of APM if you would like to apply and join our committee of inspirational women. It is really important that we follow the timelines outlined below, so if you are interested and have the time, please apply.

The election of each Specific Interest Group (SIG) committee will take place either online or at an event, ours is online. The timetable for the 12 SIGs having online committee elections is:
Nominations open online 

Now

Nominations close
Wednesday 4 July 2018
at 23:59hours
Online committee voting opens
Thursday 5 July 2018
Online voting closes
Thursday 12 July 2018
at 23:59hours
Committee election results announced on website
After Friday 13 July 2018
---
5. Links we like and book review

In each quarterly newsletter we will include links to articles, webpages, blogs and book reviews of interest to the members of our community. If you have any suggestions, please let us know on wipmsig@apm.org.uk
Links we like
The APM have recently launched its latest video promoting the breadth of the project profession and the opportunities to apply to become a chartered project professional (Chpp). There are three cycles for application, in this its first year. The submission deadlines are Friday 29 June, Friday 31 August and Friday 26 October.
---
6. Celebrating success

May 2018 – Carol Bell RPP Hon. FAPM presented with the Freedom of the City of London
Carol Bell, a SIG committee member since 2000 and former Chair was presented with the Freedom of the City of London in May 2018, in a traditional ceremony dating back to 1237. This was almost an all-female affair as Carol was attended by h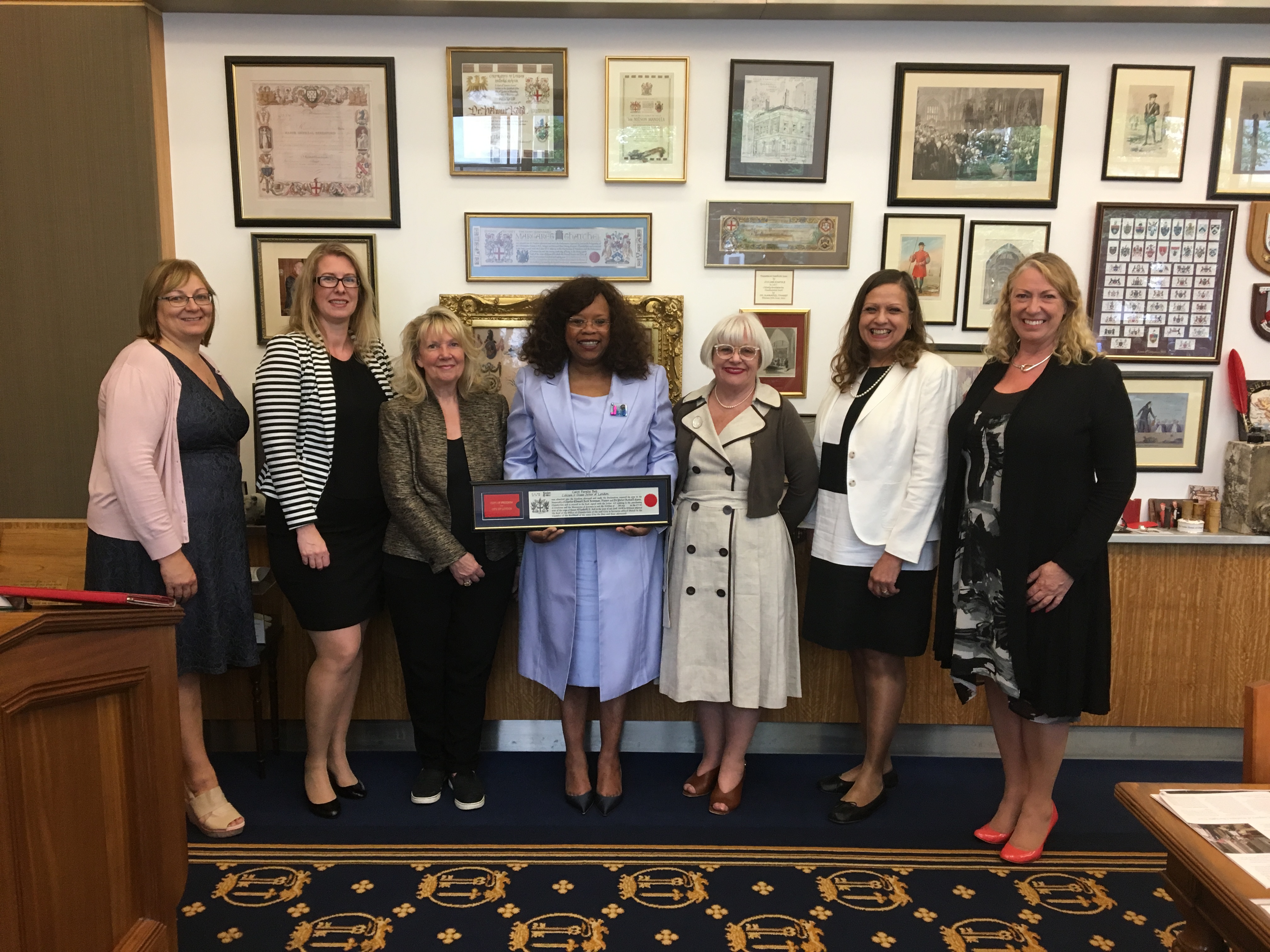 er supporters:
ex-Master of the Worshipful Company of Glass Sellers Gwen Rhys,
WC Plaisterers Liveryman De Bradshaw,
WC Chartered Architects Liveryman Cathy Stewart,
former colleagues from City of London; Principal Project Manager Nicola Darling; and ex-Royal Holloway University of London PMO Manager Elaine Clarke, both WiPM supporters; and Company Director Christine Hall.
The ceremony was conducted in the Chamberlain's Court by the Deputy Clerk to the Chamberlain, Laura Miller; and the only gentleman present was the Beadle, Ernest Brocklehurst. Once Carol had made her "Declaration of a Freeman" and signed the Declaration Book, she was presented with her Copy of the Freedom parchment, together with a copy of the mid-18th century "Rules for the Conduct of Life", and was greeted by the Deputy Clerk as "a Citizen of London". 
Carol joins a long list of illustrious women in being awarded Freedom of the City of London including the Queen, Margaret Thatcher, and Florence Nightingale. Having been installed as a Freeman of the Worshipful Company of Glass Sellers in 2017, being awarded Freedom of the City was the next step to becoming a Liveryman. Carol has now been "Clothed in the Livery" of the Worshipful Company of Glass Sellers today, Tuesday 26 June, at the court meeting held in Vintners Hall, London.
June 2018 – Carol Bell RPP Hon. FAPM cited for her contribution to APM Body of Knowledge
As part of its 30th birthday celebrations, on 12 June 2018 training provider ILX published a list of 30 influential people in project management, and a WiPM SIG committee member Carol Bell made the cut. Cited for her contribution to the APM Body of Knowledge 6th edition, delivery of the Eden Project, and chairing the APM Women in Project Management SIG.  Carol is listed alongside such illustrious names as the inventor of the Gantt Chart, the pioneers of Scrum, Agile, Lean, and PRINCE2, as well as leaders of megaprojects such as the London 2012 Olympics.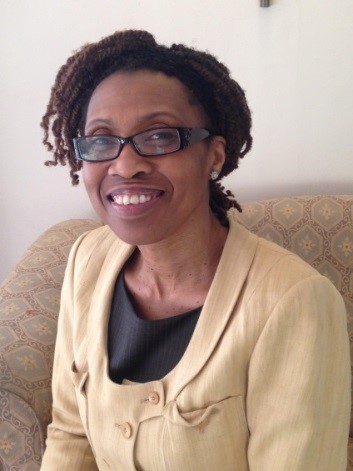 Teri Okoro RPP FAPM receives the APM Volunteers Outstanding Achievement Award 2018
WiPM SIG committee member and former Chair Teri Okoro RPP FAPM, is the first recipient of a new APM award for volunteers recognising and celebrating the achievement, dedication and impact of an individual who has provided an extraordinary contribution to APM or demonstrable contribution to the effectiveness of a volunteer team or project over time.
What about you? Get in touch to share your achievements and inspire the next generation.
---
7. Follow us on social media

Join the debate, follow our achievements and celebrate your success with us on our linkedIn group APM Women In Project Management SIG or via twitter PM@apmwipmsig #apmwipm

---
8. And finally…
Thank you to all those who contributed to this edition. We look forward to hearing your ideas and suggestions for our next newsletter.

Adetoun Ayilara and Alison Whitehead
WiPM SIG committee member newsletter co-editors