'Where are the women in major projects leadership?' new APM research asks
PM research suggests that the number of women in major project leadership roles is improving – but the pace of change is still too slow.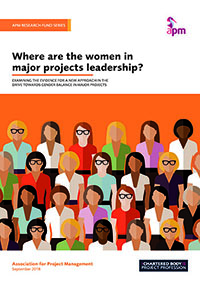 The study, Where are the women in major projects leadership? explores how leadership culture and gender balance can be improved to better shape the delivery of major projects around the world.
Emily Miles, who led the study for University College London, said of the study: "Many people have been asking 'where are the women in major project leadership' for a very long time, and despite growing recognition and investment in gender balance – the pace of change is still too slow. There are so many fantastic women leaders that are being passed over because of age-old stereotypes about what makes the right kind of leader or the right kind of career for women."
Commenting on the research APM chair John McGlynn said: "By highlighting the challenges and issues affecting major projects leadership, this research will play a pivotal role in helping organisations better understand how they can support their entire pipeline of project professionals to the top roles."
The report takes a broad-brush view of the many intersecting challenges and ideas on the topic and makes the case for adopting a new approach to gender balance initiatives.
It found that despite a growing consensus that diversity is essential in leadership teams, support for diversity initiatives tends to be heard rather than felt. And that in times of pressure and high stakes, it is common for organisations to default to 'tried and tested' methods, resorting to command/control leadership and appointing the 'safe pair of hands'.
For gender balance initiatives to work and do more than they have done in the past, they should do more than 'fix women' for leadership roles, but also work to assess and revise workplace culture.
The research reasons that the project profession has a duty to take a lead on this issue and push for a more balanced approach to recruiting and promoting women to lead major projects in the future.
Lead researcher Emily Miles said: "Major projects are about shaping the built environment, but they are also about leading the way on some of the most pressing needs in our society. We want to see gender equality, gender balance and inclusive working cultures prioritised by major projects as part of their responsibility for social transformation and investing in a better future."
You can download the full report or read selected highlights in the Resources area.
Where are the women in major projects leadership? is part of the APM research study fund series, an initiative that aims to promote project management to a wider audience.