Applying systems thinking to project management: summary and last thoughts

Welcome to the conclusion of a series of blog posts that aim to make the case for applying systems thinking to project management. The intention is to start a discussion with the broader APM community to share examples of where systems thinking has made a real difference to their projects and use this in turn to raise awareness of the main benefits and potential cost savings that a systems thinking-based approach can bring.
Previous articles have shown how the use systems thinking across the project life cycle (problem identification, solution definition, project establishment, project execution and a case study). This article gives a summary and draws some conclusions. 
Systems thinking mindset and principles
Systems thinking provides a framework to understand the situation and is driven by the context, with problems understood and solutions defined 'outside-in' to first find the boundaries of the problem and then identify leverage points. Application is usually iterative. Systems thinking comprises three main elements:
Principles to guide considerations and the types of thinking to be used.
Structure (the 'Iceberg') to provide a structure and contexts for the types of thinking.
Process to understand the situation before considering the solution and implementing this solution.
Together these provide a fuller understanding of the problem and its solution, implementation project scope and approach and how these relate. Together, these result in:
Fewer issues, 'surprises' or changes to manage during the project. Any changes that are required are easier to assess as project purpose and scope are better understood.
More effective management of the project because the project manager is able to concentrate on core project management processes rather than issues and changes.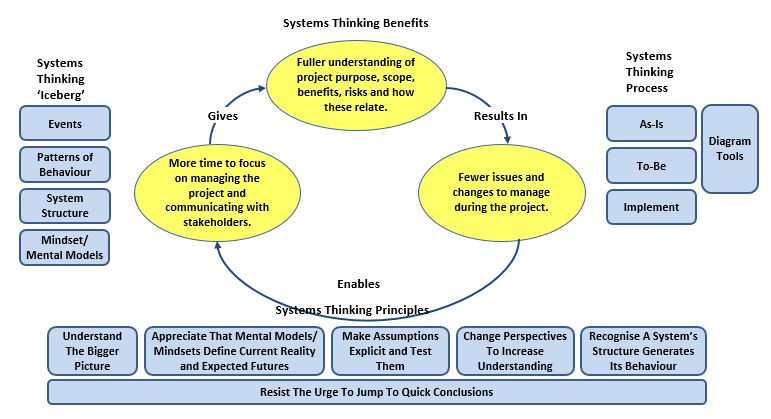 Systems thinking elements and benefits to project management
Systems thinking applications
Systems thinking gives most benefit where top-down decomposition cannot be applied because it is not clear where the top is or how to decompose the problem. These are typically 'complex' problems, where the problem and/ or what needs to be known to identify its solution, are unclear, where the solution can't be disentangled from the problem or its solution from its context, or where the project environment changes over time. 
Main benefits
Summarised from the previous articles, the main benefits from using systems thinking across the life cycle are:
During problem identification

Improved business case accuracy and completeness in terms of As-Is costs and greater clarity of the scope and scale of the change(s) required. 
More comprehensive identification and assessment of risks. 
Greater stakeholder buy-in and commitment to success.
During solution definition

More clearly defined goals and objectives for the solution. 
Improved risk, change and benefits management.
Reduced or eliminated unintended consequences.
During project establishment 

More clearly defined goals and objectives for the project.
More accurate and persuasive project business case.
More appropriate project governance structure.
Quicker project team mobilisation and increased commitment to project success.
During project execution

Better management decisions.
More focussed transition planning.
Improved lessons learnt.
Costs of using systems thinking
While it is clear that using systems thinking improves project success, it is not always obvious at the start that systems thinking will give a return. Most business managers ask how much using systems thinking will reduce current costs. Systems thinking will not reduce current estimated project costs, but these are typically too low.
The business case for using systems thinking is one of 'spend to save', cost avoidance and quality improvement rather than reduction in current costs. More needs to be spent at the start, but expensive 'surprises' during and towards the end of the project are reduced due to the removal of late requirement changes and identification of risks that were not obvious at the start. Early use of systems thinking provides more realistic project cost estimates by enabling the full project scope and overall requirements to be understood.
How to help make the use of systems thinking successful:
Be aware that the application of systems thinking requires changes in mindset and behaviours.
While systems thinking expertise is not widespread, a working knowledge can be taught relatively An internal or external consultant can provide this working knowledge and facilitate initial analysis.
Keep senior management updated on problem analysis progress by using the systems thinking diagrams (e.g. context diagrams to explain current understanding of problem scope). This ensures sufficient analysis is completed before work on the solution definition starts.
At each stage, use gate reviews to assess whether sufficient understanding has been gained for the next to start. Information on gate reviews can be found in the Fusion Point Guidance published paper

.
Last thoughts
The case for using systems thinking is quality improvement and cost avoidance rather than reduction in current costs. However, most initial estimates are too low and systems thinking can help to make them more realistic.
Systems thinking provides a framework for understanding the problem situation, its scope and approach to realise its solution, thus complementing the methodology being applied rather than replacing it.

In conclusion, using systems thinking enables the right project to be done in the right way to develop the right solution for the right problem.
Share your thoughts
Please share your thoughts and examples of where systems thinking has made a real difference to your projects by joining the discussion using the comments section below, joining the APM Systems Thinking SIG community or via the contact section on the APM SIG website. 
Read other blogs in this series:
Image: Blue Planet Studio/Shutterstock.com