International Project Management Day 2022- Is project management evolving?

What better way to celebrate International Project Management Day than to write a blog about the future of our profession? Our team at Altus Consulting had the pleasure of joining APM's SIG Conference in London last month. It was an action-packed and interactive day, with refreshing reminders of how to lead transformational change, blended with unique and bold futuristic disciplines on the ever-changing project management practice 'trends' that are sprouting in the new global economic footprint.
We explore some of these emerging themes; do you recognise any that could support your project?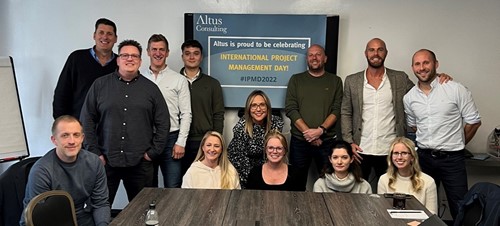 The Altus Consulting Programme Delivery team flying the flag for International Project Management Day
Is the unexpected scenario in your plan?
Scenario: Today, the business case has been approved and the project team have been allocated. Planning gets underway and starts to set out the course of action for the next 24 months. There is often the tendency to plan for the happy path, the milestones showing an achievement at the end of each month and quarter, but what deeper thinking has been given for those unexpected influences, and what could the broader environment be looking like?
It's now three months later, planned power cuts are taking place across the UK. The project needs all of its systems and servers online to execute its critical deliverables; the project has been blitzed, but this scenario wasn't considered a feasible reality. Further power cuts are announced and coincide with nearly every critical path milestone!
In today's market, prepare for movement and the unexpected in the plan, introduce horizon scanning into your governance and scenario planning, and design the framework you will follow to triage and react to this movement in delivery to avoid being left in the dark! Your sponsors will be impressed with this level of forward thinking.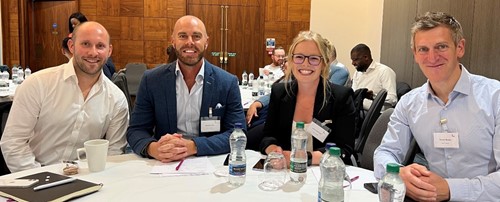 Some of the Altus Consulting Programme Delivery Team attending the APM SIG Conference – 'Driving Projects Looking through the Windscreen
Painting the image of your end goal focus, does the customer outcome of the future appear?
No organisation can make serious progress on its journey without a clear understanding of where it's heading and what it's trying to achieve. Too many organisations rush to start planning and developing 'routes' before the vision is fully understood or agreed.
A vision statement orientates and directs the organisation's attention. It sets its focus, providing a continual catalyst for future work. A vision statement should be the shared starting point for discussions about project-specific activities and outcomes that are striving towards that common goal for the customer. But does this vision stand up to the test of time? Is the vision too close to home? Has it not even considered that the current mode of travel might be very different in the future, including the future tech, or even the future metaverse?
Are we forgetting risk management?
Project meeting agenda
Team news
Plan updates
Cost scrutiny
AOB
Risks and issues (if we have time)
The above agenda looks quite familiar! A brilliant and stark reminder from the conference that programmes and projects often ignore risk management as one of the top priority areas of focus.
To a sponsor, client or investor, any sort of change or project gives them a heightened awareness of problems that could occur (risk). Risk materialisation could cost the organisation more, negatively impact the well-respected reputation of the products on offer, or cause internal disruption as an unintended consequence; not so boring to them!
Re-jig your agenda to focus on risks first. This reinforces the expectation to your team that risk management is part of the project's culture and the intended way of working. It's no major evolution but a vital refocus reminder for the project profession, that managing risks well, consistently and effectively, supports the principle of planning for the unexpected.
Celebrating small shoots of success
Team rapport is fundamental. You can have the best RAID logs and project plan, but if you don't have good communication within the project team, you aren't setting yourself up for success. Taking the time to understand your team and celebrate small wins leads to a more collaborative working environment. Creating that sense of belonging and a legacy for how the team collectively delivered success is often overlooked!
Do you have an end-of-month look-back, to focus on what has been delivered and to invest in your team? Try doing a call-out of the highlights of the past month. Reflecting on what has gone well and the reasons behind this are brilliant building blocks for success in the future.
Embracing the removal of project failure
Stopping a project because the environment has changed is more beneficial than spending another two years working on a project that will only be relevant for a few months. Stopping isn't failure, it's proactive learning.
Consider carrying out a PESTLE and/or VUCA analysis throughout the project lifespan. If factors are coming in that were not anticipated, does the scope need to be reviewed? Do the outcomes? Don't be afraid to call out when you think outcomes need to be revisited, or if your views are controversial. Strength comes from collaboration, using learnings to refine, asking questions, re-work and re-validation. It's how change succeeds, along with kindness and values.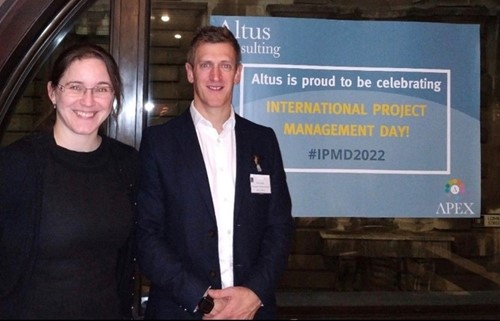 The APM Board Chair Milla Mazilu and the Altus Consulting Delivery Director Steve Hawes at a recent Altus event
At its core, project management brings people together, often with different skill sets, and making these skills fit together, to create change.
The evolution in project management is increasing in pace. Of course, refreshing yourself of futuristic planning considerations, customer outcomes at the core of the vision, and prioritising risks in the agenda are important, but the fundamental factor in change is our people.
Putting colleagues, permanent, third-party and contingent resources at the heart of change delivery is critical. Adapting to the changing needs of our people, evolving the tools of our trade and a laser focus on end-user benefits and outcomes is the future of successful change.
Become part of the project management community
---
This was co-written by Ash McVeagh, Jenny Bannister and Jonathan Harris at Altus Consulting.

Jenny Bannister, PMO Consultant. With 5 years Financial Services experience Jenny has an in-depth knowledge of portfolio management operations including change control frameworks, resource management tooling and financials. Jenny has experience across waterfall and agile delivery projects and programmes as well as risk management and executive reporting.

Jonathan Harris, Principal Programme Delivery Consultant. Jon brings over 18yrs of experience in Financial Services, working with senior executives to address complex business, operational and technology challenges, shaping strategy and driving programme delivery execution. A seasoned Change Management Consultant with extensive "Big 4" experience, Jon's key clients have spanned Banking, Investments, and Retail industries. His experience includes successful delivery of market-facing post-merger integration programmes, regulatory change driven projects, and multi-project portfolio management engagements. Jon's key skills have enabled him to develop high-performing teams, deliver complex change programmes, and help clients develop internal capabilities to achieve both long-term growth and cost reductions.