Resource management and reporting
What are the largest challenges organisation face relating to project and portfolio management? The 2016 State of Project Management Survey published by Wellingtone and the APM PMO SIG provides some insight: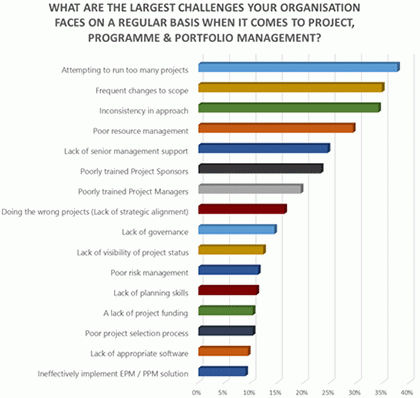 Poor resource management features in the top 5, with lack of visibility of project status making the top 10 list of challenges.  
Resource management is the holy grail of enterprise project management. The ultimate solution of knowing how many people you have versus how much work. Allocation and tracking of tasks and undertaking "what if" analysis is part of this solution as well. If only we had a great way of managing our resources this would create a step change in our project management maturity.
When deploying Microsoft Project Online we run requirements Workshops with our clients. We discuss current ways of working and define how Microsoft Project Online is to be configured to suit the needs of the client. We invariable hit the "spreadsheet moment". The point in the workshops when someone, often sheepishly, opens a very large, colourful spreadsheet being used to juggle a long list of people versus an even longer list of projects and tasks. Invariably there is someone relatively senior trying to keep the spreadsheet up-to-date. We applaud the Excel skills and the design but then all agree it's a bit of a nightmare. Tasks keep moving and annoyingly people go on holiday.  
Attempting to track and forecast exactly what everyone is doing in detail is a real challenge, particularly if project plans are stored all over the place. The scale of the challenge is also driven by the stability of projects. It's easier if resources are assigned to nice meaty longer projects rather than being pushed from urgent priority to new urgent priority.
So with Microsoft Project Online all project plans are stored in one place and call off resources from a single enterprise resource pool. I can allocate Bob to several projects and see how busy he is overall compared to his available hours. I can factor in his holiday and that 20% of his time should be spent doing non-project work.  
If we have a consistent approach to planning (see my previous blog article) then we actually do stand a chance of forecasting resource demand versus availability. It is time to ditch the colourful spreadsheet and decentralise this data management.  Let the project managers track actual and forecast resource for their projects and use the power of Microsoft Project Online to identify bottlenecks, peaks and troughs. I do steer people towards using the information for trend analysis. The data is only ever as good as the project planning so we need to recognise that reporting Bob is 15% over allocated next Thursday is, for most organisations, too much in the weeds.  Showing we need two extra Bobs next quarter is actionable management information.
Talking about management information, this is the other bugbear of project managers. "I don't have time to complete your status report Mr PMO…I'm too busy running my project" may be a familiar complaint. If the project plan and RAID logs are used correctly then Microsoft Project Online can completely automate standard project, programme and portfolio reporting.
Click the button and yes, you have your up-to-the minute-accurate project status report. No longer constrained by waiting until the end of the month and the 3 extra days later it takes the PMO to consolidate the status reports, suddenly 20/20 visibility arrives with immediate status reporting. Great for the PMO, sponsor and organisation as a whole, but sometimes project managers are less thrilled as everyone can now see their closely guarded project information.
To conclude, my original premise in this sequence of 3 blog articles was to demonstrate how the introduction of an enterprise project and portfolio management solution such as Microsoft Project Online can drive an organisation towards improved project management maturity. Yes, of course there are many other elements to consider, including; methodology development, training, mentoring and setup of a strong PMO.  But there is no doubt from all the work we do with clients that deploying a project and portfolio management tool is a keystone in project management maturity development. We sometimes come across organisations who say they are not mature enough for a project and portfolio management solution. My view is quite the opposite, if you are not mature enough, then the tool can help drive it; consistency, visibility, collaboration, resource management and reporting.  
Effort and investment is required, but the recent independent Forrester Report calculates ROI of 301% based on the real experience of real organisations deploying Microsoft Project Online. Do visit our web site and sign up for a free 30 day trial or visit the APM YouTube channel to watch the two Microsoft Project Online webinars that accompany this series.
---
This blog is written and sponsored by Microsoft. Vince Hines is director of Wellingtone Project Management who are a Microsoft GOLD Certified Partner with Project and Portfolio Management Specialisation.