Risk in programme management
Discussion on the issue of risk as a sub-body of knowledge in programme management was formally recognised from a discussion within CITA in 1993. Followed with the introduction of MSP (Managing Successful Projects) in 1999. At programme level, risk has a different aim and approach from project management. At this level it uses different tools and techniques. When an organisation does not differentiate between the two levels it indicates a lack of maturity in their practice.
As Dr Hillson and practice colleagues continue to promote - risk has an upside and downside that presents opportunities and threats. Programme management is to maximise the impact of opportunities whilst minimising the impacts of threats on the benefits delivered.
Sources of risk for programmes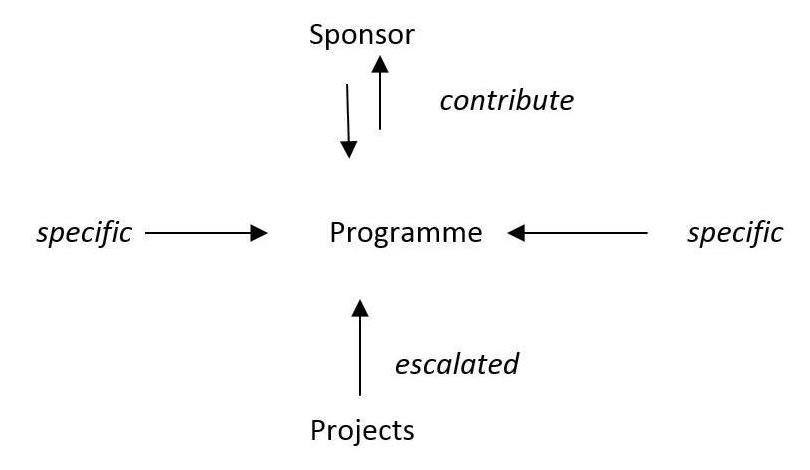 Projects
From component level
"Large" risks at projects level are escalated to the programme
Related risks from several projects are aggregated to the programme level
Overall projects risk
Risks from sponsor to be managed at programme level
From above
Delegated from strategy – scoping and programme changes because of changes in strategy, contracts and regulations
Clear communication and access to the C Suite
Sponsor delegates risk without abdicating responsibility
From same level
Threats and opportunities: Resource breakdown structure – interfaces, resource conflicts
Pure risks: Execution and management of programme
Overall programme risk – consider the individual uncertainty
Implicit risk – consider selection of the components, contents and context; as necessary increase/decrease components to reach an acceptable risk exposure and risk efficiency.
Remaining challenges – several issues to be addressed:
Understanding thresholds whether above or below
Implementing risk efficiency – neither too much or too little
Avoiding the project mindset when dealing with programmes
Interface within wider programme management under a sponsor.
---
This material originated from the Programme Management SIG webinar held on 2 July 2018