Sponsoring the Thameslink programme

Nick Gray of Network Rail (NR) recently presented on the Thameslink programme and reflected on overall sponsor challenges in NR at the APM Governance SIG event, hosted by Transport for London (TfL). He was head of sponsorship during Thameslink and is currently director of sponsorship of the Western route.
Finding balance
Nick compared the actuality of his role as sponsor to the theory outlined in Directing Change and Sponsoring Change.  He also compared the two main governance models being used within NR; does a sponsor best sit in a separate part of the organisation so there is complete independence and a degree of challenge, or as part of an integrated programme team?  Both these models are being used and mostly legacy arrangements are continuing - but the model is ultimately driven by people and relationships.
At NR, public consultations provided different public specifications which may not have been included in the original business case, which was a challenge that needed tackling.  Sponsors had to balance between pure business case improvement versus sensible strategic direction – the sponsor decision may not always be purely financially driven. Quite often the sponsor challenge involved looking at the wider economic and social benefits where tax payer money was being spent.
Stakeholder mapping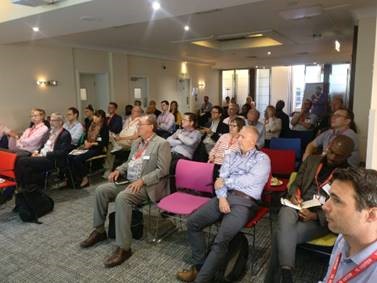 With over 73 million hours over three decades and the help of 45,000 people, the £7Bn Government-sponsored programme has created a modern railway infrastructure and new stations that will last for decades. Thameslink provides a high-frequency train service transforming north-south travel through London.  It impacted on heavily built up urbanised areas including central London. 
Key stakeholder mapping included over 100 different stakeholder groups. There was clear delineation between the sponsor(s) roles and delivery.  Non-infrastructure enabling activities were handled as projects in their own right and delivered (aside from the main delivery teams) by the sponsor team. The sponsor team members were effectively undertaking a project manager role as well for these activities. 
Funding; neighbours; external bodies; buying property; liaison with train operators; dealing with notices; and communications was in the scope of the sponsor team, as was handling the political landscape and managing 'client contracts'. It was the sponsors that managed this mainly with contracts with external organisations. The sponsor team peaked at 90 people but as a steady state had 30-40 people. Most of the capability was in house to 'get more skin in the game' although some contractors and consultants were used.
On a programme of this size inevitably there was a hieracrchy of sponsors. The everyday interaction between Nick's sponsors team and DfT's sponsor team was governed by a protocol agreement. Using a robust gated structure, the protocol stood the test of time, with no major failings in the way the documentation was organised. 
Taking a phased approach
The long incubation period of the programme meant a number of early learnings were built into the early governance – and also new communication channels were able to be used (Nick mentioned of course that social media and other e-channels did not exist at the outset). 
Programme planning deliberately moved to a phased and incremental build after assessing the best fit between 'disruption and longevity of construction'.  Nick likened the approach to "heart surgery on a conscious patient". Some sections of work were completed earlier than needed after consultation with stakeholders. The phased approach was intrinsic to also ensuring the governance focus regularly moved from completion of delivery (outputs) to "impact on passengers – are we ready to go?" (outcomes).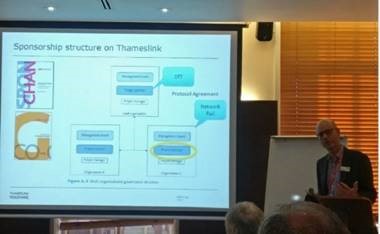 Reporting to stakeholders
The complexity and interfaces of the overall programme meant that the Programme Board morphed into an 'industry board' to ensure all enablers and systems as well as infrastructure deliveries were properly co-ordinated and integrated.  One of the early realisations was the volume of reporting needed to satisfy the stakeholders – as Nick stated "project on a page reporting just didn't cut it" and traditional delivery metrics were also not good enough.  One of the most useful innovations was to create a 'capability roadmap' – getting a service live is not just about concrete, steel and buildings, it is about relationships, culture and people.
The Programme Board met every four weeks, with senior representation from the sponsoring organisation as well as the programme. DfT ran Programme boards and supplemented these by Readiness Boards. There was also a System Integration team who controlled the "Industry Integration Plan". The governance framework was all captured on one page.
With many lessons learned and innovations implemented along the way, more information is available online on the Thameslink Programme's Learning Legacy website.
You may also be interested in:
Image: I Wei Huangn/Shutterstock.com
Photos courtesy of APM Governance SIG