The future of project management: where do we go from here?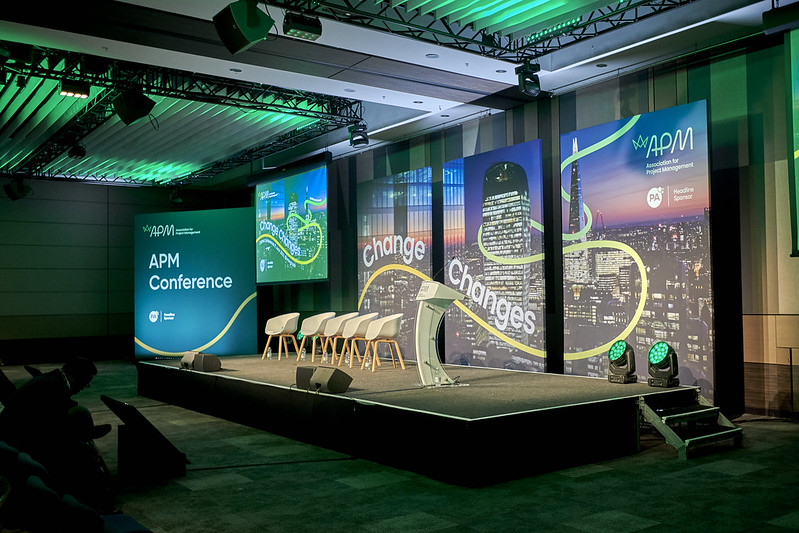 This was the big question that APM's Change Changes conference sought to tackle, with Prof Adam Boddison, CEO of APM; Lysan Drabon, Europe Regional Managing Director of PMI; and Alistair Godbold, Director of The Nichols Group, contributing to the panel session. It was the first time APM and PMI appeared together on stage in the UK which has kick-started a new era of collaboration within the profession. Here's some of the important trends they chewed over: 
Intensive change and the projects that help us to adapt

 
The panellists were asked what they thought would be different for project management in the future, and what trends might emerge, with Drabon commenting that over the past five years, we had all experienced a high level of intensive change that has impacted organisations, individuals and society; "The only way forward is to think how do we most efficiently adapt to what comes at us?" She said.  
From the climate crisis, geopolitical changes, and inflation to new ways of working and digitalisation, these changes "Come with a lot of responsibility and pressure to make change happen. A lot of organisations develop great strategies and have really smart ideas, and these need to be made a reality through programmes and projects," she explained. 
Upskilling and more project managers, please!

 
"We know that many of these important projects are failing," said Drabon. The first way to get project failure rates down, she argued, is by upskilling people to become more experienced and better in doing project work. The second is by bringing more people to the profession. "Research shows by 2030 that we will be short globally of 25 million people in project management jobs. We need these people to make sure that these important projects that are needed to drive change happen," she said. 
Recognition as part of the solution

 
Boddison said that proper recognition for the profession is part of the recruitment solution. "At the moment, the project profession does not have the same status as other professions. It doesn't get the recognition it deserves as a profession in its own right." An indicator of maturity would be the ease with which project professionals are able to move between sectors (just as accountants or HR professionals do). "We need that maturity to be able to address that talent gap at a global level," he reiterated. 
Technology trends

 
Goldbold explained that "The profession is always going through technological changes — there are always new tools and ways of doing things that are being assimilated into the profession. They all come in as something new and shiny and eventually they get absorbed into the profession. The latest one is AI." 
He believes that AI will allow more transactional tasks, such as risk management, scheduling, and progress chasing to become automated, "Which will free up lots more professionals to be able to deliver projects. Because people deliver projects, and you need people to talk to people, to inspire and organise people. I think the technology will help with the skills shortage, but I don't think it will solve it." 
Future proofing professional bodies

 
"Twenty years ago, someone joining a professional body as a student followed a vertical route up, but that's changed," explained Boddison. Now, people are moving horizontally through organisations and between different levels of membership. The risk is that the edges of the profession may become fuzzier, but the great opportunity is for these members who dip in and out to take their knowledge with them and spread the project management word to new sectors — especially up to leaders of organisations who might be ignorant about what project management actually is. 
Drabon reiterated the need for the profession to bring in new people, including the young, career changers and accidental project managers but the biggest opportunity lies with attracting more women. "Globally, we do see a massive [gender] gap, with two-thirds of project management roles done by men. Women are more open to new technology and new ways of working." 
Goldbold added that there is a risk of focusing too much on skillsets and not on the mindset. There is a need to make project management relevant to more people, so it's incumbent on project managers to understand why they are delivering their projects — and to take the strategic view that they are delivering something to the benefit of society, and therefore can assume more of a leadership role. 
You may also be interested in: