Webinar: Nick Fewings' Arabian Nights - Turning a project team round in the desert
Reflective account by Jim Dale (ProgM Secretary)

Okay - let me be up-front and confess - this was my first ever webinar! Candidly the idea of passively sitting in front of a computer screen for an hour watching, PowerPoint slides and listening to a speaker drone on did not appeal to me. If it is unenticing for the listener what must it be like for the poor speaker with just a screen to interact with!
Heresy - I hear you shout – this is the age of social media, webinars are accessible to hundreds, indeed thousands, they don't involve the cost and time of travelling, they allow busy people to get on with their days jobs blah blah. 'Yes' I know this but I was still not a webinar fan; that is until earlier today.
Firstly, I want to say a big thank you on behalf of the Committee to Nick Fewings, the Co-Director of TheColourWorks for delivering an interesting, interactive presentation, with passion and flare. Secondly, well done to the APM for hosting this event. Nick's presentation was about conflict and dysfunction amongst a team of project professionals working in Saudi Arabia. From my experience you don't have to go very far to find conflict in project teams, but I guess a Bedouin tent in the Arabian Desert is more glamorous than an office in a London Borough Local Authority!
Nick's presentation was anything but a passive experience. He introduced a series of on-line voting experiences, which were simply brilliant. We were asked, for example, about the typical issues in projects and then asked to 'vote' electronically.  At the same time a constant stream of useful suggestions, questions and comments were being logged and displayed on the 'twitter' stream.
Nick spelt out three common causes of project failure as weak leadership, inadequate resourcing and poor stakeholder engagement.  The link is, of course, people. People will ultimately determine project success or failure. This may sound obvious but it is frequently forgotten as we strive to deliver projects focusing on PPM, methodology, systems and processes.
Another fact that Nick emphasized was that we all have different personalities that condition the way we learn and respond to change. Nick's simple and visual colour-coding system, used in-conjunction with a further poll, reinforced this point.
Now the really neat thing about webinars is that they can easily be recorded and made available to all:
So what learning can I take from Nick's thought provoking presentation?
1) We must invest time getting to know our teams and what makes them tick;
2) We need to understand why change is resisted and help people progress quickly through the change curve;
3) We need to invest in a range of different communication styles to engage effectively with out stakeholders; and lastly,
4) Take a hat with a built-in fan when visiting the Arabian Desert!
Nick's presentation slides are made available below to assist sharing and for those with green / yellow tendencies can be further shared with others.
Several questions were asked during, and at the close, of the webinar.  Nick has kindly addressed all of these which appear below.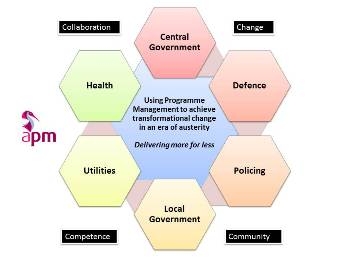 Future events:
Please check out ProgM's annual conference, 'Delivering More for Less' which is scheduled for Tuesday 26 November 2013. We have some great speakers and there will be lots of opportunity for networking.
Finally, we need your help:
If you have experience of major organisational change (in any capacity) we invite you to complete an online survey which will inform a ProgM white paper setting out best practice for programmes delivering collaborative transformational change.
The survey can be accessed here.
Further information about the survey is available on the APM website.
_______________________________________________________
Q. Nick - Dent and Goldberg wrote a paper challenging the commonly held view that people resist change. Too often communications is a one way broadcast, not surprising people get frustrated.
 
A. I wholeheartedly agree. We naturally communicate in our own style and unless we have an understanding of others' needs, our communication can fall on deaf ears.  As an example Fiery Reds will talk about success, targets, deliverables whereas Earth Greens want to know the impact on people and customers. Bridging this gap is vital so that all needs are met.

Q. Shouldn't the HR department or the people in charge of employing the team be aware of how to build a team?
A. Most definitely. However in my experience the project team is often put together based on technical skills alone and scant attention is paid to investing quality time in getting the right people on the bus.  Forward thinking organisations that I work with profile their available project staff and take this into account when putting the team together. Additionally they have an understanding of team dynamics from day 1 of the project and will often devote a day early on understanding individual relationships.
Q. Thank you, very interesting. I did the survey a few months ago, but got no supporting information on how to use the Discovery profile.  This has been really useful.
A. Hopefully this was not via The Colour Works. We either de-brief profiles in a workshop setting or ensure individuals have a 30-min telephone or face to face de-brief. We also provide a 'Getting The Most Out Of Your Profile Guide' as further support.
Q. Can you please advise what the famous five issues are for effective change?
A. They are:
1. Clarify the Change – Vision
2. Involve Staff - Appropriate Skillsets
3. Manage Resistance - Incentives to Change
4. Communicate - Ensure 2-Way Feedback
5. Track Progress - Have An Action Plan