Why conflict might not (always) be a bad thing for your project team

In the high-stakes game of project management, conflict is everywhere. And as project professionals, we often find ourselves at the heart of those conflicts, playing the role of referee, negotiator or peacemaker to keep the delivery moving forward.
That's a pretty tough job. So, to paraphrase Liam Neeson's character in the movie Taken, we need "a very particular set of skills" to pull it off.
In April, I attended a workshop hosted by the APM Thames Valley Branch, where three expert speakers delivered their advice on conflict resolution for project professionals. Here are four key lessons I took from the event.
1. Conflict comes from people, and people are all different
Whether it's how we react to situations, engage with others or manage our workloads, we all see the world through our own lens – a lens that's tinted by our experiences, beliefs and values. To solve a conflict effectively, we need to see the world through other people's eyes.
This groundwork should start long before any dispute arises, so get to know your project team early on. Specifically, ask yourself these questions about your colleagues:
Are they an introvert or an extrovert? Introverts are inward-focused characters, getting energy from themselves, whereas extroverts are energised by those around them. Generally, during conflict, introverts adopt a 'think, think, do, think, think' mentality, whereas extroverts take a 'do, do, think, do, do'
Are they a thinker or a feeler? Thinkers tend to make their decisions based on data, analytics and logical thought processes. Feelers are more subjective, making their decisions based on people and emotions.
What's their personality type? There are many personality tests out there. It pays for team members to understand each other's personalities, and their associated strengths and challenges, if they want to achieve high performance.
Understanding how your colleagues tick helps you anticipate and prepare for conflict ahead of time.
2. Not all conflict is bad conflict
It's easy to think that all conflict is bad, but as Nick Fewings, CEO of Ngagementworks and author of Team Lead Succeed, will tell you, that's simply not true. "By understanding and valuing behavioural diversity within a team, conflict sparks ideas and creativity," he says, "whereas clashes create fractured relationships and mistrust."
As project professionals, we often find ourselves in the middle of conflict situations, arbitrating between opposing viewpoints. Because of that, we must shift our thinking and position ourselves as conflict facilitators, working to weight the dice towards a spark rather than a clash.
To do this, continually refocus the team back towards the project's mission, framing their arguments and objections against the 'why' of your delivery.
After all, conflict can be good if it moves you closer to delivering the right result.
3. You need to get comfortable being uncomfortable
Although we want to harness positive conflict, it's still an uncomfortable experience. We're programmed for harmony as human beings, so we need to train our conflict resolution muscles.
Chris Reay knows all about dealing with high-stakes conflict thanks to his long British military career. Now a Senior Lecturer at the Royal Military Academy, Reay teaches the next generation of military leaders the skills they need to resolve conflict effectively.
"If you are in a position of influence or authority, where you are obliged to act on behalf of others, you must of course act legally and ethically," he says.
"Notwithstanding the effects of that situation, the ability to empathise and build a quick relationship with an opposite can provide great dividends, especially in the area of conflict resolution and dispute solving. As a leader, the necessity to be able to hold a difficult and uncomfortable conversation has to be tackled."
There is an art to conflict resolution, so focus on improving these key skills to facilitate your conflicts effectively:
empathy;
active listening;
situational awareness;
influencing; and
risk-taking.
4. Conflict creates better-performing teams
So, we know that conflict comes from people, that it can be good and the skills we need to manage it, but so what? Well, research shows that just the right amount of conflict actually drives teams to maximise their performance.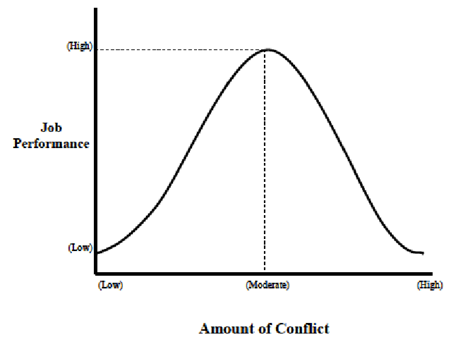 Source: R. Paul Battaglio Junior
A team with no conflict gets comfortable, spending their time patting each other on the back. Too much conflict leads to all-out war with no cooperation and a culture of ill-discipline.
But, if you hit the sweet spot, you'll have a team that conflicts in a constructive way and which breeds new and creative ideas to push your project forward.
Marion Thomas is the Director of ExtraordinaryPM. She leverages her 30 years of experience to help project professionals land their projects on time and on budget, with a team that's still speaking to one another at the end.
 "Workplaces often emphasise and encourage collaboration and getting along with one another," she says.
"However, this can lead to pressure to smooth things over, not ask awkward questions and comply with 'groupthink'. Successful organisations get non-hostile conflict and disagreement out into the open in order to explore potential problems and concerns, and fuel even greater innovation."
Summary
Some conflict is good, some is bad – but for all projects, conflict is inevitable. With that in mind, as project professionals, we need to harness that conflict and use it to drive optimum team performance.
Start by getting to know your teams, how they tick and the conditions that could lead to conflicts arising. Then, facilitate those conflicts, using your skills, knowledge and experience to spark the right conversations and deliver the best results.
You may also be interested in: