29-year-old becomes youngest person to achieve RPP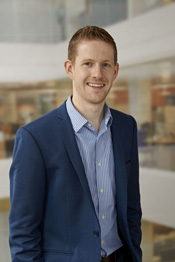 APM London branch committee member Mike Wallace has become the youngest person to achieve APM Registered Project Professional (RPP).
Mike, 29, joins the register of those that have achieved APM's pan-sector standard, which currently boasts 24 people aged 35 years old or under.
This group of next-generation project professionals clearly see the benefit of becoming an APM Registered Project Professional towards the beginning of their career.
Mike said: "I'm passionate about the project and programme management profession and I'm absolutely delighted to have met the RPP standard.
"I look forward to helping others to achieve it in future."
Mike has more than seven years' experience as a project professional in the delivery of capital programmes, large procurement projects and business change initiatives in the public and private sectors, both in the UK and internationally.
His demonstrable track record of combining strong leadership and interpersonal skills, a firm focus on delivery and a pragmatic approach to inspire project teams working in difficult environments has enabled him to achieve RPP designation.
Mike studied engineering science at Keble College in Oxford before joining Mott MacDonald where he managed rail projects. Building upon this firm foundation Mike moved to join the Nichols Group where he tackled ever-bigger challenges including work on a multi-billion dollar mining programme in Brazil.
Since returning to the UK Mike has worked for PA Consulting, where he has led on multiple project and programme turnaround assignments. He is one of PA's project planning subject matter experts and has worked with multiple project-based organisations to improve their performance and delivery maturity.
Mike was a judge at the 2014 APM Project Management Awards and is committed to helping others to develop their careers.
APM Registered Project Professional (RPP) is a pan-sector standard for those able to demonstrate the capabilities of a responsible leader, who have the ability to manage a complex project and use appropriate tools, processes and techniques.
It assesses all elements of the APM FIVE Dimensions of Professionalism in a single standard, thereby enhancing professional status and recognition.