An introduction to Programme Management
Programme management was brought to life by presenter Alan Macklin through his personal experience of some major UK programmes, during the Introduction to Programme Management Webinar held on 23 February 2017.
This webinar highlighted what a 'programme' is – and what it is not – and how it relates to projects and portfolios in delivering beneficial change. It covered the programme life-cycle and tools that practitioners may find useful in steering and assessing their work in this field.
Alan has been deputy chair of the Association for Project Management for the past three years and is on the Programme Management Specific Interest Group committee.
For the past six years his 'day job' has been in programme delivery with CH2M – a company few have heard of but one of the largest employee owned companies in the world an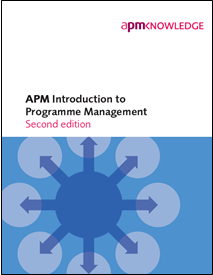 d was/is Programme Delivery Partner on some of UK's biggest programmes: London 2012 Olympics, CrossRail, HS2, Thames Tideway Tunnel, Dounreay Decommissioning, DE&S Managed Service Provider and Highways England PDP to name but a few.
For further information on programme management flick through a sample of APM Introduction to Programme Management 2nd edition to see the table of contents, foreword, introduction and overview. This essential guide explores the changing environment in which programmes exist, their relationship to the strategic context of organisations and 'new' frameworks and ways of working. 

The slides and webinar recording are available in our APM resources area and also below for reference.