APM publishes chartered standard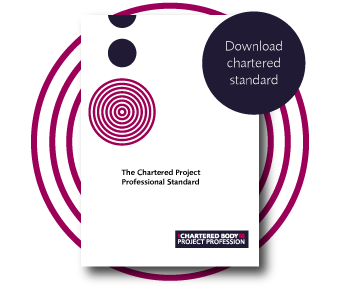 We are pleased to announce the publication of details of our chartered standard; the professional benchmark that demonstrates a defined level of technical knowledge, professional practice and ethical behaviour required to become a Chartered Project Professional (ChPP).
The chartered standard is published following an extensive and successful consultation from July-September 2017, which saw over 70% of respondents indicating their support and recognition of the standard.
Feedback during the consultation has contributed to modifications to the original proposals, ensuring that the chartered standard is robust and inclusive.

Changes made following feedback include;
Definition of the term "professionally active" to be more inclusive of the range of roles, experience and seniority in the project management profession
Revision of the number and split of competences to meet the requirements of and encapsulate the key competences required by the profession
Reduction in the length of the written submission in line with other professional bodies
Revision of the assessment method for technical knowledge for the experiential route
These revisions have allowed us to streamline the assessment process for applicants while maintaining the integrity and rigour of the chartered standard. A detailed response to the consultation can be found here.
What does this mean for the project management profession?
Drawn from the APM Competence Framework, ChPP will recognise the diverse paths individuals may have taken to achieving the standard. There will be three distinct routes;
Route one: For project professionals who have a recognised assessment for technical knowledge
Route two: For project professionals who have a recognised assessment for technical knowledge and professional practice
Route three: An experiential route for project professionals who do not have a recognised assessment, but do meet the eligibility requirements
Download the chartered standard  
What happens next?
We are working hard to finalise further details of the assessment process before the chartered standard is launched, including guidance materials for release in the first quarter of 2018.
The register will open in Spring 2018, with a straightforward online application process.
Chartered Project Professional standard assessors 
To achieve the aims of the register, APM will create and maintain a team of highly trained professional assessors and we are now looking for expressions of interest from suitably qualified candidates.
Candidates will have previous experience of conducting competence based assessments, a proven track record in projects, programmes or portfolios, knowledge and awareness of current practice and methodologies, and the ability to provide constructive written feedback and reports on assessment outcomes.
If you know someone who you think would be a good fit, please direct them to the detailed job description and advert on our website: https://www.apm.org.uk/about-us/how-apm-is-run/apm-vacancies/.
The deadline for expressions of interest is 5 January 2018.
Download the chartered standard   
---